Google Tips and Tricks
For Educators - Web Search
Looking for the ultimate tips for Google searching?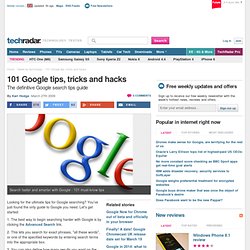 101 Google tips, tricks and hacks
Take a look through this list of interesting, quirky, and useful tips & tricks for Google Wave: "The Ultimate Google Wave Guide for Students: 100 Tips, Tools, and Tricks" Some little nuggets I especially liked are:
Google Wave: 100 tips & tricks | eLearning Blog Dont Waste Your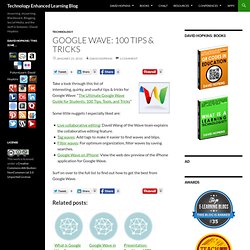 The Ultimate Google Wave Guide for Students: 100 Tips, Tools, an
As a college student, we know you're always on the hunt for tools that save you time and trouble, especially on homework. That's why we've generated this list of tips and tricks for using Google Wave, a powerful collaboration tool that lets you manage projects, swap files and communicate in real-time, with no delay.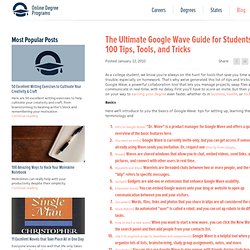 Welcome to Google Tools for Schools Boot Camp! ** Disclaimer: This site is no longer actively maintained. I try to update it occasionally, but it is not as current as I would like.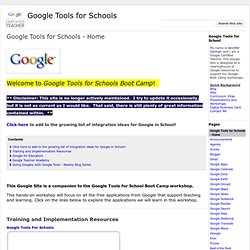 Tools for Schools - Home (Google Tools for Schools)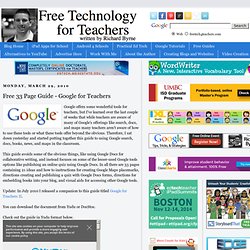 Google offers some wonderful tools for teachers, but I've learned over the last couple of weeks that while teachers are aware of many of Google's offerings like search, docs, and maps many teachers aren't aware of how to use these tools or what these tools offer beyond the obvious. Therefore, I sat down yesterday and started putting together this guide to using Google search, docs, books, news, and maps in the classroom. This guide avoids some of the obvious things, like using Google Docs for collaborative writing, and instead focuses on some of the lesser-used Google tools options like publishing an online quiz using Google Docs. In all there are 33 pages containing 21 ideas and how to instructions for creating Google Maps placemarks, directions creating and publishing a quiz with Google Docs forms, directions for embedding books into your blog, and visual aids for accessing other Google tools. Update: In July 2010 I released a companion to this guide titled Google for Teachers II.
Free 33 Page Guide - Google for Te
100+ Google Tricks That Will Save You Time in School | Online Co
If you're a student with classes, homework, and projects–not to mention your social life–time is truly at a premium for you, so why not latch onto the wide world that Google has to offer? From super-effective search tricks to Google hacks specifically for education to tricks and tips for using Gmail, Google Docs, and Google Calendar, these tricks will surely save you some precious time. Note: We've updated this list in 2012 with even more great tips and tricks. Search Tricks These search tricks can save you time when researching online for your next project or just to find out what time it is across the world, so start using these right away. Convert units.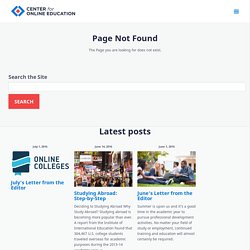 Tools for Teachers (NCTE 2009)
Apps K-12 Lesson Plans using Docs, Sites, and Calendar.
Google Gadgets For Your Webpage
Google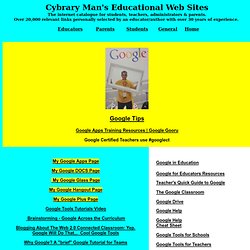 Google News Timeline
Using Google Apps for Education
22 Jul 2013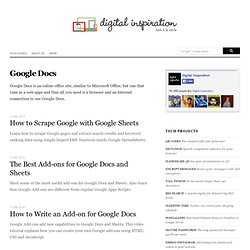 Google Docs - Digital Inspiration