HTC HERO
MacGyver Development - Nightly
Deze post is geschreven door gastblogger Roy Michiels.
HTC Hero 2.1 update: applicaties die je zeker niet mag missen! |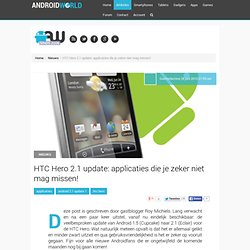 kinz1980, on 03 April 2011 - 01:39 AM, said: I read on xda the other day about if you flash a bunch of roms that it could kinda trick the system. Lets say when you flash a new nighly or rom or something.
How to get better battery life in CM7 RC4?