HTC HERO
MacGyver Development - Nightly. HTC Hero 2.1 update: applicaties die je zeker niet mag missen! | Deze post is geschreven door gastblogger Roy Michiels.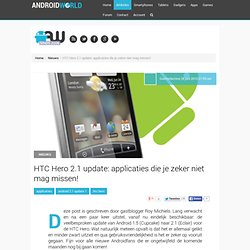 Lang verwacht en na een paar keer uitstel, vanaf nu eindelijk beschikbaar: de veelbesproken update van Android 1.5 (Cupcake) naar 2.1 (Eclair) voor de HTC Hero. Wat natuurlijk meteen opvalt is dat het er allemaal gelikt en minder zwart uitziet en qua gebruiksvriendelijkheid is het er zeker op vooruit gegaan. Fijn voor alle nieuwe Androidfans die er ongetwijfeld de komende maanden nog bij gaan komen! How to get better battery life in CM7 RC4? Kinz1980, on 03 April 2011 - 01:39 AM, said: I read on xda the other day about if you flash a bunch of roms that it could kinda trick the system.
Lets say when you flash a new nighly or rom or something.
---