Ruby
Ruby QuickRef. Table of Contents Language General Tips.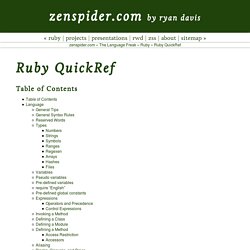 Documentation. Here you will find pointers to manuals, tutorials and references that will come in handy when you feel like coding in Ruby.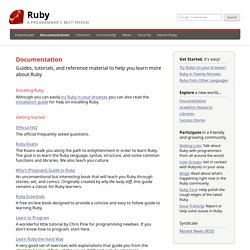 Getting Started Try Ruby! An interactive tutorial that lets you try out Ruby right in your browser. This 15-minute tutorial is aimed at beginners who want to get a feeling of the language. Www.sapphiresteel.com/IMG/pdf/LittleBookOfRuby.pdf. Ruby Essentials.
---