Linux
Ubuntu Single Sign On
34,659 projects, 1,268,741 bugs, 755,554 branches, 2,357,725 translations, 245,479 answers, 58,050 blueprints, and counting... Get started Creating an account allows you to start working within Launchpad.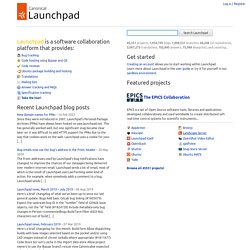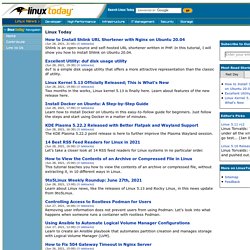 (Apr 12, 2014, 06:00) (0 talkbacks) eWEEK: The decade's most serious security issue was packaged and branded, but many server administrators and service providers were left in the dark. (Apr 11, 2014, 23:00) (0 talkbacks) Xmodulo: A startup called Spritz raised 3.5 Millions in seed money to develop an API that supposedly allows a user to read 1,000 words per minute. (Apr 11, 2014, 19:00) (0 talkbacks) Silicon Angle: The Raspberry Pi Compute Module is a version with exactly the same hardware as the original Raspberry Pi, but comes with DDR2 SODIMM format.
141 Comments 30 Comments 43 Comments 35 Comments 61 Comments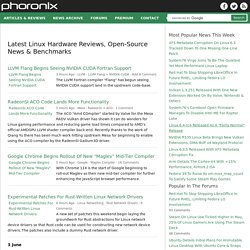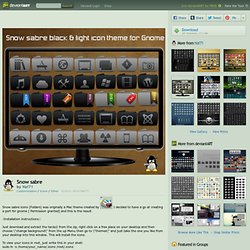 Snow sabre by *naf1971 on deviantART
Snow sabre icons (Folders) was originally a Mac theme created by I decided to have a go at creating a port for gnome [ Permission granted] and this is the result. :Installation instructions:: Just download and extract the tar.bz2 from the zip, right click on a free place on your desktop and then choose \"change background\" from the up Menu then go to \"themes\" and just take the one you like from your desktop into this window. This will install the icons. To view your icons in root, just write this in your shell:sudo ln -s /home/your_name/.icons /root/.icons
How to get Rosegarden The Rosegarden development team makes Rosegarden available in source code form, to be compiled after download. Download the Rosegarden source distribution. We don't make ready-to-run binaries; you should get those as packages tailored for a particular Linux distribution. Rosegarden is a complex program that requires numerous libraries and services that vary from one Linux distribution to another.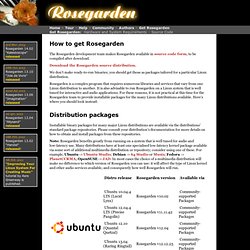 Rosegarden: music software for Linux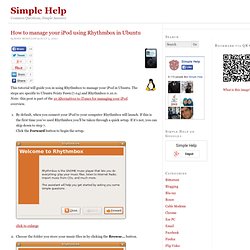 How to manage your iPod using Rhythmbox in Ubuntu
This tutorial will guide you in using Rhythmbox to manage your iPod in Ubuntu. The steps are specific to Ubuntu Feisty Fawn (7.04) and Rhythmbox 0.10.0. Note: this post is part of the 10 Alternatives to iTunes for managing your iPod overview.
Screenlets 0.1.2 released ... - Screenlets.org
KDE-Apps.org Applications for the KDE-Desktop GTK-Apps.org Applications using the GTK Toolkit GnomeFiles.org Applications for GNOME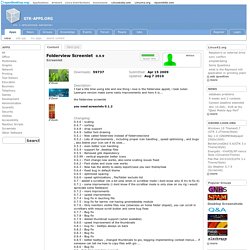 Folderview Screenlet GTK-Apps.org
Uni by *naf1971 on deviantART
Uni icons (Folders) was originally a Mac theme created by The IconBlock Ltd [link] for personal desktop use ONLY. I decided to have a go at creating a port for gnome, i got permission from Sean Smith Creative Director ( I thank him for his kindness and for the swift answer) and this is the result. Please Note that a license is required to use these icons in a commercial capacity. :Installation instructions:: Download and extract the zip folder, inside there is the tar.bz2, right click on a free place on your desktop and then choose \\\\\\\"change background\\\\\\\" from the up Menu then go to \\\\\\\"themes\\\\\\\" and just take it from your desktop into this window.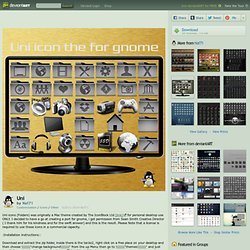 GetDeb is an unofficial project with the mission to provide the latest open source and freeware applications for the current Ubuntu Linux release, in an easy to install manner. The GetDeb repository extends the official repositories by providing latest versions and new applications. Unlike the official packages, GetDeb packages do not have a predefined release schedule - new software versions are provided as they become available from their authors. There is a short and limited testing phase instead of a full testing cycle to ensure packaging quality, however it is less strict than Ubuntu's official requirements.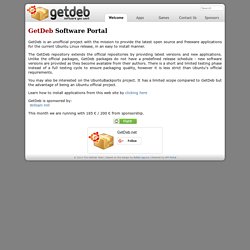 Linux, Open Source Software, Gadgets, and all things Digital - TechSource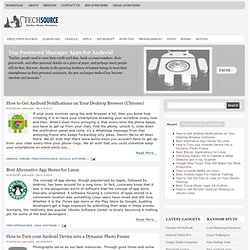 A lot of people workout in the traditional way. They hop on the cardio machine, run for half an hour or twenty minutes, get tired, and go home. While this helps them break sweat, it doesn't really add much to their stamina.
What is FreeBSD? FreeBSD is an operating system for a variety of platforms which focuses on features, speed, and stability. It is derived from BSD, the version of UNIX® developed at the University of California, Berkeley. It is developed and maintained by a large community. Cutting edge features
About FreeBSD
Celebrating the Marriage of Automotive and Consumer Electronics at CES With an average number of 315 weddings per day, Las Vegas definitely takes a top spot on the list of locations for forging bonds. Ever since Ford CEO Alan Mulally's keynote at CES 2010 the automotive industry has come back to Sin City in early January for dates with consumer technologies. CES 2014 was no different except maybe that this time cars have taken center stage at the annual event. One co...
Linux Server Software for Your Home or Business - EZblue
Get that Linux feeling - on Windows What... ...is it? Cygwin is: a large collection of GNU and Open Source tools which provide functionality similar to a Linux distribution on Windows. a DLL (cygwin1.dll) which provides substantial POSIX API functionality.
Cygwin
This site is where you can find the official documentation developed and maintained by the Ubuntu Documentation Project. Choose your version of Ubuntu below to access the documentation for that version (find out which version of Ubuntu you are running). If you don't find what you are looking for, visit the community help wiki for even more material! Ubuntu 13.10 - the current stable version, released in mid October 2013, codenamed Saucy Salamander. Ubuntu 12.10 - a previous stable version, released in October 2012, codenamed Quantal Quetzal. Ubuntu 12.04 LTS - the current long term support version, released in April 2012, codenamed Precise Pangolin.