File Hosting & Sharing
Select Your Plan - Free, Individual, Business, or Enterprise ~ Free Trial for paid accounts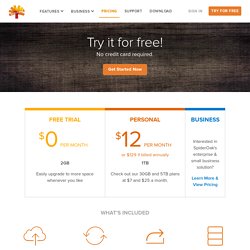 Free Online Backup and Sync - Pricing Plans - SpiderOak.com
Backup Never lose a file, folder or version again. Automatically back up the things you need, on your schedule. Sync
MatroskaSplitter-19-12-2009.zip - 4shared.com - online file sharing and storage - download
SafeCopy Backup - online backup, file sharing and secure access service for Mac, Windows and Linux
Online backup for the whole computer family. If you have more than one computer, no need for the cost and hassle of buying multiple accounts. With SafeCopy, it's your online storage so use it as you like. Always secure and more reliable than an external drive. Your files are secured in a redundant SAS70 certified datacenter and stored using 448-military grade encryption.
From just $6/month* Unlimited online backup Backup your whole PC or Mac, no matter how many files you've got. Simple & hassle free Installs in minutes. Automatically backs up your files while you work. View files anywhere Log in online at any time to view your files and download them.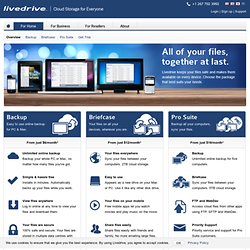 Simple and unlimited online backup | Livedrive
Windows Live - SkyDrive
An undercurrent, obviously, could be the hidden movement water underneath the surface; its tug and motion are simply perceptible upon submersion. Fifty Shades is strictly just like an undercurrent. You dive in to the story thinking guess what happens to anticipate, only to discover once you are in it it is something different completely. Free Ebooks For Learning