Crafts
Kid's Crafts | Coffee Filter Flowers. Make Your Own Canvas Portrait! I love the look of family photos printed on canvas, but I never knew I could make them at home!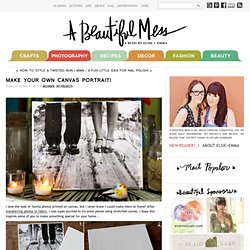 After transferring photos to fabric, I was super excited to try some pieces using stretched canvas. I hope this inspires some of you to make something special for your home... Here's how I transferred my photo to canvas: 1. Supplies needed- stretched canvas (I chose an 8x10 size), gel medium (I used this kind from Liquidex ), paint brush and the image you want to transfer (laser copy) and a spray bottle filled with water. How To Make Glow-In-The-Dark Mountain Dew. DIY Bottle Cap Earrings. Hi, it's Amy here with a cute wearable DIY.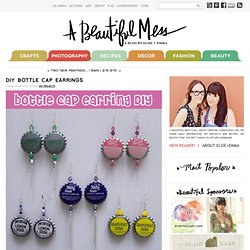 You can make your own bottle cap earrings using bottle caps from your favorite contemporary beverages -- or you can use vintage bottle caps like I did. I purchased my caps on eBay, but you can often find them at flea markets and antique fairs as well. Supplies: * one pair of matching bottle caps * at least 2 head-pins * 2 ear wires * beads Tools: * hammer (a small household hammer like the one pictured will do) * an awl (can be found at hardware stores or in the leather working section of your local craft store) * jewelry pliers * round-nose jewelry pliers (see the red pair, pictured) Make Your Own Bottle Cap Earrings (a Tutorial): I used to make heaps and heaps of bottle cap jewelry to sell on my site.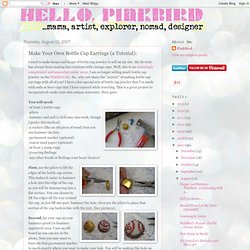 My favorite has always been making fun creations with vintage caps. Well, due to an annoyingly complicated and somewhat unfair mess, I am no longer selling much bottle cap jewelry on the PinkBird site. So...why not share the "secrets" of making bottle cap earrings with all of you? I have a few special sets of bottle cap jewelry that I've made with soda or beer caps that I have enjoyed while traveling. This is a great project to inexpensively make your own unique souvenirs. How To Make Bottle Cap Earrings In Just 5 Minutes | Just In Five Minutes.
By anjum on May 19, 2011 with Comments 0 The novelty earrings have their own charm.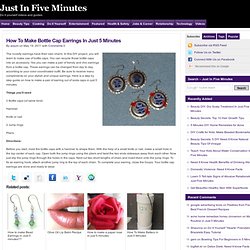 In this DIY project, you will learn to make use of bottle caps. You can recycle those bottle caps into an accessory. Yes you can make a pair of trendy and chic earrings from a bottle cap.
---