Dreamer32885
Christie
A wise man makes his own decisions, an ignorant ma.
Gift Ideas
Abstract Fonts - 13,533 Free Fonts. Pearls of Wisdom. Joss Whedon Quotes. Enlightened Perspective | analyfe. Funeral. Dear friends, It is with the saddest heart that I pass on the following.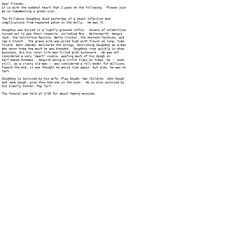 Please join me in remembering a great icon. The Pillsbury Doughboy died yesterday of a yeast infection and complications from repeated pokes in the belly. He was 71. Doughboy was buried in a lightly-greased coffin. Travel.
Clever Ideas. Crafts. Couponing. Recipes. Online Games. Education. Hollywood. Greece.
Getting started
---