Robotique
Links Page. R2-D2 Builders Club - The site that started it all!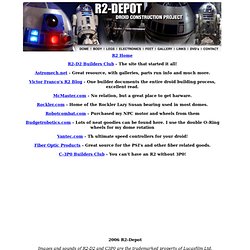 Astromech.net - Great resource, with galleries, parts run info and much more. Victor Franco's R2 Blog - One builder documents the entire droid building process, excellent read. McMaster.com - No relation, but a great place to get harware. Rockler.com - Home of the Rockler Lazy Susan bearing used in most domes. EasyVR_User_Manual_3.3.
Les Robots du Net
Mes Robots. Cours Arduino. Fournisseurs. Ardublock. Documentation.
---