PC
pcgamingfan
reasons why it's worth to be a pcgamer
Dagoth Gares Voice Add-on Adds voice to Dagoth Gares, one of the faithful minions of Dagoth Ur. His blessing to you will not only be felt, but heard as well. Dagoth Ur Voice Add-on Adds a voice to Dagoth Ur more worthy of an evil god. Now you will be able to feel the evil power flow from every word that you hear Dagoth Ur say.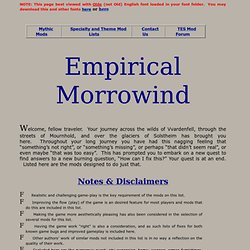 Empirical Morrowind
Doomworld -- The definitive source for Doom news, information and development
showcasing the best in independent games.
Where did the list go? Gamesopot forums is giving me some real big troubles that bassicaly made me unable to update this thread. I've also tried other forum, but spambots flooded it with porn :D So I finally did what many people told me I should have done long time ago: I've moved the lists to blod. You can find them here:
Forums - PC Games - reasons why it's worth to be a PCgamer in 2007
[ b i n a r y z o o . c o m ]
With Echoes+ currently in the review stage prior to release on XBox Live Indie Games, we have news of a special edition: Echoes+ Greatest of all Time Special Edition In more serious news mono morphic shares a lot of code with Echoes+ so is on temporary hold until E+ is released and I know there are no serious bugs.