To be sorted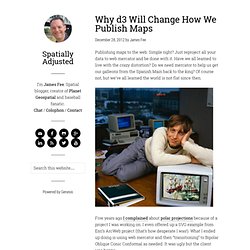 Publishing maps to the web. Simple right? Just reproject all your data to web mercator and be done with it. Have we all learned to live with the crazy distortion? Do we need mercator to help us get our galleons from the Spanish Main back to the king? Of course not, but we've all learned the world is not flat since then.
Why d3 Will Change How We Publish Maps
Today I am releasing a tool that allows users to create and export an Information Wheel.Click here to access the tool. Users can: Define a complete 4-level hierarchy, breaking a concept down to four levelsCustomise ring-sizesCustomise colouringCustomsie textExport to SVG This is an alpha release of the tool, hopefully the first of many. Any and all feedback is welcome. Also, if you have the time and ability to do similar or better things, I invite you to contact me regarding collaboration.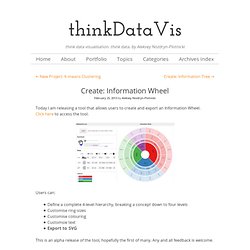 Create: Information Wheel | thinkDataVis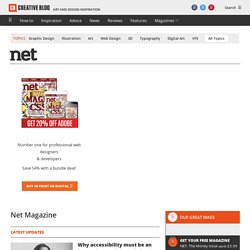 One of the most common questions I get asked is how to get started with data visualisations. Beyond following blogs, you need to practise – and to practise, you need to understand the tools available. In this article, I want to introduce you to 20 different tools for creating visualisations: from simple charts to complex graphs, maps and infographics. Almost everything here is available for free, and some you have probably installed already. Advertisement Entry-level tools
Perceptual Edge's 2012 Dashboard Design Competition
A few weeks ago I mentioned in this blog that I would soon announce the 2012 Perceptual Edge Dashboard Design Competition. Today, the competition officially begins.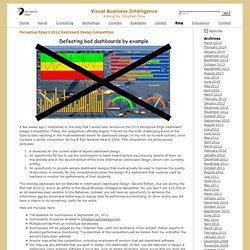 Unfolding - Interactive Map Library for Processing and Java
Unfolding Library for Interactive Maps
By Barnabas Nagy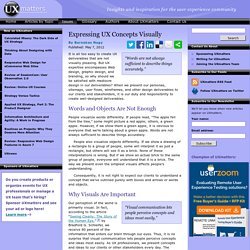 Expressing UX Concepts Visually
A tutorial on visualizing numeric data by groups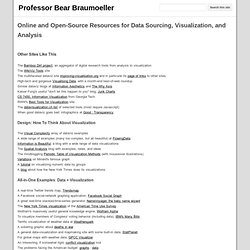 Online and Open-Source Resources for Data Sourcing, Visualization, and Analysis - Professor Bear Braumoeller
Guardian Datastore editor Simon Rogers: Rogers said: 'We're not just data analysers, we've become data providers'
Five of the Guardian Datablog's best visualisations | Online Journalism Features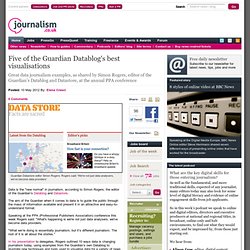 Try the VIDI Wizard: Build and Embed Visualizations | Data Visualization Demo
Why has Data Visualization Become so Popular?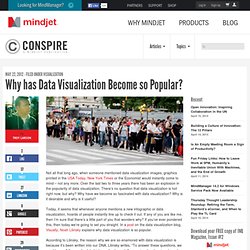 Not all that long ago, when someone mentioned data visualization images, graphics printed in the USA Today, New York Times or the Economist would instantly come to mind – not any more. Over the last two to three years there has been an explosion in the popularity of data visualization.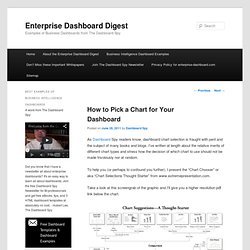 As Dashboard Spy readers know, dashboard chart selection is fraught with peril and the subject of many books and blogs. I've written at length about the relative merits of different chart types and stress how the decision of which chart to use should not be made frivolously nor at random.
How to Pick a Chart for Your Dashboard | Enterprise Dashboard Digest
The more visually inclined we become in our quest to consume information, the blurrier the line between data vis and infographic gets.
Infographic vs. Data Visualization (Who Cares?)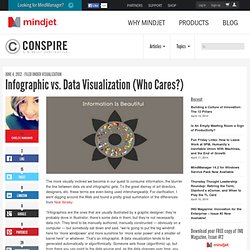 R, Octave, and Python: A Follow-Up
Miso: An open source toolkit for data visualisation
R training: Visualization, Big Data, Data Mining, and Marketing Analytics
Revolution Analytics is hosting several live and online courses over the next couple of months that will be of interest to R users looking to hone their skills: Visualization in R with ggplot2.
Undeniably, radial charts based on a polar coordinate system are more visually appealing than regular line, area and bar charts, or even tree maps, all of which are based on a cartesian coordinate system. Unfortunately, they are rarely better at communicating information.
Battle of the Charts: Why Cartesian Wins Against Radial
Visualizing Massive Amounts of Big Data
At the end of the day, the whole point of a business intelligence (BI) application is to make it easier to discern patterns and trends that would otherwise not be obvious. As such, the competition between BI applications is ultimately going to come down to which one best fulfills that mission, especially in an era where Big Data is making massive amounts of information readily available. Pentaho upped its game in that regard with release today of version 4.5 of its namesake open source BI application, which enhances the application's core visualization engine with new geo-mapping, heat grids, scatter/bubble chart visualizations, interactive visual analysis capabilities such as lasso filtering, zoom and attribute highlighting on all chart types, and a variety of reporting enhancements.
Jeffrey Heer, Stanford University Ben Shneiderman, University of Maryland, College Park
Michael Dillon Scott has a very bold face. His eyes are deeply set, his brows are thick and rumpled, and the pronounced divot between his mouth and nose (I looked it up, it's called a philtrum) gives off the impression that he is constantly on the verge of smiling.
The Audacity of the Visually Inclined
Twitter analysis of air pollution in Beijing
Creating Stunning Visualizations With Impress.js
Emergent Futures Mapping with Futurescaper
Visualizing 2012 census estimates using CartoDB and Leaflet | Carl V. Lewis
Learning data visualization
Travis Kochel's FF Chartwell « FontShop Blog
Newly launched – The Miso Project
Why does Data Visualization Matter?
How data visualization turns scientists into storytellers
Fancy HTML5 Slides with knitr and pandoc
More on Horizon Charts
Hadley Wickham's ggplot2 basics
C2: Clojure/ClojureScript data visualization - Clojure
Four Easy Visualization Mistakes to Avoid
List of Hand-Picked and Recommended Data Visualization Tools
Bio7 1.6 for Windows and Linux released!
Gephi Toolkit Tutorial
Mobile User Interface (UI) Kits for Designers
Notch launches to creatively visualize data captured by consumer fitness devices
Quadrigram: New visual programming environment launches
It's Time to Practice Decision Visualization
Data Visualization Techniques for Those Who Can't Draw
Visualisation Devices from Filip on the Behance Network
Geospatial Visualization | Where matters | Tech Trends 2012| Deloitte Consulting LLP
FF Chartwell: Make cool graphs by simply typing
Data Visualization: Clarity or Aesthetics? | DataRemixed
38 visualization api
Useful scripts to plot charts in web pages
What we can learn about charts from The WSJ Guide to Information Graphics | Carl V. Lewis
World's tallest tower – Burj Dubai
The Charts That Should Accompany All Discussions of Media Bias - James Fallows
The Design Choices You Make for Information: How to Create Great Data Visualizations
Storytelling: The Next Step for Visualization
papers/2013/Kosara_Computer_2013.pdf
28 Rich Data Visualization Tools
Making infographics using R and Inkscape