R-Revolution
Step up your R capabilities with new tools for increased productivity. I guess a lot of us actually use many tools to accomplish various things in their everyday life.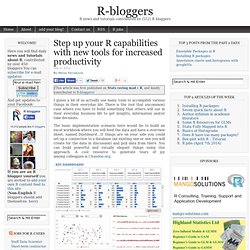 There is the (not that uncommon) case where you have to build something that others will use in their everyday business life to get insights, information and/or take decisions. The basic implementation scenario here would be to build an excel workbook where you will feed the data and have a overview sheet, named Dashboard…If things are on your side you could set-up a connection to a database (an existing one or one you will create for the data in discussion) and pull data from there. Revolution Analytics 2012 R User Group Sponsorship Program.
On of Revolution Analytics' main missions is to support and foster the growth of the R community, and in 2011 we sponsored more than 25 local R user groups and meetings with cash donations for for venue hire, meetup.com dues, refreshments, and other group needs.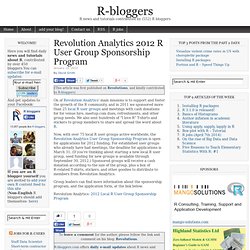 We also sent hundreds of "I love R" T-shirts and stickers to group members to share and spread the word about R. Now, with over 75 local R user groups active worldwide, the Revolution Analytics User Group Sponsorship Program is open for applications for 2012 funding. For established user groups who already have had meetings, the deadline for applications is March 31.
Revolution R Enterprise 5.0 now available for free academic download. Product Review – Revolution R 5.0. So I got the email from Revolution R.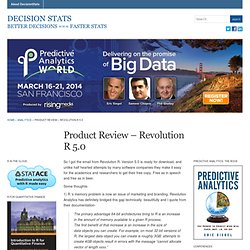 Version 5.0 is ready for download, and unlike half hearted attempts by many software companies they make it easy for the academics and researchers to get their free copy. Free as in speech and free as in beer. Some thoughts- 1) R 's memory problem is now an issue of marketing and branding. Revolution Analytics has definitely bridged this gap technically beautifully and I quote from their documentation- Interviews on Revolution R Enterprise 5.0. What's new in Revolution R Enterprise 5.0. Revolution Analytics - Commercial Software & Support for the R Statistics Language. Www.revolutionanalytics.com/why-revolution-r/whitepapers/The-Rise-of-Big-Data-Executive-Brief.pdf.
---