HTML5
As the mobile market continues to grow, demand for responsive website design intensifies. This has introduced a new set of tools, 10 of which we've listed below, to help lay out, design, code and plan a responsive website. While some may overlap, each deserves a spot on the list; when combined, they can help you craft a website that provides an optimal viewing experience for users on all devices. (Along with each recommendation is a list of alternative tools that may be useful.) If you are a designer or developer, what are some of the indispensable tools in your responsive toolbox?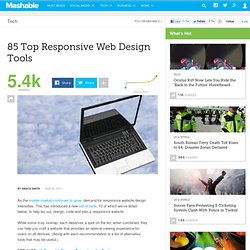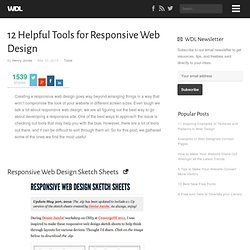 12 Helpful Tools for Responsive Web Design | Tools
Creating a responsive web design goes way beyond arranging things in a way that won't compromise the look of your website in different screen sizes. Even tough we talk a lot about responsive web design, we are all figuring out the best way to go about developing a responsive site. One of the best ways to approach the issue is checking out tools that may help you with the task. However, there are a lot of tools out there, and it can be difficult to sort through them all. So for this post, we gathered some of the ones we find the most useful. Responsive Web Design Sketch Sheets
Tryit Editor v1.5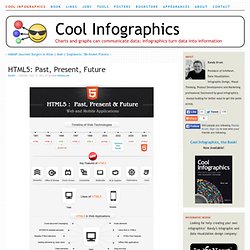 The future is now! HTML5: Past, Present, Future infographic from Dot Com Infoway takes a trip trough time to explain how evolutionary HTML5 is. HTML5 is the next evolutionary step for the Web world. With HTML5, the possibilities for Web usage are endless. At DCI, we are proud to be ahead of the game in offering HTML5 development for our many clients.The published HTML5 infographic elucidates the history of HTML through an appealing timeline from its inception in 1990 to HTML5 in 2009.
HTML5: Past, Present, Future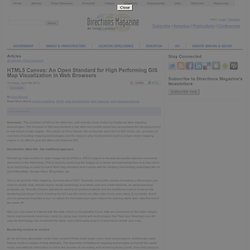 Summary: The evolution of GIS on the Web has, until recently, been limited by traditional Web mapping technologies. The increase in GIS requirements in the Web and mobile world has necessitated the development of a new breed of map engine. This article, by Dino Ravnić, the co-founder and CEO of GIS Cloud, Ltd., provides an overview of existing mapping technologies and the reasons why he decided to build a unique vector mapping engine in an effort to give the Web a full featured GIS.
HTML5 Canvas: An Open Standard for High Performing GIS Map Visualization in Web Browsers
Feast your eyes on the future of the Internet — beautiful websites built with HTML5. The newest version of HTML effectively catapults words and graphics into another dimension without plug-ins or the annoying lag time. Wix.com is making sure everyone — not just developers and fancy web designers — can get in on the action.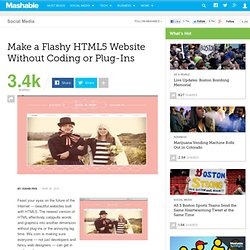 Make a Flashy HTML5 Website Without the Coding or Plug-Ins
5 of the Best Free HTML5 Presentation Systems
I have a lot of respect for Microsoft PowerPoint. It may be over-used and encourages people to create shocking slide shows, but it's powerful and fun. I have just one criticism: all PowerPoint presentations look the same. It doesn't matter how you change the colors, backgrounds, fonts or transitions — everyone can spot a PPT from a mile away. Fortunately, we now have another option: HTML5. Or, more specifically, HTML5 templates powered by JavaScript with CSS3 2D/3D transitions and animations.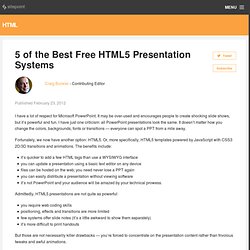 Are you aware that HTML5 is captivating the web by leaps and bounds? This new language is used for displaying the content on net. One can also add in audios, videos, various fonts, web graphics, drag and drop, animations to make your pages more colorful and informative. It is simply a renewed and much better version of the XHML1 or HTML4 and is also compatible to those versions. The online sprite tool box compresses your image and puts your image in a sprite. This compression will definitely increase the speed of your images and the time of loading.
23 Useful Online HTML5 Tools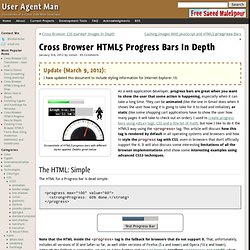 Update (March 9, 2012): I have updated this document to include styling information for Internet Explorer 10. Screenshots of HTML5 progress bars with different styles applied.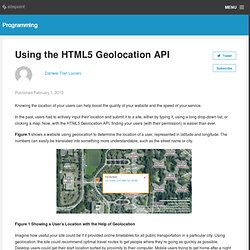 Knowing the location of your users can help boost the quality of your website and the speed of your service. In the past, users had to actively input their location and submit it to a site, either by typing it, using a long drop-down list, or clicking a map. Now, with the HTML5 Geolocation API, finding your users (with their permission) is easier than ever. Figure 1 shows a website using geolocation to determine the location of a user, represented in latitude and longitude. The numbers can easily be translated into something more understandable, such as the street name or city. Figure 1 Showing a User's Location with the Help of Geolocation
Using the HTML5 Geolocation API
Flotr2 is an open source library for HTML5 canvas charts and graphs which is a fork of the popular flotr without the dependency of Prototype JS framework and has many improvements. The library is framework independent and has support for line, bar, candle, pie and bubble charts. There are lots of customization options offered like the ability to define titles, subtitles, colors, labels on/off and so many others for each and every possible variable. Flotr2 outputs are interactive, they can be set to respond to the actions of the user. And, they can be extended with plugins (there are already several ones that can add interactions, new decorations, etc.).
Open Source HTML5 Charts & Graphs – Flotr2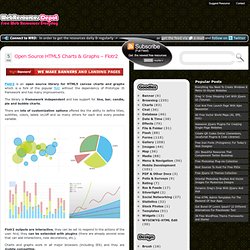 Using HTML5 to Determine User Location
Geolocation is one of the most exciting features offered by HTML5. Using some relatively simple JavaScript code, you can create Web applications that determine various aspects of the user location, including longitude, latitude and altitude plus more. Some Web applications can even provide navigation functionality by monitoring the user position over time, integrating with map systems such as Google Maps API. As with all HTML5 functions, you cannot yet rely on browser support. Where browser support exists, it varies in depth and consistency.
HTML5 is the new DHTML - The Easy Designs Blog
In a recent post, Adrian Roselli ranted a bit about the awkward position we are in with regard to HTML5. Here's a taste: The trend continues where I speak to clients, vendors, young developers fresh out of college, and even the teachers/professors who instruct them and they don't understand that HTML5 and CSS3 aren't the same specification.
Making your app real-time is a huge boost and WebSockets give you the ability to add bi-directional communication over a persistent connection to your application to increase interactivity and user engagement. web-socket-js is a natural polyfill for the JavaScript WebSocket API transferring data through Flash Sockets when WebSockets aren't available. To use native WebSockets in versions of Firefox before 11, the prefixed MozWebSocket should be used.
Designologue Designer Link Blog Marc Hemeon, a fellow OSWD designer, has just launched Design By Humans — a community centered around t-shirt designs. Definitely worth a look!
# CSS inline-block - Recommendation Method of displaying an element as a block while flowing it with text.
10 online tools to simplify HTML5 coding
Free Color Wheel Color Calculator-HTML, RGB, CMYK color wheel chart: Sessions.edu
Use Colorblind Assistant to Identify Whatever Color Your Cursor is Pointing At
Getting started with HTML5 geolocation
The Definitive Guide To HTML5: 14 Predictions For 2012
HTML5 Semantics and Good Coding Practices — Aniket Pant :: Born CSSed
Top 10 Reasons to Use HTML5 Right Now
Top 10 Practical Websites for HTML5 Design | Onextrapixel - Web Design & Development Magazine
HTML5 Cheat Sheets | Resources
HTML5 Essentials and Good Practices | Tips
How to: Drag and Drop with HTML5 | Freelancer ID blog