Health Literacy - Social Media
Informatics 2.0: implications of social media, mobile health, and patient-reported outcomes for healthcare and individual privacy -- Ohno-Machado 19 (5): 683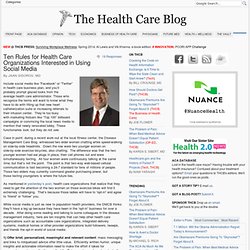 By JAAN SIDOROV, MD Include social media like "Facebook" or "Twitter" in health care business plan, and you'll probably prompt glazed looks from the average health care administrator. Those who recognize the terms will want to know what they have to do with filling up that new heart catheterization suite or increasing referrals to their infusion center. They're too busy with marketing flotsam like "Top 100″ billboard campaigns or convincing the local news media to mention that newly renovated lobby.
Ten Rules for Health Care Organizations Interested in Using Social Media
With the slow demise of paper records and the rise of electronic platforms, the opportunity for patients to take hold of their healthcare has never been stronger. But, there are still a few setbacks and some points to keep in mind when it comes to health IT and patient engagement, said Sterling Lanier, CEO of Tonic Health. "You have medical forms and medical jargon built for the provider benefit and not the patient," he said.
5 points concerning patient engagement and health IT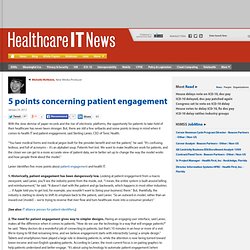 Email has been so commonplace for so long that some people consider it nearly obsolete. But in the health-care profession, its use for communications between doctors and their patients is still controversial. Opponents worry that doctors can't read patients by reading their emails. Important signals can be missed, they say, when doctors can't see their patients' facial expressions, hear the tone of their voices or take note of their body language, and care can suffer as a result. They're also concerned about the security of email communications, as well as doctors' potential liability for the content and results of email exchanges. Others say email is a valuable tool in building a relationship between doctor and patient.
Should Physicians Use Email to Communicate With Patients?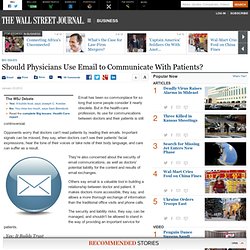 Journal of the American Medical Informatics Associationjamia.bmj.com 2012;19:777-781 doi:10.1136/amiajnl-2012-000990 Brief communication + Author Affiliations Correspondence to Dr Lucila Ohno-Machado, University of California, San Diego, Division of Biomedical Informatics, 9500 Gilman Dr., Bldg 2 #0728, La Jolla, CA 92093 0728, USA; lohnomachado@ucsd.edu Contributors MvM developed the literature search criteria, performed the search and wrote the manuscript. DvM assisted in scoring literature results for inclusion.
Reviewing social media use by clinicians -- von Muhlen and Ohno-Machado 19 (5): 777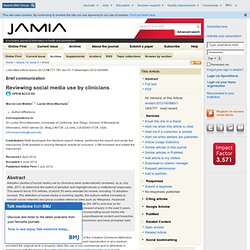 Live tweeting, ukulele playing and numerous discussions swirling around social media and healthcare were to had throughout the Connecting Healthcare + Social Media Conference, produced by NYC Health Business Leaders, this past week in New York. During the latter half of the day Thursday, Mike Sevilla, M.D., family physician and blogger at Family Medicine Rocks, took the stage to present not only his own social media story, but to convince other physicians why they, too, need to be on social media. "I'm in a group of four family docs and a practitioner, and yes, I do social media," said Sevilla.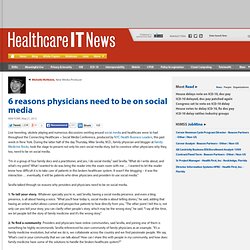 6 reasons physicians need to be on social media
Many healthcare websites provide valuable information that can help prepare you for the next doctor's visit. But some serve up misinformation that just might land you in the hospital. Here's how to tell the difference. 1 of 9
Is That Healthcare Website Making You Sick? -- InformationWeek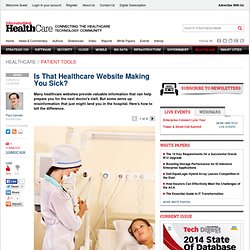 5 patient-centered social media risks
These days, it's common to connect with others via Facebook and receive news via Twitter. In fact, according to AskAaronLee.com, Twitter has 105,779,710 registered users with 6 million search queries a day. But as the use of social media reaches new heights, so do the risks associated with it – and this is especially true when it comes to patients.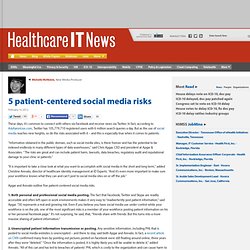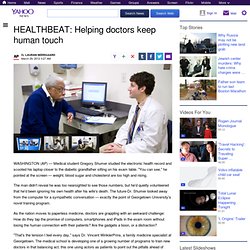 HEALTHBEAT: Helping doctors keep human touch
WASHINGTON (AP) — Medical student Gregory Shumer studied the electronic health record and scooted his laptop closer to the diabetic grandfather sitting on his exam table. "You can see," he pointed at the screen — weight, blood sugar and cholesterol are too high and rising. The man didn't reveal he was too nearsighted to see those numbers, but he'd quietly volunteered that he'd been ignoring his own health after his wife's death. The future-Dr. Shumer looked away from the computer for a sympathetic conversation — exactly the point of Georgetown University's novel training program.
To be actively involved in your own medical care, you need to understand the basics about electronic medical records, health information exchanges, and more. Check out our primer. 1 of 10
9 Health IT Tools Patients Should Understand -- InformationWeek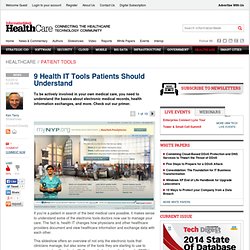 The audio podcasts, available on the iTunes store, are designed to help Americans take care of themselves while on business overseas. CIGNA International Expatriate Benefits launched a series of health, wellness, and benefits podcasts on iTunes and on its company Web site. CIEB provides healthcare benefits to expatriates around the world. The new series of podcasts, also available on the company Web site, is designed to help ease the transition to expatriate life, and prepare expatriates for accessing healthcare in other countries.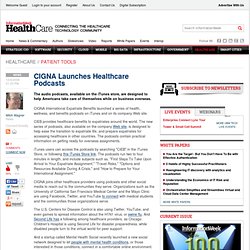 CIGNA Launches Healthcare Podcasts - Healthcare - The Patient
Doctors Concerned About Consumers' Mobile Health Use - Healthcare - Mobile & Wireless
Promises of healthcare quality increases and cost savings aren't enough to ease physicians' worries about patients using mobile health tools, new PwC study shows. 10 Wearable Devices To Keep Patients Healthy (click image for larger view and for slideshow) Roughly half of consumers predict that within the next three years mobile health will improve the convenience (46%), cost (52%), and quality (48%) of their healthcare, according to a survey of consumers, payers, and physicians in both developed and emerging markets around the world.
Health Content and Patient Education Solutions - Healthwise
Public release date: 12-Mar-2012 [ Print | E-mail Share ] [ Close Window ] Contact: Julie Newberg julie.newberg@asu.edu 480-727-3116Arizona State University TEMPE (March 12, 2012) - Maybe you've had a reoccurring sore throat or frequent headaches. Perhaps the pain in your leg won't go away. In the past, you might have gone to a doctor's office to diagnose symptoms.
New study examines how medical symptoms presented online makes a difference in health-care choices
tmp/KamelBoulosChapter_social-media-for-health-literacy_WHO_THE-SOLID-FACTS_2012.pdf
As the presence of social media continues to increase as a form of communication, health organizations are searching for the most effective ways to use the online tools to pass important information to the public. Now, researchers at the University of Missouri have found that nonprofit organizations and community groups appear to be more actively engaged in posting health information and interacting with the public on Twitter than other types of health-related organizations, such as health business corporations, educational institutions and government agencies. "Twitter may be more appealing to nonprofit organizations because it creates a barrier-free environment that allows these organizations to share important information through real-time exchanges without significant efforts," said Hyojung Park, a doctoral candidate at the Missouri School of Journalism.
Nonprofit health organizations increase health literacy through social media
ECDC social marketing, prevention and control of communicable disease (PDF)
Health - Neil Wagner - Text Messages Are a Good Public Health Tool, Flu Vaccination Edition
As less people read the mail or tune in to traditional broadcast outlets, the nature of a successful PSA is changing. A study of over 9,000 urban minority children shows that sending text messages to their parents can increase the number of children who receive flu vaccinations. The increase was modest, with the flu vaccination rate rising from 39.9 percent to 43.6 percent. Among parents who actually received the text messages, the vaccination rate rose to 46.3 percent.
What Doctors Think About Your Online Health Searches
Walgreens' Facebook Site Adds Health Advice - Healthcare - The Patient
The Healthcare Blogger Code of Ethics and HIPAA | The Social Medic
How To Achieve Better Patient Engagement - Healthcare - The Patient
Study Predicts Growing Use Of Social Media In Healthcare
University challenge targets NCDs with mHealth and social media
Docs slow to engage patients with IT
Could a Facebook for Doctors Improve Your Care?
GE Rolls Out Upgraded Online Patient Portal - Healthcare - The Patient
Biomed Analysis: Engage the public on new technologies
Commercial off-the-shelf consumer health informatics interventions: recommendations for their design, evaluation and redesign -- Marquard and Zayas-Cabán 19 (1): 137
median Ruby Wax launches Facebook-style website for adults with mental illness
Study Predicts Growing Use Of Social Media In Healthcare
Keas Is Like FarmVille for Coorporate Wellness