Google Map tools
Scribble Maps - Draw on google maps with scribblings and more! ScribbleMaps reviewed. Here is another cool Google Maps mashup that allows you to mark and draw on maps online.
Using this site you can scribble, draw lines, arrows, add text, shapes and markers to any area map. Afterwards maps can be quickly shared with others by forwarding them a link or embedding maps on other webpages. The maps can be also downloaded as KML/GPX file. Features: Quikmaps.com :: maps for the masses. MyMapPlus. UMapper / Home. Kmlfactbook.org. MapTiler - Map Tile Cutter. 2/29/2012 Locations on Google Maps, Part 1. Ever since Google Maps started in 2005, users have wanted to display data on the maps.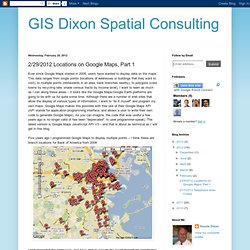 This data ranges from single points (locations of addresses or buildings that they want to visit), to multiple points (restaurants in an area, bank branches nearby), to polygons (color towns by recycling rate, shade census tracts by income level). I want to learn as much as I can along these areas – it looks like the Google Maps/Google Earth platforms are going to be with us for quite some time. Although there are a number of web sites that allow the display of various types of information, I want to "do it myself" and program my own maps. Google Maps makes this possible with free use of their Google Maps API (API stands for application programming interface, and allows a user to write their own code to generate Google Maps). As you can imagine, the code that was useful a few years ago is no longer valid (it has been "deprecated", to user programmer-speak). 6 Chrome Extensions That Tell You A Lot More On Google Maps.
It's quite surprising that so much is devoted to taking you from Point A to Point B.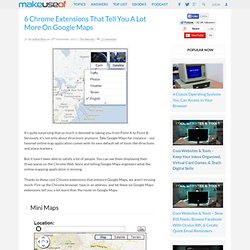 Seriously, it's not only about directions anymore. Take Google Maps for instance – our favored online map application comes with its own default set of tools like directions and place markers. But it hasn't been able to satisfy a lot of people. You can see them displaying their (free) wares on the Chrome Web Store and telling Google Maps engineers what the online mapping application is missing. Distance Between Two Cities Places On Map Distance Calculator - Great Circle Mapper. Travel Distance Calculator. Map Your Twitter Followers. Geographic Search & Referencing. MetaCarta is the leading provider of geographic search and referencing solutions.
MetaCarta enables documents from any sources to appear in any map. Whether you are using a high-end GIS like ESRI ArcGIS, a globe viewer like Google Earth, a mobile device, or a browser-based map with Microsoft Virtual Earth and an internal WMS, MetaCarta can display relevant map-based search results. Radius Around a Point on a Map. You can use this tool to find the radius around a point on the map.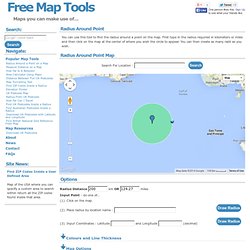 First type in the radius required in kilometers or miles and then click on the map at the center of where you wish the circle to appear. You can then create as many radii as you wish. Options Instructions Type in a radius required in the text box above. MapAList - Create and Manage Maps of Address Lists. Two Online Map Scale Calculators - Flock. With the UT-Bureau Of Economic Geology's Scale Calculator, enter a map scale and it calculates what a measurement on the map represents in reality, or what a unit distance translates to at that map scale: There are also links at the top of the page to other calculators for area/distance conversion, and decimal degree / deg-min-sec degree conversions (both ways).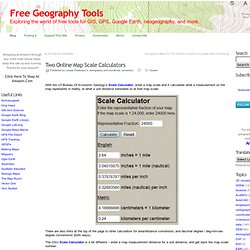 The OSU Scale Calculator is a bit different – enter a map measurement distance for a unit distance, and get back the map scale number: There's also another calculator for basic distance unit conversions, plus also conversions from degrees of slope to % grade and back: Via Kelso's Corner (which also has some useful tables and info related to map scale),
---