Google Map API plugins
Maps API Premier – Google Earth and Maps Enterprise. Lower pricing and simplified limits with the Google Maps API. 6 Chrome Extensions That Tell You A Lot More On Google Maps. It's quite surprising that so much is devoted to taking you from Point A to Point B.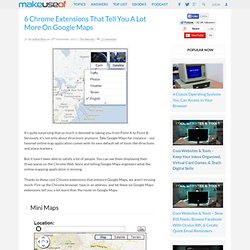 Seriously, it's not only about directions anymore. Take Google Maps for instance – our favored online map application comes with its own default set of tools like directions and place markers. But it hasn't been able to satisfy a lot of people. BambooSolutions SharePoint Maps. Your feedback is extremely important to us.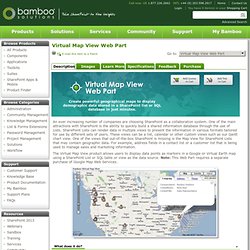 To ask a question about this product, please click on the "Post a New Message" link below. To suggest a new feature or vote on current feature suggestions, please click here. SharePoint Google Map. SharePoint Google Map Web Part | SharePoint Google Map. Coding Staff SharePoint Google Map is an ultimate SharePoint web part used for adding an interactive map based on a popular Google service.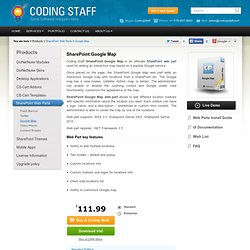 Once placed on the page, the SharePoint Google Map web part adds an interactive Google map with locations from a SharePoint list. The Google map has 4 view modes: satellite, hybrid, map, or terrain. The administrator can enable or disable the zooming control and Google street view functionality, customize the appearance of the map. SharePoint Google Map web part allows to add different location markers with specific information about the location you want. Each marker can have a logo, name, and a description – predefined or custom html content. GMaps in a Sharepoint webpart. Mapping with Drupal. I've recently become more involved with map scripting in my work on LCREP , Save Our Gulf , Geomeridian , and a few others in the works.
One commonality amongst all the projects was the need to display geocoded data on a map, a problem solved many times over. When I began work on the first of these projects this past spring, the state of mapping in Drupal boiled down to these tools. Mapedelic Mapedelic is the name given to the powerful and well established duo of Location and Gmap . The former stores address and coordinates as either CCK fields or in its own schema and can geocode addresses when called upon. WordPress google maps plugin. Start by reading Installing plugins section in our comprehensiveWordPress and WordPress Multisite Manual if you are new to WordPress.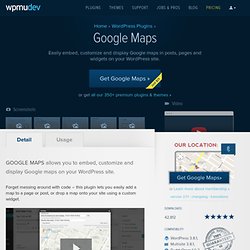 To install: 1. Download the plugin file 2. Unzip the file into a folder on your hard drive 3. Best plugin for jQuery and Google Maps API v3. Google Maps API V3 for ASP.NET. Download source - 12 KB Introduction Google Maps provides a flexible way to integrate maps to provide directions, location information, and any other kind of stuff provided by the Google Maps API in your web application.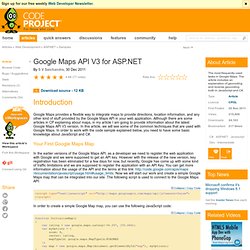 Opacity Control for Google Maps v3 Overlay. An opacity control / transparency slider inspired by Klokan Petr Přidal's original Opacity Control for Google Maps (v2) Overlay.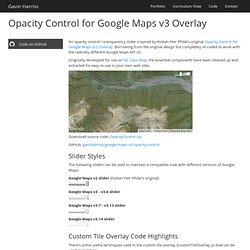 Borrowing from the original design but completely re-coded to work with the radically different Google Maps API v3. Originally developed for use on NZ Topo Map, the essential components have been cleaned up and extracted for easy re-use in your own web sites. Map DataImagery ©2014 CNES / Astrium, Cnes/Spot Image, DigitalGlobe, Landsat Map Data. 15 Superb jQuery Google Map Plugins.
---