GeoVis Tools
GeoViz Toolkit | GeoVISTA Center
IndieMapper
Home - ChartsBin.com
madewulf/MigrationsMap.net
HTML5: Flow map of internal migration in England & Wales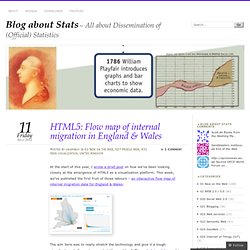 At the start of this year, I wrote a brief post on how we've been looking closely at the emergence of HTML5 as a visualisation platform. This week, we've published the first fruit of those labours – an interactive flow map of internal migration data for England & Wales: The aim here was to really stretch the technology and give it a tough visualisation challenge to see what it's capable of. The underlying data used in the map contains over 60,000 migration flows – yet we have still managed to produce an interactive application that will run on an iPhone. I will aim to write some more details later on the development process and the good and bad experiences of transitioning from a platform like Flash. But the majority of solutions to our problems came from a general realisation that HTML5 doesn't really exist at all, but is more an amorphous mixture of inter-related technologies and javascript libraries that are becoming increasingly cohesive as a development platform.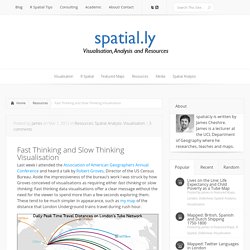 Fast Thinking and Slow Thinking Visualisation
Last week I attended the Association of American Geographers Annual Conference and heard a talk by Robert Groves, Director of the US Census Bureau. Aside the impressiveness of the bureau's work I was struck by how Groves conceived of visualisations as requiring either fast thinking or slow thinking. Fast thinking data visualisations offer a clear message without the need for the viewer to spend more than a few seconds exploring them.
YouTube user StoryMonoroch has posted a computer-generated video that displays seismic activity near Japan around March 3, 2011– the time-frame of the devastating earthquake and resulting tsunamis. The data rendering once again conveys the scale of this event, though this time from a geologic point of view. The video starts slowly in order to give the viewer a sense of the background activity, and then at around 1:45, things change dramatically: Obviously the video above does nothing to convey the resulting human devastation of the people of Japan. For a better sense of that, refer to the excellent before-and-after photo montage from ABC News, Australia.
2011 Fukushima Earthquake Visualization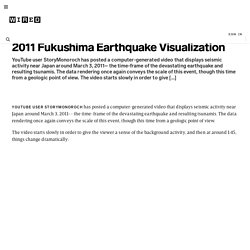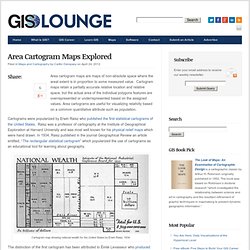 Area cartogram maps are maps of non-absolute space where the areal extent is in proportion to some measured value. Cartogram maps retain a partially accurate relative location and relative space, but the actual area of the individual polygons features are overrepresented or underrepresented based on the assigned values.
Area Cartogram Maps Explored
Visuell, das Blog der Visualisierung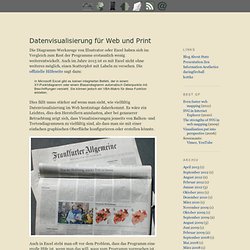 Die Diagramm-Werkzeuge von Illustrator oder Excel haben sich im Vergleich zum Rest der Programme erstaunlich wenig weiterentwickelt. Auch im Jahre 2013 ist es mit Excel nicht ohne weiteres möglich, einen Scatterplot mit Labeln zu versehen. Die offizielle Hilfeseite sagt dazu: In Microsoft Excel gibt es keinen integrierten Befehl, der in einem XY-Punktdiagramm oder einem Blasendiagramm automatisch Datenpunkte mit Beschriftungen versieht.
Introduction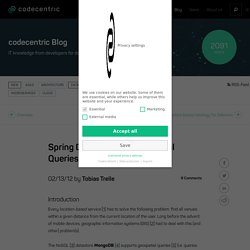 Spring Data – Part 4: Geospatial Queries with MongoDB
Visual Gadgets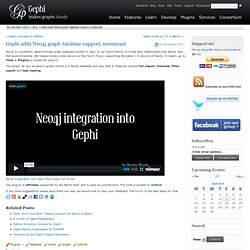 Neo4j is a powerful, award-wining graph database written in Java. It can store billions of nodes and relationships and allows very fast query/traversal. We release today a new version of the Neo4j Plugin supporting the latest 1.5 version of Neo4j. In Gephi, go to Tools > Plugins to install the plug-in. The plugin let you visualize a graph stored in a Neo4j database and play with it. Features include full import, traversal, filter, export and lazy loading.
adds Neo4j graph database support, screencast
InstantAtlas
Guest contribution by Robert Lang. Inequality is a topic that is increasingly being taught at key stage 3 and in other key stages particularly in GCSE and post 16 courses where comparing places in relation to standard and quality of life and inequality is important.
Inequality Tutorial Using Instant Atlas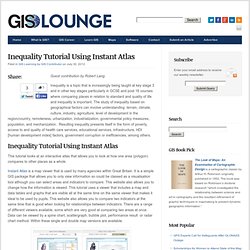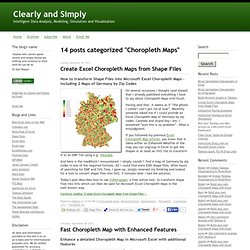 A step-by-step guide to Richard Leeke's TabGeoHack for creating your own filled maps in Tableau Software Way back in 2009, we had a beautiful guest post by Giedre Aleknonyte describing a workaround to generate Choropleth Maps with Tableau (using version 5.0 by the way). Those days are over. One of the major new features of Tableau 7 is Filled Maps (or Choropleth Maps as we used to call them in all blog posts here). Did I say those days are over? Well, not quite.
Clearly and Simply: Choropleth Maps
info.mindjet.com/FromCartographytoCardCatalogsTheHistoryofInformationOrganizationInfographic.html
In today's information age, we enjoy all but instant digital access to the world's collected knowledge. Consider: • Wikipedia contains more than 19 million articles in some 270 languages. • Google aims to catalog the world's supply of printed knowledge by scanning all of the estimated 130 million books published in modern history.• And the world wide web itself contains more than 7 billion pages. But unfiltered access to unlimited sources is useless if you can't find what you need.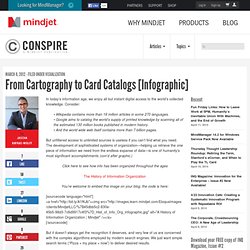 GunnMap 2
Choropleth
Choropleth maps visualize geographic distributions using a color encoding. This example shows U.S. unemployment density by county, as of 2009. An Albers equal-area projection preserves the accuracy of the representation.
Happy New Year! One of the things I am looking forward to in 2012 is yet more improvements in the no-longer-humble web browser. The move towards 'web apps' has made browser manufacturers focus on the speed at which users can interact with a page (usually this is done via javascript). This has brought with it remarkable improvements to the usability of complex, interactive data graphics.
Javascript and SVG: Back to the Future
Polymaps
Unfolding - Interactive Map Library for Processing and Java
MapCite: Web Mapping and Excel Location Intelligence Applications
MapCite is a geographic data visualization company that offers both a web mapping and Excel interface for users to analyze their location data. MapCite is a relatively new company and current clients include the NHS and Vodafone in the UK. Oliver Jones, Head of Business Development, who led me through the demo, cautioned that MapCite is "not a GIS" and refers to the company's products as location intelligence applications.
PhiloGL: A WebGL Framework for Data Visualization, Creative Coding and Game Development
webgl-globe - Geographic Data Visualization Platform meant for the web.
Spatial Data Mining and Visual Analytics Lab
2011年の世界の地震 分布図 World earthquakes 2011 Visualization map (2012-01-01)
FusionMaps v3
FusionMaps XT helps you display geographical data distributed by category, regions or entities using JavaScript (HTML5) & Flash. You can use it to plot business data like revenue by regions, census data like population by state, election results, flight routes, office locations and survey results effectively.
OTR Links - Visualisation links
Spatial Data Mining Software | Spatial Data Mining and Visual Analytics Lab
OECD Statistics Explorer and Some Other Cool Shit
Kartograph aims to make interactive vector maps easier
Gregor Aisch wanted a better way to make maps online that allowed something other than the Mercator projection, so he developed his own. The result is Kartograph, a lightweight framework "for building interactive map applications without Google Maps or any other mapping service. It was created with the needs of designers and data journalists in mind." No more tiles. The framework is still in its infancy, with not much documentation, but the map-making process seems to be straightforward. It's basically a two-step process.
How To Import Data and Make Maps with Google Fusion Tables
What's new with JavaScript and geospatial - wrapup from the js.geo event
Blog, CartoDB makes D3 maps a breeze
Bill Rankin's 'Radical Cartography'
PolyMaps Documentation
vis4.net
SHOW®/WORLD - A New Way To Look At The World
Kartograph – rethink mapping
Tools: ncva.itn.liu.se: Linköping University
Geospatial Visualization | Where matters | Tech Trends 2012| Deloitte Consulting LLP
Mapping technologies | Technology
svgweb - Scalable Vector Graphics for Web Browsers using Flash
Interactive Infographic of the World's Best Countries
From Cartography to Card Catalogs: The History of Information Organization [Infographic]
Why We Need Another Mapping Framework
Migrations Map: Where are migrants coming from? Where have migrants left?
Latitude And Longitude
OpenHeatMap
Sourcemap: where things come from
Three.js: render real world terrain from heightmap using open data
BeGraphic XLS & PPT Add-in
StatPlanet Plus
Stat Planet | Interactive maps & vis
WebGL Globe
WebGL Earth - open source 3D digital globe written in JavaScript
Interactive maps, webmapping, USA map, map of US, map of England, map of France,statistics, atlas : Geoclip