Fonts
Serif vs. Sans: The Final Battle. Ever have a problem deciding whether to use Serif or Sans?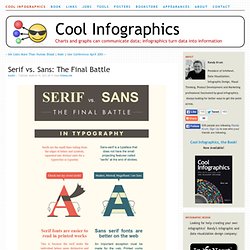 The Serif vs. Sans: The Final Battle infographic from webdesignerdepot.com has broken down when and why you should use each one. 9 Fresh Free Fonts for your Projects. Here at WDL, we like to gather all types of freebies for our readers.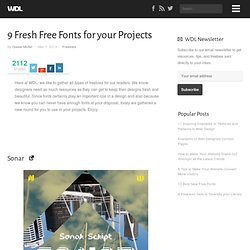 We know designers need as much resources as they can get to keep their designs fresh and beautiful. Since fonts certainly play an important role in a design and also because we know you can never have enough fonts at your disposal, today we gathered a new round for you to use in your projects. Enjoy. Hear, All Ye People; Hearken, O Earth (Part One) This is the first installment in a two-part series.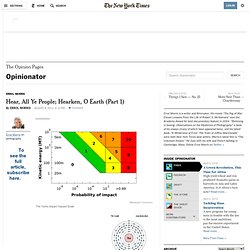 The world is full of obvious things which nobody by any chance ever observes… — Arthur Conan Doyle, "The Hound of the Baskervilles" NOTE: This is a follow-up to my quiz that ran in The Times, "Are You an Optimist or a Pessimist?" I would like you to read my essay and then take the quiz. It doesn't matter whether you have taken it before. Source Sans Pro: Adobe's first open source type family « Typblography. Adobe's legacy in type technology Adobe has come a long way since its early days in which the specification for the PostScript Type 1 font format was a closely-guarded trade secret leading up to the "font wars."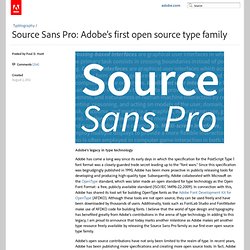 Since this specification was begrudgingly published in 1990, Adobe has been more proactive in publicly releasing tools for developing and producing high-quality type. Subsequently, Adobe collaborated with Microsoft on the OpenType standard, which was later made an open standard for type technology as the Open Font Format: a free, publicly available standard (ISO/IEC 14496-22:2009). In connection with this, Adobe has shared its tool set for building OpenType fonts as the Adobe Font Development Kit for OpenType (AFDKO). Although these tools are not open source, they can be used freely and have been downloaded by thousands of users. Font Development Kit for OpenType. The goal of the Adobe Font Development Kit for OpenType package is to share the tools used by Adobe font developers for wrapping up PostScript fonts as OpenType/CFF font files, and adding OpenType layout features.
These tools are used for in-house development of new Adobe OpenType fonts. We know that they work for the fonts Adobe makes, but have tested only part of what it is possible to express with OpenType. 24 Famous Fonts You Can Download for Free. Nokia Releases A Font Designed To Work In Any Language. Brand consistency is one of the trickiest design problems facing global corporations today: How does a company maintain its look and feel across borders and languages--in both the United States and Saudi Arabia, English and Arabic?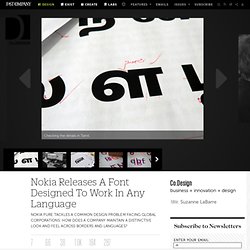 Nokia tapped British typographers Dalton Maag recently to design what might be the ultimate multinational font. Nokia Pure has a clean, simple, and yes, pure aesthetic that is conceived to work on mobile devices in virtually any script, whether Latin, Devanagari, or Tamil. The font is part of the Finnish phone giant's larger rebranding initiative. Nokia sells devices in more than 150 countries and raked in some $48 billion in revenue last year. But it has watched its market share drop, amid growing competition from smartphone providers such as Apple and Google. Larger font packs more emotional punch. Public release date: 9-May-2012 [ Print | E-mail Share ] [ Close Window ] Contact: Jennifer Laloupjlaloup@plos.org 415-624-1220Public Library of Science.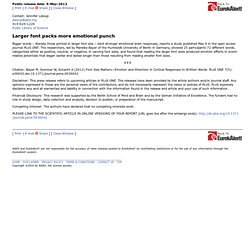 Icon font in 10 weights. Greta Symbol is a unique collection of thousands of useful symbols and alphanumerical characters available as icon fonts.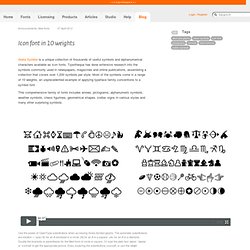 Typotheque has done extensive research into the symbols commonly used in newspapers, magazines and online publications, assembling a collection that covers over 1,200 symbols per style. Most of the symbols come in a range of 10 weights, an unprecedented example of applying typeface family conventions to a symbol font. This comprehensive family of fonts includes arrows, pictograms, alphanumeric symbols, weather symbols, chess figurines, geometrical shapes, zodiac signs in various styles and many other surprising symbols.
30 Fantastic Celtic Fonts for Free. Celtic fonts are font writing in Celtic style which appear to be rounded or angular.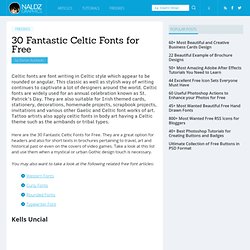 This classic as well as stylish way of writing continues to captivate a lot of designers around the world. Celtic fonts are widely used for an annual celebration known as St. Patrick's Day. They are also suitable for Irish themed cards, stationery, decorations, homemade projects, scrapbook projects, invitations and various other Gaelic and Celtic font works of art. Fontomas - easy iconic fonts composer.
Latest High-Quality Free Fonts for Professional Designers | Fonts. Typography is the art and techniques of arranging type, type design, and modifying type glyphs.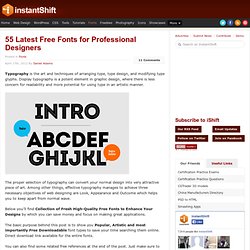 Display typography is a potent element in graphic design, where there is less concern for readability and more potential for using type in an artistic manner. The proper selection of typography can convert your normal design into very attractive piece of art. Among other things, effective typography manages to achieve three necessary objectives of web designing are Look, Appearance and Outcome which helps you to keep apart from normal wave. Below you'll find Collection of Fresh High-Quality Free Fonts to Enhance Your Designs by which you can save money and focus on making great applications. The basic purpose behind this post is to show you Popular, Artistic and most importantly Free Downloadable font types to save your time searching them online. Over 600 Free Web Fonts - Kreativ Theme. 'Scrabble Typography Limited Edition': the fonts of all knowledge. Who doesn't have a board game and typography enthusiast in their life? For them, here's the Scrabble Typography Limited Edition from Winning Solutions, which features a solid walnut game board and magnetized tiles with letters taken from various typefaces.
While it's arguable that no true design enthusiast would stand for such a flagrant melding of fonts, it is at least an aesthetic improvement on Words With Friends HD. Mapping the typographic landscape of London — LondonTypographica. A History of Western Typefaces. We all love to poke fun at people for using Comic Sans in inappropriate places. But there is even more complexity to the usage and properness of various fonts. Did you know some guy in the 18th century claimed that a certain font would blind readers?
I guess some people don't mess around with typeface. In today's world, font is very important in establishing an identity or brand, as is seen by the distinct fonts in Facebook and Google. 10 Super Nice Fresh Free Fonts. Here at WDL we love to staying on the lookout for new freebies so we can show you the best out there. So today we gathered 10 new free fonts to keep your resources updated and filled with options. Having good fonts available is always a good idea, it's a good way to keep your designs fresh and unique. Click the images to be redirected to the download site. Metropolis Ledger Regular. 22 Completely Free Fonts for @Font-Face Embedding.
Are you getting bored of using the same old fonts in your websites? If yes, then @font-face is the device that you are looking for. It allows you to embed any font according to your wish into the websites. This device is helpful to abolish the monotonous use of same fonts each time you create a website. 4 Key Considerations When Choosing Web Typography. The Fontography Series is supported by join.me, the easiest way to have an online meeting. join.me lets you instantly share your screen with anyone, for free.
Use it to collaborate, demo, show off — the possibilities are endless. Try it today. Only in the past few years has typography for the web really come into its own. Typography 101: What Small Business Owners Need To Know. Google's 'Roboto' font for Android is available for download. 40 Topmost Paradigm to get Typography Skills. 13 Inspiring Typography Videos. Typography and Readability: 5 Golden Rules You Can't Ignore. The New Web Typography. 25+ Free and Premium Web Buttons PSD. 30 Free and Classy Thin Fonts. 25 fun fonts for font snobs. 10 Extremely Good Free Fonts for Your Designs.
Top 40 Free Fonts for 2011. New High-Quality Free Fonts. 15 Icon (@font-face) Web Fonts to Improve your User Interfaces. 40 Web Fonts for Body Copy « « Web Design Marketing Podcast & Blog. Fun With Fonts: 5 Free iPhone Games for Typography Fans. 5 Tools To Help You Identify Any Font. Fount: Easy Way To Identify Web Font | Software & Utilities. Creating Your Own Fonts. 25 Well Crafted Free Minimal Fonts.
---