DataVis Tutorials - Principles
Book published and available now!
A week or so ago I shared details of the imminent release of my first book, well I'm thrilled to say my book is now published and available to buy! The best place to get the book will be direct via Packt publishing's website. At the time of writing this the eBook is available at £9.59 (€13.59, $14.39) and the print book/eBook bundle is £17.09 (€25.19, $26.99).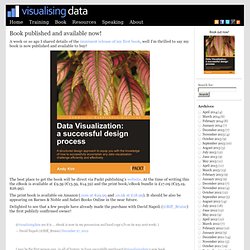 Clarity or Aesthetics? Part 3 – Tips for Achieving Both | DataRemixed
Previous Post (Part 2 of 3): A Tale of Four Quadrants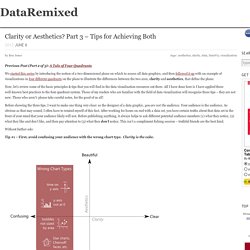 I've been interested lately in finding examples of online-only, collaborative, non-profit newsrooms who've utilized the power of data visualization techniques to give added value to stories that otherwise wouldn't necessarily be unique, and in doing so beat out legacy news organizations who published a text narrative alone. Take, for example, this data-rich story and interactive map displaying statewide testing results published by NJSpotlight Friday. While the news that only 8 out of 10 graduating seniors had passed New Jersey's current standardized test in 2011 was widely reported across the state last week, including by the Star-Ledger in Newark and by The Press of Atlantic City, only NJSpotlight took advantage of the story's strong data element to produce a more concise, data-driven visual narrative. So NJSpotlight obviously deserves kudos for the gap they're filling in New Jersey journalism.
Using data-viz to make a wire story stand out from the pack | Carl V. Lewis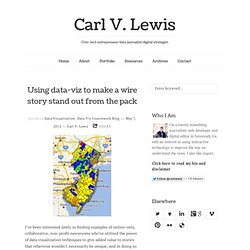 Numbers don't lie, but a bad chart decision makes it extremely difficult to understand what those numbers mean. Before you put together another PowerPoint presentation, make sure your pick the right type of chart to clearly communicate the information you want to share. Here's how.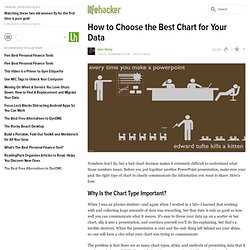 How to Choose the Best Chart for Your Data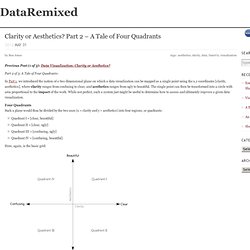 Previous Post (1 of 3): Data Visualization: Clarity or Aesthetics?
Clarity or Aesthetics? Part 2 – A Tale of Four Quadrants | DataRemixed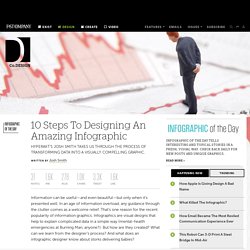 Information can be useful--and even beautiful--but only when it's presented well. In an age of information overload, any guidance through the clutter comes as a welcome relief.
Article: The 8 hats of data visualisation design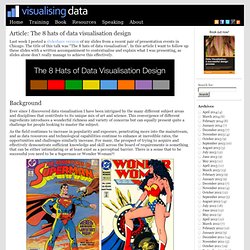 Last week I posted a slideshare version of my slides from a recent pair of presentation events in Chicago. The title of this talk was "The 8 hats of data visualisation". In this article I want to follow up these slides with a written accompaniment to contextualise and explain what I was presenting, as slides alone don't really manage to achieve this effectively.
Alan Smithee Presents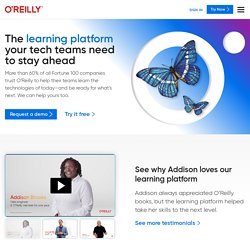 "The success of companies like Google, Facebook, Amazon, and Netflix, not to mention Wall Street firms and industries from manufacturing and retail to healthcare, is increasingly driven by better tools for extracting meaning from very large quantities of data.
Data Science Kit - Deals 
by Maria Popova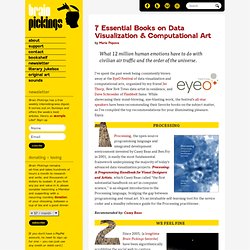 Is it possible to create a "data visualization hierarchy of needs" like Maslow's hierarchy of human needs? I've tried that in the pyramid above. Here are the details:
Data Visualization Hierarchy of Needs The Excel Charts Blog
Which Visualization Type Should I Use?
Ever spend several hours putting together what you think is a killer presentation, only to step back and realize that your visuals aren't quite cutting it?
Some thoughts on visualisation
had.co.nz
10 significant visualisation developments: 2011
Back in July I published a collection of the 10 most significant visualisation developments from the first half of 2011.
Want to play a game with The Dashboard Spy and Information Visualization expert Stephen Few?
An Information Visualization Exercise | Dashboard Spy
Paper: Privacy-Preserving Visualization
The point of visualization is usually to reveal as much of the structure of a dataset as possible. But what if the data is sensitive or proprietary, and the person doing the analysis is not supposed to be able to know everything about it?
Newsletter. ASA Statistics Computing and Graphics
Data visualisation: in defence of bad graphics | News
How to create a terrible visualization
2011W MAT259 - Visualizing Information
Report Builder 3.0 – Chart Types, Visualizations, and Properties
International Statistical Literacy Project home
A Case Study In How Infographics Can Bend The Truth
Creating your own data visualisations | Louise Brown
Visualization series: Insight from Cleveland and Tufte on plotting numeric data by groups | Solomon Messing
Concept-driven versus Data-driven visualizations
VennStorming: The Good, the Bad and The Ugly of Visual storytelling «
001.1 Graphing Fundamentals - chrisgemignani
How to create a visualization
7 Key Tips for Big Data
001.2 Graphing Fundamentals - Principles 1 - chrisgemignani
001.3 Graphing Fundamentals - Principles 2 - chrisgemignani