DataVis Tutorials - Principles
Book published and available now! A week or so ago I shared details of the imminent release of my first book, well I'm thrilled to say my book is now published and available to buy!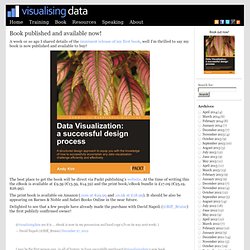 The best place to get the book will be direct via Packt publishing's website. At the time of writing this the eBook is available at £9.59 (€13.59, $14.39) and the print book/eBook bundle is £17.09 (€25.19, $26.99). Clarity or Aesthetics? Part 3 – Tips for Achieving Both. Previous Post (Part 2 of 3): A Tale of Four Quadrants We started this series by introducing the notion of a two dimensional plane on which to assess all data graphics, and then followed it up with an example of visualizations in four different quadrants on the plane to illustrate the differences between the two axes, clarity and aesthetics, that define the plane.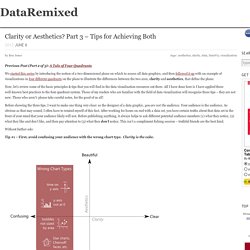 Now, let's review some of the basic principles & tips that you will find in the data visualization resources out there. All I have done here is I have applied these well-known best practices to the four quadrant system. Those of my readers who are familiar with the field of data visualization will recognize these tips – they are not new. Data Visualization for Human Perception. Using data-viz to make a wire story stand out from the pack | Carl V. Lewis. I've been interested lately in finding examples of online-only, collaborative, non-profit newsrooms who've utilized the power of data visualization techniques to give added value to stories that otherwise wouldn't necessarily be unique, and in doing so beat out legacy news organizations who published a text narrative alone.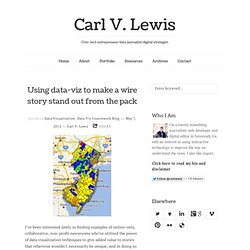 Take, for example, this data-rich story and interactive map displaying statewide testing results published by NJSpotlight Friday. While the news that only 8 out of 10 graduating seniors had passed New Jersey's current standardized test in 2011 was widely reported across the state last week, including by the Star-Ledger in Newark and by The Press of Atlantic City, only NJSpotlight took advantage of the story's strong data element to produce a more concise, data-driven visual narrative. So NJSpotlight obviously deserves kudos for the gap they're filling in New Jersey journalism. How to Choose the Best Chart for Your Data. Clarity or Aesthetics? Part 2 – A Tale of Four Quadrants. Previous Post (1 of 3): Data Visualization: Clarity or Aesthetics?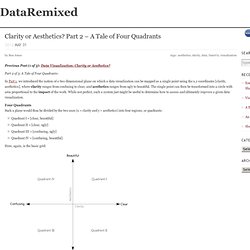 Part 2 of 3: A Tale of Four Quadrants: In Part 1, we introduced the notion of a two dimensional plane on which a data visualization can be mapped as a single point using the x,y coordinates [clarity, aesthetics], where clarity ranges from confusing to clear, and aesthetics ranges from ugly to beautiful.
The single point can then be transformed into a circle with area proportional to the impact of the work. While not perfect, such a system just might be useful to determine how to assess and ultimately improve a given data visualization. 10 Steps To Designing An Amazing Infographic. Information can be useful--and even beautiful--but only when it's presented well.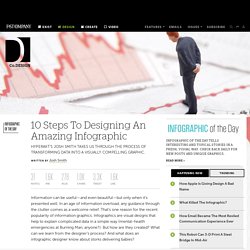 In an age of information overload, any guidance through the clutter comes as a welcome relief. That's one reason for the recent popularity of information graphics. Infographics are visual designs that help to explain complicated data in a simple way (mental-health emergencies at Burning Man, anyone?). But how are they created? What can we learn from the designer's process? Article: The 8 hats of data visualisation design. Last week I posted a slideshare version of my slides from a recent pair of presentation events in Chicago.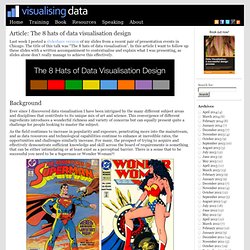 The title of this talk was "The 8 hats of data visualisation". In this article I want to follow up these slides with a written accompaniment to contextualise and explain what I was presenting, as slides alone don't really manage to achieve this effectively. 10 Steps To Designing An Amazing Infographic. Alan Smithee Presents. Data Science Kit - Deals  "The success of companies like Google, Facebook, Amazon, and Netflix, not to mention Wall Street firms and industries from manufacturing and retail to healthcare, is increasingly driven by better tools for extracting meaning from very large quantities of data.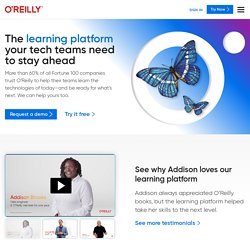 'Data Scientist' is now the hottest job title in Silicon Valley. " – Tim O'Reilly From basic statistics to machine learning and new ways to think about visualization, the Data Science Starter Kit gives you the tools you need to get started with data. If you haven't yet taken the leap, why wait? 7 Essential Books on Data Visualization & Computational Art. By Maria Popova What 12 million human emotions have to do with civilian air traffic and the order of the universe.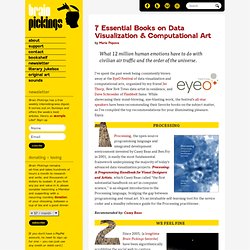 I've spent the past week being consistently blown away at the EyeO Festival of data visualization and computational arts, organized by my friend Jer Thorp, New York Times data artist in residence, and Dave Schroeder of Flashbelt fame. While showcasing their mind-blowing, eye-blasting work, the festival's all-star speakers have been recommending their favorite books on the subject matter, so I've compiled the top recommendations for your illuminating pleasure. Enjoy. Data Visualization Hierarchy of Needs The Excel Charts Blog. Is it possible to create a "data visualization hierarchy of needs" like Maslow's hierarchy of human needs?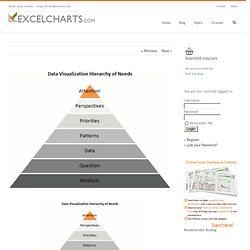 I've tried that in the pyramid above. Here are the details:
Conspire Tips. Flowing Data. Which Visualization Type Should I Use? Ever spend several hours putting together what you think is a killer presentation, only to step back and realize that your visuals aren't quite cutting it?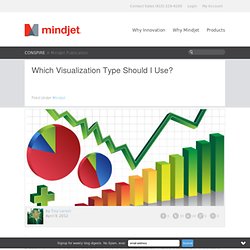 That was me this weekend. There I was working on, what I thought was a killer project when my friend came in and said how my charts just really sucked. They were too complex and actually ended up taking away from the project instead of helping it. One of the trickier aspects with visualizations can be determining which visual technique best displays information. Some thoughts on visualisation. Had.co.nz. 10 significant visualisation developments: 2011. Back in July I published a collection of the 10 most significant visualisation developments from the first half of 2011. These were a very personal view of the most prominent, memorable, significant, progressive and appealing developments of the year so far.
As we prepare to bid farewell to 2011 I am now looking back over the latter half of the year with a follow up collection of developments that I perceive to have had most significance during the period July to December. As I made clear in the previous post, there will be selections here that won't or wouldn't make other peoples' top 10s but I wouldn't expect them to. Visualising Data. An Information Visualization Exercise | Dashboard Spy. Want to play a game with The Dashboard Spy and Information Visualization expert Stephen Few? In his blog post, The Billion Pound-o-Gram Redesigned, he takes a stab at redesigning a pretty well known chart by David McCandless. Take a look at the original chart here: Here is how it appeared in Guardian.co.uk's Information is Beautiful Friday:
Paper: Privacy-Preserving Visualization. The point of visualization is usually to reveal as much of the structure of a dataset as possible. But what if the data is sensitive or proprietary, and the person doing the analysis is not supposed to be able to know everything about it? In a paper to be presented next week at InfoVis, my Ph.D. student Aritra Dasgupta and I describe the issues involved in privacy-preserving visualization, and propose a variation of parallel coordinates that controls the amount of information shown to the user.
Naive Approaches As with everything else, there is an obvious solution to this problem that doesn't work. We started out by looking at the data mining literature, where preserving privacy has been an issue for a while. Newsletter. ASA Statistics Computing and Graphics. Home The Computing and Graphics Newsletter is distributed to members of the Statistical Computing and Statistical Graphics Sections of the ASA. Their annual dues assist section activities. If you are an ASA member, but do not belong to either of these Sections, please consider joining. If you are not an ASA member, but find the articles in the Newsletter interesting, you might want to give our organization a look.
Editorial Staff. Statistical Graphics and more » Blog Archive » Statistical Graphics vs. InfoVis. The current issue of the Statistical Computing and Graphics Newsletter features two invited articles, which both look at the "graphical display of quantitative data" – one from the perspective of statistical graphics, and one from the perspective of information visualization. Robert Kosara writes from an InfoVis view: Visualization: It's More than Pictures! Information visualization is a field that has had trouble defining its boundaries, and that consequently is often misunderstood.
Data visualisation: in defence of bad graphics | News. How to create a terrible visualization. 2011W MAT259 - Visualizing Information. Report Builder 3.0 – Chart Types, Visualizations, and Properties. Glossary of Statistical Terms. International Statistical Literacy Project home. A Case Study In How Infographics Can Bend The Truth. Creating your own data visualisations | Louise Brown. Visualization series: Insight from Cleveland and Tufte on plotting numeric data by groups | Solomon Messing. Concept-driven versus Data-driven visualizations. VennStorming: The Good, the Bad and The Ugly of Visual storytelling « 001.1 Graphing Fundamentals - chrisgemignani. How to create a visualization. 7 Key Tips for Big Data. 001.2 Graphing Fundamentals - Principles 1 - chrisgemignani. 001.3 Graphing Fundamentals - Principles 2 - chrisgemignani.
---