Blogging
Although Blogging is definitely lucrative and there are thousands of successful bloggers who make a lot of money every month, the bitter truth is that a large majority of bloggers fail and quit blogging just within 6 months of starting their blog. In fact out of every 100 newbie bloggers, around 90 hang up their boots even before enjoying a trivial amount of success. Why does this happen? Why do newbie bloggers find it hard to stand out in this ever expanding blogosphere?
5 Reasons Why Most Bloggers Quit Blogging Within 6 Months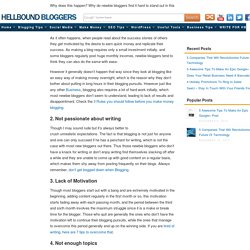 12 horrible pieces of blogging advice | Articles
There is nothing more dangerous than a social media expert. For those who are new to blogging, be prepared to read a lot of advice from self-proclaimed experts whose only qualifications are that they've read a lot of advice from other self-proclaimed experts. Here are 12 suggestions you're likely to run into, and why you should run away from them as quickly as you can: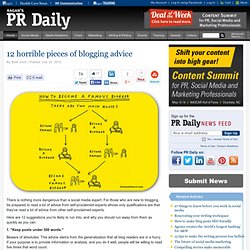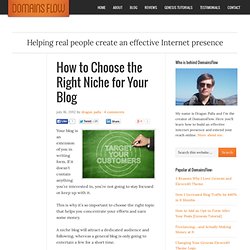 Your blog is an extension of you in writing form. If it doesn't contain anything you're interested in, you're not going to stay focused or keep up with it. This is why it's so important to choose the right topic that helps you concentrate your efforts and earn some money.
Your niche blog: How to Choose the Right
Everyone likes data visualizations so I wrote a plugin that will make the quick and secure creation of Pie Charts, Bar Charts and Line Charts easy. The answer is: Easy Graphs . Easy graphs is very simple to use. It's a shortcode – [easy_graphs] Not just like that. The shortcode also requires one parameter "data".
WordPress Plugin: Easy Graphs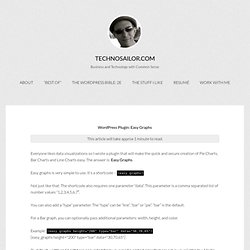 7 Things to Never Do on Your Blog
Given the success of smedio, I'm often asked on my take on what makes a blog successful. I've always believed that there's no secret mantra to making a blog successful, you just need to understand the basics and religiously follow them. In my opinion, it's equally important to understand the DO's and the DONT's that can make or break your blog. Today, I'm going to talk about the 7 things that you should never do on your blog. 1.