Angels helpers
Wholesale Stainless Steel Jewelry - Bracelets, Rings, Earrings, and More - 316Steel.com
Magnetic Bracelets, Necklaces, Rings, and Other Magnetic Health Products We sell a large variety of magnetic bracelets in copper, gold and silver plated, and hematite, all at the same base price. We have link, bangle and wrap styles. Most of our bracelets are on a copper base. Some are plated with gold or silver.
Dragonstone Magnetics -- Wholesale Magnetic Jewelry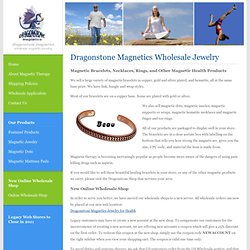 Magnetic Jewelry: Angels
magnetic jewelry
Arizona Bead Company: Super Power Magnetic Hematite
Discounts apply to all of our Super Power Magnetic Hematite Beads (Also known as High Power, Triple Strength or Triple Power Magnetic Hematite). You do not have to purchase multiples of the same style to receive the discount - you may mix and match bead strands in any style. Your shopping cart will calculate the discounts automatically.