Treats!
Quick 'pick your own' fruit desserts. Homemade Marshmallow Milkshakes. I got the idea to make these from my friend Val.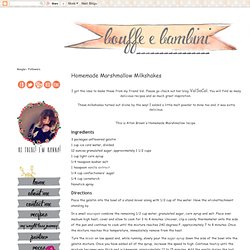 Please go check out her blog ValSoCal. You will find so many delicious recipes and so much great inspiration. These milkshakes turned out divine by the way! I added a little malt powder to mine too and it was extra delicious. This is Alton Brown's Homemade Marshmallow recipe. Mennonite Girls Can Cook: Raisin Pudding. I got my inspiration for this recipe from the Christian Home Cookbook.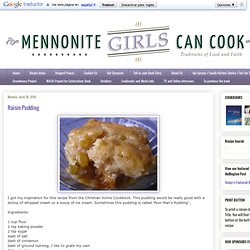 This pudding would be really good with a dollop of whipped cream or a scoop of ice cream. Sometimes this pudding is called 'Poor Man's Pudding'.. Ingredients: 1 cup flour2 tsp baking powder2 tsp sugardash of saltdash of cinnamondash of ground nutmeg..I like to grate my own3 tbsp butter3/4 cup raisins..next time I shall add chunks of apple with the raisins 1/2 cup buttermilk or milk 1. Cooking Blog – Find the best recipes, cooking and food tips at Our Kitchen.
Mennonite Girls Can Cook: Raisin Pudding. Homemade Tootsie Rolls. Raspberry Balls. Here is a flashback from the 70'sEvery Holiday season my Grandmother would make these wonderful raspberry balls.It took me years and years to figure out the recipe, but I got it!!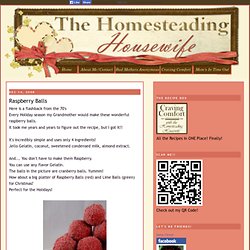 It's incredibly simple and uses only 4 ingredients! Jello Gelatin, coconut, sweetened condensed milk, almond extract. Homemade Cow Tales ® Every summer a little voice inside my head whispers (with sing-song inflection) "It's time to make caramel" ...to which I reply "It's 100 degrees outside".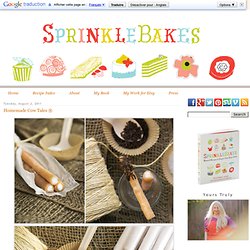 My idea of fun does not include standing over a pot of boiling caramel in the dog days of summer; however, I begrudgingly heed the call... and obey. That's sort of how these came about.
---