Anon2
Facebook Readies IPO Filing for Next Week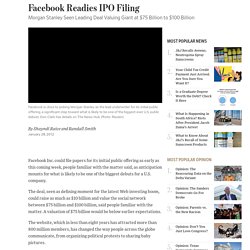 By SHAYNDI RAICE and RANDALL SMITH Facebook is close to picking Morgan Stanley as the lead underwriter for its initial public offering, a significant step toward what is likely to be one of the biggest-ever U.S. public debuts. Don Clark has details on The News Hub.
Wil Wheaton Talks SOPA, Bill Maher & More on The Young Turks
ANONYMOUS 2012- (IMPORTANT MESSAGE )TO THE PEOPLE WE MUST UNITE
Anonymous - Operation DoxTheJudge
'ACTA is More Dangerous Than SOPA'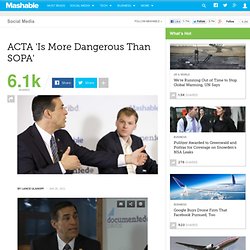 SOPA and PIPA are stalled (or dead) in the halls of the U.S. Congress. Yet, there may be a bigger, perhaps more dangerous threat to Internet freedoms on the way, called the Anti-Counterfeiting Trade Agreement, or ACTA. At least that's how U.S.
There's a brand new job alert out there this week, engineers and developers, and you should hop right on it if you want to help the FBI work on a tool which will provide them with an "Open Source and social media alert, mapping, and analysis application solution." What I want to do right now is, in a very basic way, debunk how this situation will almost certainly be blown out of proportion by the same crew of people that ultimately (and thankfully) took down the SOPA and PIPA bills. This tool, if I'm to trust the job offer I'm reading here from the Federal Business Opportunities website, is not going to be hacking into your personal or secured information in any way.
FBI seeks to track Social Media en masse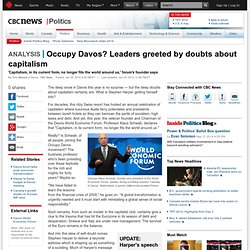 Occupy Davos? Leaders greeted by doubts about capitalism - Politics
The deep snow in Davos this year is no surprise — but the deep doubts about capitalism certainly are. What is Stephen Harper getting himself into? For decades, this ritzy Swiss resort has hosted an annual celebration of capitalism where luxurious Audis ferry potentates and presidents between lavish hotels so they can bemoan the perils of socialism, high taxes and debt. And yet, this year, the veteran founder and Chairman of the Davos World Economic Forum, Professor Klaus Schwab, declares that "Capitalism, in its current form, no longer fits the world around us." German Klaus Schwab, founder and president of the World Economic Forum, speaks during a briefing session Tuesday in Davos, Switzerland.
Occupy Wall Street Monitored By U.S. Conference Of Mayors, Emails Show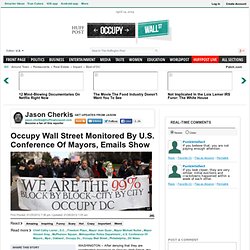 WASHINGTON -- After denying that they are coordinating responses to Occupy Wall Street, the U.S. Conference of Mayors recently surveyed city administrations across the country about the movement. In late November, according to documents obtained through a Freedom of Information Act request, the District of Columbia mayor's office received a request to update its answers to the survey. The questions to city officials appeared to elicit profiles of Occupy activists and answers that could help show the activists as a drain on resources. The mayor's conference asked via the emailed survey: What are the estimated Occupy-related costs? What are the major issues relating to Occupy events?
An Open Letter to Newt Gingrich From the Pastors of Poor Children - The Huffington Post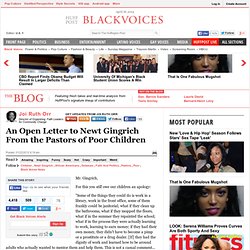 Mr. Gingrich, For this you still owe our children an apology:
What Ever Happened to the Constitution? | Andrew Napolitano - YouTube
Julian Assange Extradition Facts (kinetic typography)
SOPA & Internet Piracy | House GOP Twitter Response
Supreme Court Gives the Go Ahead for Re-Copyrighting Public Domain Works
Motion Picture Association of America President Chris Dodd just threatened to cut off Hollywood campaign contributions to any member of Congress who doesn't pass his Internet-censorship legislation. After Congress shelved the controversial PIPA and SOPA bills, Dodd told Fox News: "Those who count on quote 'Hollywood' for support need to understand that this industry is watching very carefully who's going to stand up for them when their job is at stake. Don't ask me to write a check for you when you think your job is at risk and then don't pay any attention to me when my job is at stake." This is what corruption looks like in Washington. It's outrageous that Dodd — himself a former senator — is leveling these threats. Our elected officials must send a signal back to Dodd and the rest of K Street that our nation's laws can't be bought.
Give Back Hollywood's Dirty Money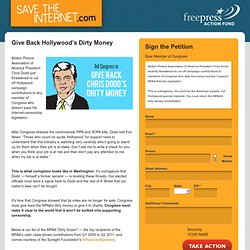 l.php?u=http%3A%2F%2Fnews.yahoo.com%2Fblogs%2Ftechnology-blog%2Ffacebook-timeline-mandatory-rollout-7-days-scour-past-185456598