Anon
SOPA and PIPA. Final Draft Of ACTA Watered Down, TPP Still Dangerous On IP Rules. 300 Random icons » 300 Random icons – Kitchen ninja | A personal design challenge by Leighton Hubbell. Entry no. 25, Kitchen Ninja of the 300 Random icon design challenge.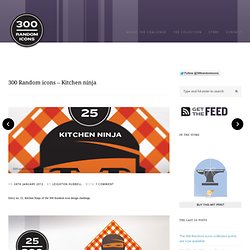 Well, here we are – the first major milestone, number 25 of the goal. Not bad. I'm not real sure if we have any trends happening yet with the work, but I have a feeling in a month or two, it'll be more apparent. If you've been following along at home, thank you. If you're new here, feel free to subscribe to the feed. SEC Goes After Online Trading Firms That Unwittingly Helped Latvian Hacker | Threat Level. In an effort to crack down on hacker/stock traders who hijack brokerage accounts and exploit the stock market for gain, the Securities and Exchange Commission has, in a novel move, gone after four online trading companies and eight executives who they say helped a Latvian hacker make more than $850,000 from fraudulent trades.
According to the complaint, filed by the SEC in federal court in San Francisco (.pdf), a 34-year-old individual using the name Igors Nagaicevs hijacked the online brokerage accounts of numerous customers over a 14-month period between June 2009 and August 2010 and began selling off their stocks. Using the equity in their accounts, he then made fraudulent purchases of other stocks he already owned, in order to artificially inflate the price of those stocks so he could sell them off at a profit.
Ai Weiwei: Never Sorry Documents Artist's Social Media Dissent | Underwire. Ai Weiwei is the subject of Alison Klayman's documentary Ai Weiwei: Never Sorry, which has been showing at this year's Sundance Film Festival.Photo: Ted Alcorn PARK CITY, Utah — Most art documentaries feature paintbrushes or chisels.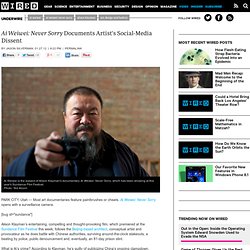 Ai Weiwei: Never Sorry opens with a surveillance camera. [bug id="sundance"] Keiser Report: State Of The Banana (E242) Oakland police fire tear gas, flash grenades on Occupy protesters. Beck Diefenbach / AP Occupy Oakland protestors burn an American flag found inside Oakland City Hall on Saturday.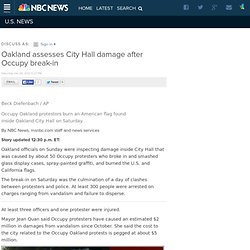 By NBC News, msnbc.com staff and news services Story updated 12:30 p.m. ET: Oakland officials on Sunday were inspecting damage inside City Hall that was caused by about 50 Occupy protesters who broke in and smashed glass display cases, spray-painted graffiti, and burned the U.S. and California flags. Occupy protesters barred from camping in DC squares. Police Use Tear Gas on Occupy Oakland Protesters. The 5 Stupidest Habits You Develop Growing Up Poor. As some of you know, until the last couple of years, I was poor as shit.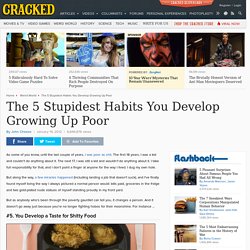 The first 18 years, I was a kid and couldn't do anything about it. The next 17, I was still a kid and wouldn't do anything about it. I take full responsibility for that, and I don't point a finger at anyone for the way I lived. Oye! Times | Warren Buffett wants all to share this on Facebook | Oye! Times. State Of The Union Address Highlights The Dirty Trick Of Hiding More Draconian IP Rules In 'Trade Agreements' As we've been discussing, it's great that the anti-SOPA/PIPA protests have awakened many to the horrors of ACTA.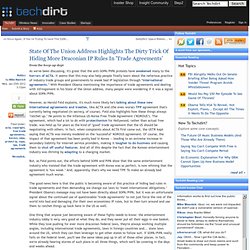 It seems that this may also help people finally learn about the nefarious practice of industry trade groups and governments to sneak bad IP legislation through "international agreements. " With President Obama mentioning the importance of trade agreements and dealing with infringement in his State of the Union address, many people were wondering if it was a signal about SOPA/PIPA. However, as Harold Feld explains, it's much more likely he's talking about these new international agreements and treaties, like ACTA and (the even worse) TPP agreement that's currently being negotiated (in secrecy, of course). Feld also highlights how these things always "ratchet up. " Ted Talks. iPhone 5 details leaked by Foxconn employee? Another day, another iPhone 5 rumor.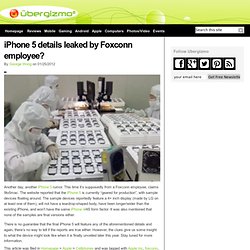 This time it's supposedly from a Foxconn employee, claims 9to5mac. The website reported that the iPhone 5 is currently "geared for production", with sample devices floating around. What Would It Take to Kill Hollywood? And Should We Try? By Alyssa Rosenberg on January 25, 2012 at 9:52 am "What Would It Take To Kill Hollywood?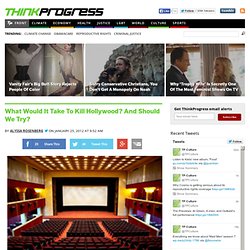 Sen. Sanders talks State of the Union. What It's Like to Live in a Universe of Ten Dimensions. By Maria Popova What songwriting has to do with string theory.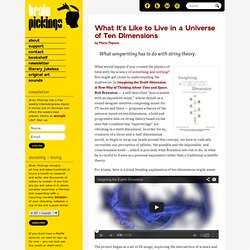 What would happen if you crossed the physics of time with the science of something and nothing? The Pay Ethic. We hear a lot about the work ethic, the notion that hard work is inherently virtuous.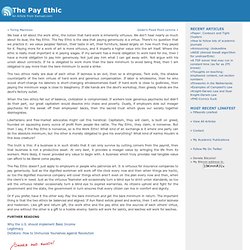 We don't hear nearly so much about its dual, the Pay Ethic. The Pay Ethic is the idea that paying generously is a virtue. There's no question that we practice it: we value peoples' fashion, their taste in art, their furniture, based largely on how much they payed for it. Ron Paul Introduces Bill To Repeal Unconstitutional Section of NDAA. A perfect storm for Gingrich. Newt Gingrich celebrates at a primary night rally Saturday in Columbia, South Carolina. Hollis Felkel: Gingrich picked up late-deciding conservatives, tea partiersFelkel: Tax returns, speaking fees, Santorum win in Iowa plagued RomneyFelkel: South Carolinians want, above all, someone tough enough to beat ObamaThis vote shows it's a marathon, not a sprint, to the nomination, he writes Editor's note: Hollis "Chip" Felkel is a native South Carolinian and a 25-year veteran of national politics and policy.
He is the CEO of Felkel Group and The RAP Index, a business that identifies key contacts in public affairs. He is co-author of "Political Golf. " (CNN) -- It was the perfect storm. » Take Part in the Black March Protest Against Internet Censorship The 99% Economy. What Happens to MegaUpload's Grammy Winning CEO Swizz Beatz? In yet another surprise move, file-sharing site MegaUpload has quietly appointed rapper / producer Swizz Beatz as its new CEO. Swizz Beatz, who's married to Alicia Keys, is claimed to have played a key role in recruiting some of the A-list stars who endorsed the site in the controversial Mega Song campaign. The appointment of the prominent rapper is not going to be applauded by the major music labels, who describe Megaupload as a piracy haven.
One of the many unanswered questions regarding the MegaUpload shutdown today is what happens to the company's new CEO? A few days ago MegaUpload surprised friends and foes by listing rapper/producer Swizz Beatz as CEO. Beatz is not named in the indictment which was made on January the 5th, which may have saved him.
---