Skull and Bones Order
The Cave. Russell Trust Association. The Russell Trust Association is the business name for the New Haven, Connecticut based Skull and Bones society, incorporated in 1856.[1] The Russell Trust was incorporated by William Huntington Russell as its president, and Daniel Coit Gilman as its first treasurer.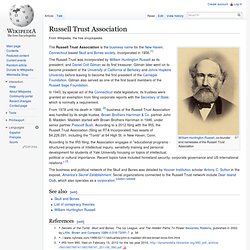 Gilman later went on to become president of the University of California at Berkeley and Johns Hopkins University before leaving to become the first president of the Carnegie Foundation. Skull and Bones. Un article de Wikipédia, l'encyclopédie libre.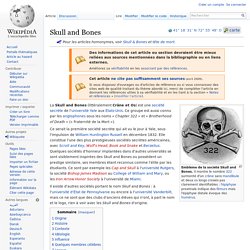 Emblème de la société Skull and Bones. Il montre le nombre 322 surmonté d'un crâne sans mandibule et deux os longs croisés pas clairement identifiables : l'épiphyse proximale indique des fémurs mais l'épiphyse distale évoque des humérus. Les Skull and Bones (littéralement le Crâne et les Os) sont une société secrète de l'université Yale aux États-Unis. Ce groupe est aussi connu par les anglophones sous les noms « Chapter 322 » et « Brotherhood of Death » (« la fraternité de la mort »). Exterior_Skull_and_Bones_New_Haven_Connecticut. Skull_and_Bones_resting_on_a_pillow. Carnegie Corporation of New York. Carnegie Corporation of New York, which was established by Andrew Carnegie in 1911 "to promote the advancement and diffusion of knowledge and understanding",[2] is one of the oldest, largest and most influential of American foundations.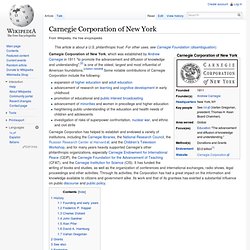 [citation needed] Some notable contributions of Carnegie Corporation include the following: expansion of higher education and adult educationadvancement of research on learning and cognitive development in early childhoodpromotion of educational and public interest broadcastingadvancement of minorities and women in precollege and higher educationheightening public understanding of the education and health needs of children and adolescentsinvestigation of risks of superpower confrontation, nuclear war, and ethnic and civil strife History[edit] Founding and early years[edit]
William Huntington Russell. Early life[edit] Born in Middletown, Connecticut, Russell was a cadet at the American Literary, Scientific and Military Academy (later Norwich University) from 1826 until graduation in 1828, where he was taught under strict military discipline.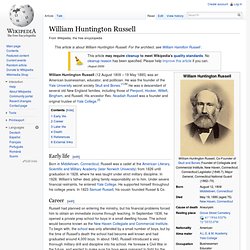 In 1828, William's father died, piling family responsibility on to him. Under severe financial restraints, he entered Yale College. List of Skull and Bones members. Skull and Bones entry from the 1948 Yale Banner.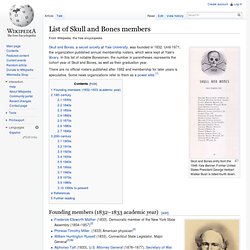 Former United States President George Herbert Walker Bush is listed fourth down. Skull and Bones, a secret society at Yale University, was founded in 1832. Until 1971, the organization published annual membership rosters, which were kept at Yale's library. In this list of notable Bonesmen, the number in parentheses represents the cohort year of Skull and Bones, as well as their graduation year. There are no official rosters published after 1982 and membership for later years is speculative. Rattling those dry bones | YDN Magazine. Earlier this month, Yale's secret societies selected some of the University's most promising men and women as members of their upcoming tap classes.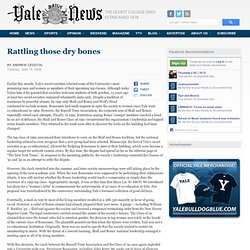 Although today Yalies take it for granted that societies welcome students of both genders, 15 years ago at least two secret societies remained vehemently male-only. Despite a tradition of resistance by powerful alumni, by 1991 only Skull and Bones and Wolf's Head continued to exclude women. Membership of Yale's Skull and Bones Society ? Famille Harriman et relations. Bush in the Order. GHW Bush / 1924 / Yale. Authors Preface. Sutton POV. Financements externes. URSS.
Cover. Cover / back. Hypothèse 1. Hypothèse 2. Influences. Wilhelm Wundt.
Influences 2. 'Bonesmen' for president - msnbc - Countdown with Keith Olbermann. Pres.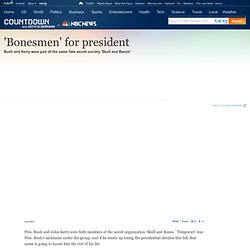 Bush and John Kerry were both members of the secret organization 'Skull and Bones.' 'Temporary' was Pres. Bush's nickname under the group, and if he winds up losing the presidential election this fall, that name is going to haunt him the rest of his life. But who are the 'Skull and Bones?' 'Skull and Bones' dates to 1832. Skull & Bones: John Kerry. Meet The Press (George Bush-Skull And Bones)
Skull And Bones. As opposite as George Bush and John Kerry may seem to be, they do share a common secret - one they've shared for decades, and one they will not share with the electorate.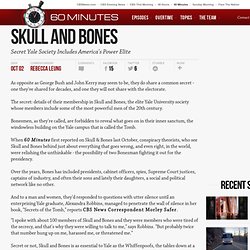 The secret: details of their membership in Skull and Bones, the elite Yale University society whose members include some of the most powerful men of the 20th century. Bonesmen, as they're called, are forbidden to reveal what goes on in their inner sanctum, the windowless building on the Yale campus that is called the Tomb.
---
---