Map
Custom Horrorclix Maps (Couch Monkey Hero) I finished it!!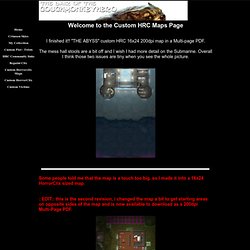 "THE ABYSS" custom HRC 16x24 200dpi map in a Multi-page PDF. The mess hall stools are a bit off and I wish I had more detail on the Submarine. AT-43: Map generator. AT-43 is a miniatures game and so is best played using three-dimensional terrain.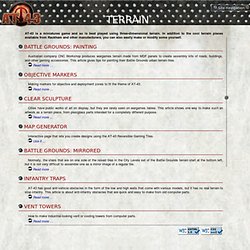 In addition to the cool terrain pieces available from Rackham and other manufacturers, you can also easily make or modify some yourself. Battle Grounds: Painting Australian company CNC Workshop produces wargames terrain made from MDF panels to create assembly kits of roads, buildings, and other gaming accessories. This article gives tips for painting their Battle Grounds urban terrain tiles. RPGMapShare.com | Your source for gaming maps and mapping object. Universal Head's 3D modular terrain workshop - EN-FORUM.AT- Fatdragongames.com. SW Minis Custom Maps, Map Tiles, 3D Maps for Star Wars Miniature. NOTICE: This domain name expired on 04/01/2011 and is pending renewal or deletion. ?
Register domain names ? Up to 70% less with the world's #1 registrar! ?
---