Mods
Everything updated for 1.5.1. Read this entire post. All of it. Downloading the mods means you agree to the disclaimer. You can skip the FAQ, but if you have an issue, consult it first, before consulting us. If you have an issue answered in the FAQ or this post itself, we won't help you.
Like my Facebook page to get the latest updates about my mod Note that the content pack file structure has changed for the 1.5.1 update and all packs will need to be re-downloaded once they have been updated. To content pack makers : You need to move the contents of "icons" to "textures/items" or "textures/blocks" as appropriate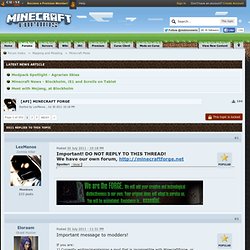 [API] Minecraft Forge
For Players INFO In front of the problems we're experiencing with SourceForge downloads, the important files are now downloadable from SourceForge and MediaFire. Let us know if there's any more problems! IMPORTANT! Please go to the post of the mod you were trying to install if you have any question - including installation questions. The rest of this thread should be for modders discussions only.
HD Textures Minecraft 1.5 and above comes with general support for HD textures. OptiFine fixes many bugs, adds support for new features and fixes the performance of larger texture packs. Custom Animations Minecraft 1.5 and above supports animations for blocks and items ( info ). OptiFine additionally enables the animation of all other textures.
1.0] Railcraft 3.0.0 [FORGE, SMP]
Description: Have you ever wished minecarts and rails had received a bit more attention during development? Well that ends now! Gone are all those broken bits and in their place are a ton of new tools to build your massive rail system. If you ever cared about rails, you wont ever look back! Features: