Must View
Texas Gov. Perry became a millionaire while serving in office - Political Currents. Since his first race for office more than a quarter-century ago, Gov.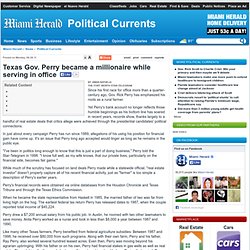 Rick Perry has emphasized his roots as a rural farmer. Yet Perry's bank account no longer reflects those humble beginnings as his bottom line has soared in recent years, records show, thanks largely to a handful of real estate deals that critics allege were achieved through the presidential candidates' political connections. In just about every campaign Perry has run since 1989, allegations of his using his position for financial gain have come up. It's an issue that Perry long ago accepted would linger as long as he remains in the public eye. Rare Dr. Martin Luther King video.
Benjamin Zander on music and passion. "Most of you have no idea what Martin Luther King actually did" – Hamden Rice. You who seek to twist and exploit Dr.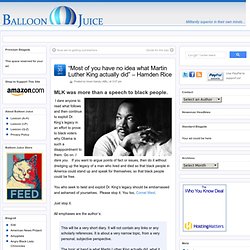 King's legacy should be embarrassed and ashamed of yourselves. Please stop it. You too, Cornel West. Just stop it. This will be a very short diary. Martin Luther King Jr. Would Want a Revolution, Not a Memorial.
---