Marx was right, etc
A Point of View: The revolution of capitalism. 4 September 2011Last updated at 00:27 Karl Marx may have been wrong about communism but he was right about much of capitalism, John Gray writes.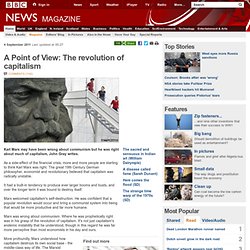 As a side-effect of the financial crisis, more and more people are starting to think Karl Marx was right. The great 19th Century German philosopher, economist and revolutionary believed that capitalism was radically unstable. Finance, more progressive than policy? The global crisis of institutional legitimacy. While watching another Arab government get toppled on Sunday evening — this time that of Muammar Gaddafi, in Libya — I was also reading George Magnus's excellent note for UBS, entitled "The Convulsions of Political Economy"; you can find it chez Zero Hedge.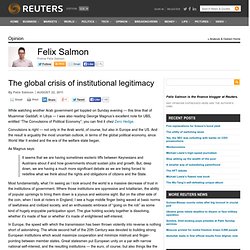 Convulsions is right — not only in the Arab world, of course, but also in Europe and the US. And the result is arguably the most uncertain outlook, in terms of the global political economy, since World War II ended and the era of the welfare state began. As Magnus says: It seems that we are having sometimes esoteric tiffs between Keynesians and Austrians about if and how governments should sustain jobs and growth. But, deep down, we are having a much more significant debate as we are being forced to redefine what we think about the rights and obligations of citizens and the State.
---