Trending Reports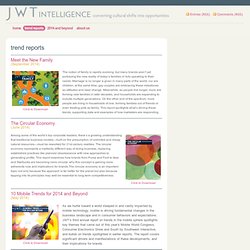 Masculinity was more clearly defined when "men were men," as the phrase goes. Today, as gender conventions blur, men are formulating more nuanced ideas of what it means to be a man. The household in particular is becoming more gender-neutral as men both embrace a more active role and get pushed into it out of necessity.
trend reports
The State of America's Libraries, 2012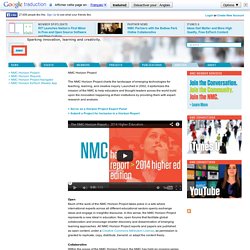 Login or Create New Account Get the NMC Horizon EdTech Weekly App for FREE! NMC Blog Inspiring Open Authority with the Reggio Emilia Approach
Horizon Reports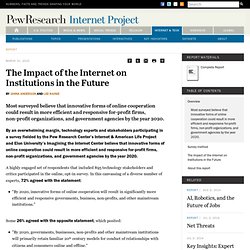 The Impact of the Internet on Institutions in the Future
Overview By an overwhelming margin, technology experts and stakeholders participating in a survey fielded by the Pew Research Center's Internet & American Life Project and Elon University's Imagining the Internet Center believe that innovative forms of online cooperation could result in more efficient and responsive for-profit firms, non-profit organizations, and government agencies by the year 2020. A highly engaged set of respondents that included 895 technology stakeholders and critics participated in the online, opt-in survey. In this canvassing of a diverse number of experts, 72% agreed with the statement: "By 2020, innovative forms of online cooperation will result in significantly more efficient and responsive governments, business, non-profits, and other mainstream institutions." Some 26% agreed with the opposite statement, which posited:
media//Files/Reports/2010/PIP_Future of internet 2010 - institutions - final.pdf
2012 Nonprofit Social Networking Report [INFOGRAPHIC]
Blackbaud, NTEN and Common Knowledge just released the fourth annual 2012 Nonprofit Social Networking Benchmark Report . We learned a lot of things, but one prevailing theme stood out — despite limited budgets and staffing, nonprofits continue to find great value in their fast-growing social networks . The report is packed with insights into how nonprofits are leveraging social networks as part of their marketing, communications and fundraising strategies.