Fashions
bags , Bags, Womens - Search 6pm.com
When I was pregnant, H&M's chic-and-cheap maternity line became my saving grace. And now that my little guy is here, I'm loving the H&M children line as well. The affordable styles range from sophisticated to silly, a perfect sartorial range for expressing our little fashion stars' every mood. My friends at H&M sent my son a giftcard to pick up some holiday treats (lucky guy!) and we were able to get so many pieces for just $75, from organic cotton onesies, to cotton sweaters, PJs, cold weather accessories like hats and gloves, a plaid button down and the cutest reversible blanket. I even picked up a few items for my sister who's expecting her first in February.
Cubic Zirconia Jewelry, Sterling Silver Jewelry, Jewelry Sets, Necklaces, Earrings, Bracelets, Silver CZ Jewelry, Imitation Jewelry
Rimistyle - Your Trendy Handbag and Accessories Super Store!
Fashionable and Trendy Women's Shoes, Boots, Women's Apparel, Club Wear, Club Clothes, Club clothing, Club Dresses Clubbing, Cute shoes, Cute clothing and more!
Boston Proper | Dresses, women's tops, jeans, pants, sport, shoes and jewelry
Jessica Simpson Collection: Official Site – Womens Shoes, Boots, Sandals, Handbags & Clothing.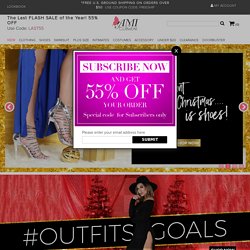 Subscribe to our newsletter Get the latest fashion tips, best coupons and weekly newsletter. Follow Us On: Every girl desires to stand out from the crowd. Whether you are at a party, hitting the club or out for a night in the city, we carry some of the hottest, sexiest and most unique club wear available. Look no further than AMI Club Wear for all of your club wear needs!