Mobile
Applications android - usages quotidiens. Flashcode. LUDOVIA TV: Pictello pour créer des histoires parlantes sur iPhone et iPad | Tic et enseignement. Pour tout savoir sur le mobile gsm et tablettes en Belgique | Le monde de l'Internet. ARLearn: Augmented Reality Learning for android - Blog - Topic Mobiel Leren. CELSTEC news | CELSTEC. mLearnCon 2011: Putting Learning In Motion (A Week After) by Bill Brandon : Learning Solutions Magazine | Mobile Learning 21. Slides: Developing a Learning Strategy for Mobile and Social (Keynote) How should a modern organization factor in mobile devices and social technologies into their learning programs?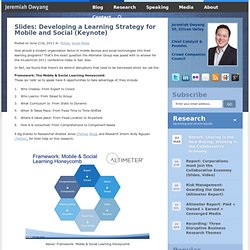 That's the exact question the Altimeter Group was posed with to answer for the mLearnCon 2011 conference today in San Jose. In fact, we found that there's six distinct disruptions that need to be harnessed which we call the: Framework: The Mobile & Social Learning Honeycomb These six 'cells' so to speak have 6 opportunities to take advantage of, they include: Développer du contenu m-learning - Le blog de Skolanet ! [ e ... | Tic et enseignement.
L'iPad au collège : sélection d'applications pour une pédagogie collaborative - @Lannoy29's posterous. Www.ipadenclasse.net. Web@Idiomas. Evolaris next level GmbH. Home. Within the mobile Game-Based Learning project (mGBL) eleven partner organisations from Austria, Croatia, Great Britain, Italy, and Slovenia have joined forces to work on the development of a platform for the presentation of educational content in a playful and emotional way on mobile devices.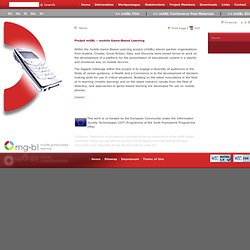 The biggest challenge within this project is to engage a diversity of audiences in the fields of career guidance, e-Health and e-Commerce in to the development of decision-making skills for use in critical situations. Building on the latest innovations in the field of m-learning (mobile learning) and on the latest research results from the field of didactics, new approaches to game-based learning are developed for use on mobile phones. [more] Disclaimer: Information on this website is provided at the sole responsibility of the mGBL Project Consortium. It does not represent the opinion of the European Community and the European Community is not responsible for any use that might be made of it. Mozilla Firefox. John is Director of the Learning Lab and Professor of Mobile Learning at the University of Wolverhampton.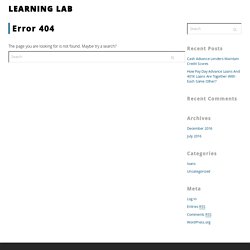 John's work includes looking at innovative technologies to support diverse communities of students with the University's nationally-funded Centre of Excellence in Learning and Teaching, and with the University's Centre for International Development and Training, exploring ways of using appropriate innovative technologies to deliver education in developing countries especially sub Saharan Africa. John has co-written a guide to mobile learning in developing countries and is co-editor of the definitive book on mobile learning: Kukulska-Hulme, A. and Traxler, J. (2005) Mobile Learning: A Handbook for Educators and Trainers, Routledge. Le mobile 2.0 édition 2009. Journée 10 Mars 2009 8h30 petit déjeuner 9h00- 9h10 Bienvenue sur la 3 ème édition Christophe Romei servicesmobiles.fr 9h10-9h30 Keynote : Utile, Utilisé, Utilisable Raphael Grignani Design Manager Nokia Design – Service & UI.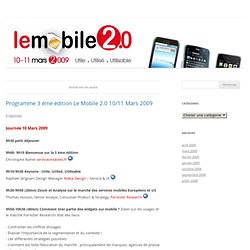 Apprentissage du chinois sur Iphone. Moodle4iPhone (version française HD) mLearnopedia.com.
---