Eden2010
The EDEN Executive Committee assigned Dr. Ulrich Bernath as Chief Editor of the European Journal of Open, Distance and E-Learning – EURODL. Dr Bernath gives an insight to his vision for EURODL:
The annual European Distance and e-Learning Network (EDEN) conference was held in Valencia, Spain June 9-12th with a focus on "Media Inspirations for Learning: What Makes the Impact?" The Center's Director of Research, Erin Knight, attended the conference to present along with Deborah Everhart, research partner and collaborator through the Bb Institute (see below for full title), to present the Participatory Media research project, as well as the continuing research efforts that were initiated from that work, such as the Learner Engagment study. The ongoing research discussed is being conducted as a collaborative effort between the Center for NGTL and the Bb Institute, as well as other instutions or researchers who are interested in participating and helping reach students.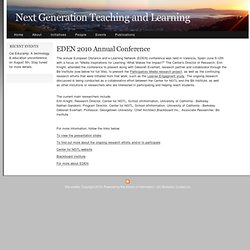 EDEN 2010 Annual Conference | Next Generation Teaching and Learn
EDEN Annual Conference 2010, Valencia
I'm just back from the EDEN Conference, having spent just over 15 hours travelling, via 4 trains, a bus and a much delayed flight. The plane eventually arrived, but when we finally landed at London Gatwick, I had missed all of my connections, and I finally arrived home very late. Yet regardless of the travel difficulties, it will be the people I met that will reside in my memory the most. I had a lot of fun at this year's EDEN Conference, and I would like to express my thanks to all those responsible for the organisation of the event. From the great idea of having the marquee outside the venue for lunch, drinks etc., to the inspired choice of the city of Valencia to hold the conference in, all ran smoothly and was enjoyed by all. Valencia is in some ways its own kind of Eden, with a city plan that is divided by a meandering city park that has replaced the course of an old river bed.