Repositories
COAR ě°˝€" Greater visibility and application of research through global networks of Open Access repositories.
General OneFile - Document. 652x0r1. Preservation Metadata. Open Data - Open Gov. Long-Term Access. Access and Dissemination Tools. Architecture. About JISC. SDB Digital Preservation » Challenges. Ensuring long term access to the vast range of information required for archiving is a huge problem that organisations are slowly waking up to.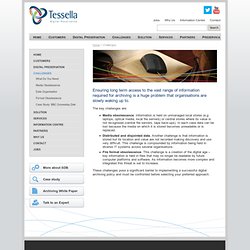 The key challenges are: Media obsolescence. Information is held on unmanaged local stores (e.g laptops, optical media, local file servers) or central stores where its value is not recognised (central file servers, tape back-ups). In each case data can be lost because the media on which it is stored becomes unreadable or is replaced.Distributed and disjointed data. Another challenge is that information is stored but its location and value are not recorded making discovery and use very difficult. UNC-Libraries/Carolina-Digital-Repository - GitHub. Welcome to Viewshare.
COAR – Greater visibility and application of research through global networks of Open Access repositories. Using OAI-ORE to Transform Digital Repositories into Interoperable Storage and Services Applications. By David Tarrant, Ben O'Steen, Tim Brody, Steve Hitchcock, Neil Jefferies and Leslie Carr Introduction One of the main decisions to be made when starting a digital repository is which software to use.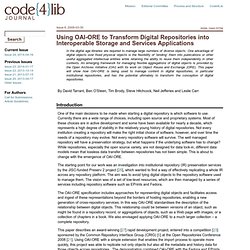 Currently there are a wide range of choices, including open source and proprietary systems. Preserv Repository Survey Results. Steve Hitchcock, Tim Brody, Jessie M.N.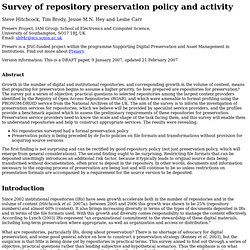 Hey and Leslie Carr Preserv Project, IAM Group, School of Electronics and Computer Science, University of Southampton, SO17 1BJ, UK Email: sh94r@ecs.soton.ac.uk Preserv is a JISC-funded project within the programme Supporting Digital Preservation and Asset Management in Institutions. Eprints.ecs.soton.ac.uk/17833/1/PASIG-SF09.pdf. The Preservation Storage Network - ECS EPrints Repository. Www.dcc.ac.uk/webfm_send/525. Library Linked Data Incubator Group: Datasets, Value Vocabularies, and Metadata Element Sets. W3C Incubator Group Report 25 October 2011 This Version: Latest Published Version: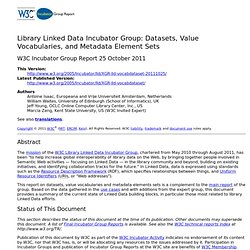 Lifeshareproject Blog. January 13, 2010 thewikiman Events Attended Preservation, Repositories Otherwise known as REPRISE (which set the tone for an acronym heavy day), this event was organised by the OGF Repositories Group and WissGrid, and held in London in December 09.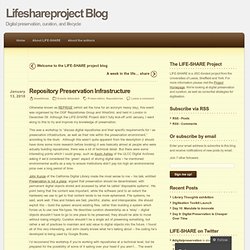 Preserv-final-report1.0. Digital Preservation Service Provider Models for Institutional Repositories: Towards Distributed Services. Abstract Digital preservation can encompass a range of activities, from simple replication and storage to more complex transformation, depending on the assessed value and risk to the target content.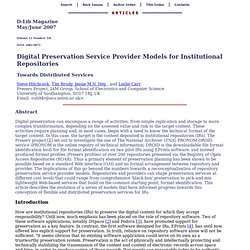 These activities require planning and, in most cases, begin with a need to know the technical format of the target content. In this case, the target is the content deposited in institutional repositories (IRs). The Preserv project [1] set out to investigate the use of The National Archives' (TNA) PRONOM-DROID service (PRONOM is the online registry of technical information; DROID is the downloadable file format identification tool) for file format identification on two pilot IRs using EPrints software, and instead produced format profiles (Preserv profiles) of over 200 repositories presented via the Registry of Open Access Repositories (ROAR). Technological Profile | www.hathitrust.org. HathiTrust is intended to provide persistent and high-availability storage for deposited files.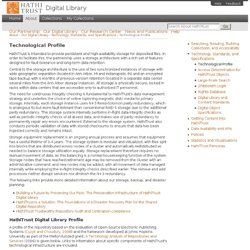 In order to facilitate this, the partnership uses a storage architecture with a rich set of features designed for fault tolerance and long-term data retention. Central to the storage architecture is the use of two synchronized instances of storage with wide geographic separation (located in data centers in Ann Arbor, MI and Indianapolis, IN) and an encrypted tape backup with 6 months of previous-version retention (located in a third data center several miles from the Ann Arbor storage instance).
All data centers meet the requirements for Uptime Institute Tier II classification. All storage is physically secure, locked in racks that are accessible only to authorized IT personnel. News: Cutting the Cord. The National Science Digital Library had ambitious goals when it started in 2000: create a massive open repository of STEM learning materials culled from projects funded by its benefactor, the National Science Foundation; then organize these materials so that they could be easily cherry-picked and used by science and math instructors, from higher ed all the way down.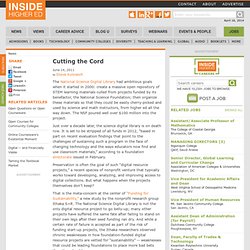 The NSF poured well over $100 million into the project. Just over a decade later, the science digital library is on death row.
---