Data Management and Access
News | ORCID. Ontology Explorer. Realistic Approaches to the US Federal Public Access RFIs. Image via Wikipedia This is a follow up on David Crotty's recent Scholarly Kitchen post on the two OSTP "Requests for Information" (RFI) regarding public access to scientific publications and data.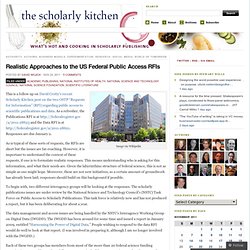 As a refresher, the Publications RFI is at and the Data RFI is at Responses are due January 2.
---