Art Work
The Museum Of Bad Art (MOBA) The Street Work of Banksy: British Graffiti Artist | Design Cookbook. Banksy is the pseudonym of a British graffiti artist, political activist and painter, whose identity is unconfirmed.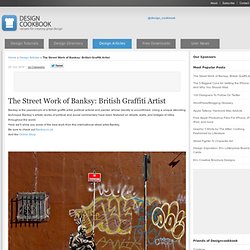 Using a unique stenciling technique Banksy's artistic works of political and social commentary have been featured on streets, walls, and bridges of cities throughout the world. Here we'll show you some of the best work from this international street artist Banksy. SUPAKITCH & KORALIE - ARTE, PINTURA DE UN MURAL , Song is by D.L.I.D. (Dick Laurent is Dead) Looks like good Illustrations by Kelly Thompson. No Whitespace.
2008 - 2007 : Nimit Malavia. Irina Vinnik Portfolio. 2009 / Podalida. The Blog of Innocence: Best Illustration Art Sites of 2009.