Sites I'm Following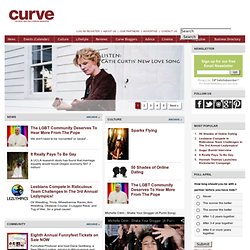 Curve Magazine - Lesbian Dating & Personals, Gay-Friendly Travel, Celebrities, Queer Culture
The Life Of Someone Who's Always Been Single And How It Works: ''The Life Of Someone Who's Always Been Single And How It Works'' references personal experiences from coming out by asking Google for a gay quiz, having a roller-coaster type of relationship with a girlfriend, dating straight girls with no attachments and finally ''dating'', and the real meaning of the word, all tied up by friends in couples pressuring singles like me to be in a relationship.
DIVA Magazine Lesbian Bisexual Lifestyle
lesbian social network for sharing erotic experiences
SheWired.com - The World's Fastest Growing Site for Women Gay, Straight and In-between
Lesbian Kama Sutra - the Sapphic Arts and Lovers Guide
TechnoDyke.Com - an all-inclusive online community and publication for lesbian, bisexual and trans dykes!
TechnoDyke.Com may have breathed its last in its current incarnation, but the spirit of activism that brought it forth in 2000 lives on in the projects that its creatrix, Stacy Bias, is still actively engaged in. Please follow the links below and add yourself to the mailing list to stay in touch. DykeTees.Com Lesbian T-shirts RadFatties.Com Plus-Size T-shirts to 5x Stacy Bias - Activist and Educator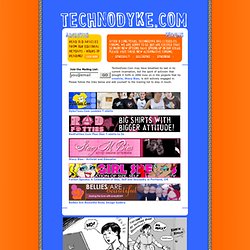 100% FREE lesbian personals (lesbian/bisexual/poly/trans/genderqueer)
News, Videos & Reviews on Lesbian & Bisexual Women | After Ellen | Lesbian Celebrities in Entertainment, TV & Movies
National LGBT Cancer Project Out With Cancer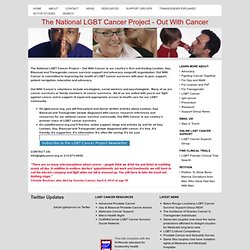 The National LGBT Cancer Project – Out With Cancer is our country's first and leading Lesbian, Gay, Bisexual and Transgender cancer survivor support and advocacy nonprofit organization. Out With Cancer is committed to improving the health of LGBT cancer survivors with peer to peer support, patient navigation, education and advocacy. Out With Cancer's volunteers include oncologists, social workers and psychologists. Many of us are cancer survivors or family members of cancer survivors. All of us are united with you in our fight against cancer and in support of equal and appropriate access to health care for our LGBT community. On lgbtcancer.org, you will find patient and doctor written articles about Lesbian, Gay, Bisexual and Transgender people diagnosed with cancer, research references and resources for our national cancer survivor community.
Lesbian Dating + Networking - Velvet-Club for Lesbians and Bi?Sexual Women
:: BITCH | MUSIC ::
Dames Bond - Networking for Women - Networking Events
ohiolba
Grammy Award winner Melissa Etheridge has written and recorded a new anthem entitled "Uprising of Love", which has become the inspiration for a new coalition by the same name, Uprising of Love, a movement in support of the safety and dignity of lesbian, gay, bisexual, and transgender (LGBT) Russians. In advance of the songs official release in January 2014, Etheridge shares today a special remix of Uprising of Love as a sneak preview of her new track and asks you to join her in this international uprising of love by spreading the message of love through lyric. "We have worked so hard to create change and equality for the LGBT community in the US and it's shocking to see such backwards movement in Russia. This song is a direct call to action for people to get involved, become vocal, and connect directly with this serious issue.
Melissa Etheridge
Celebrate Our Families | Columbus, Ohio Pride Festival
****Rosie Burgess****
The Mozilla Board of Directors has announced that co-founder and current Chief Technology Officer Brendan Eich will be appointed to the role of CEO of Mozilla, effective immediately. Li Gong will be named Chief Operating Officer and a number of functions will move under his organization including Cloud Services, IT, Marketplace, Mobile & Research, and Platform Engineering. Mitchell Baker will remain Mozilla Executive Chairwoman and will continue the long and successful partnership with Brendan as co-founders who lead the Mozilla project to fulfill our mission to promote openness, innovation and opportunity on the Web. Jay Sullivan, our acting CEO during the executive search, has led Mozilla passionately and will leave a lasting impact on the project. Under Jay's leadership Mozilla has delivered a number of key products, including several versions of the Firefox Web browser and the very successful launches of Firefox OS.
The Mozilla Blog | News, notes and ramblings from the Mozilla project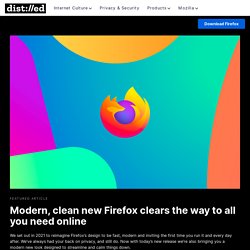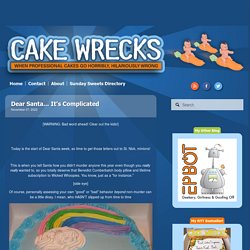 We're flawed, you maimed our hearts in vain Pink lumps - never gonna fly. The gist is, well... you just can't spell
Cake Wrecks
Short North Arts District Official Website - Columbus Short North - Short North Columbus |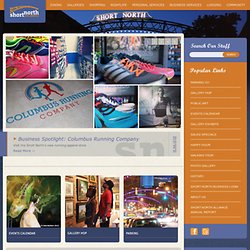 Dec 20 Last-minute Short North Gift Guide We've all been there… Christmas is just a few days away, and you still have shopping to do. Don't worry though, the Short North has gifts for everyone, and you'll get your holiday shopping done with time to spare. For Her The Paper Daisy Brand new to the Short North, The Paper Daisy offers fresh flower... Read More ››
Latest Episode – Super Ally NFL Player Chris Kluwe Stonewall Columbus – the leading visionary, inclusive, and fun-spirited GLBT organization in Central Ohio – sets the pace for increasing the visibility and acceptance of the gay, lesbian, bisexual and transgender (GLBT) community. We continue to be the driving force on GLBT issues and our Center is the first stop for many in the GLBT and allied community.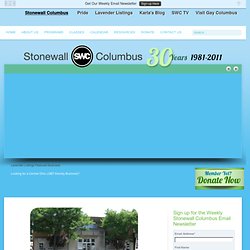 Stonewall Columbus | Columbus, Ohio's Gay, Lesbian, Bisexual, and Transgender Community Center
Lesbian Dating + Networking - Velvet-Club for Lesbians and Bi–Sexual Women
eurOut - European LesBian News in Entertainment and Politics