Inspiracio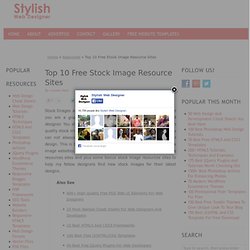 Stock Images are the biggest need of designers. No matter whether you are a graphic designer, web designer or any other kind of designer. You always need the stock photographs. You can get high quality stock images from various websites but they are not free.
Top 10 Free Stock Image Resource Sites
Nuefolio Magazine » Best Web Designing & Graphics Designing Resources -Nuefolio Magazine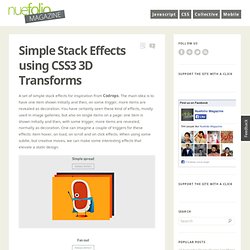 Myth is a preprocessor that lets you write pure CSS without having to worry about slow browser support, or even slow spec approval. It's like a CSS polyfill. Myth lets you write pure CSS while still giving you the benefits of tools like LESS and Sass. You can still use variables and math functions, just like you do in preprocessors. It's like a polyfill for future versions of the spec.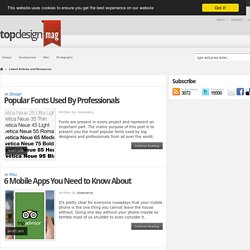 in Misc Vintage Computer Ads That Will Make Your Day 05 Apr, 2014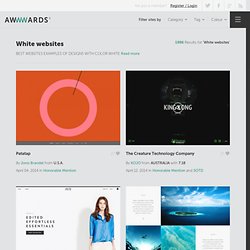 Here is a selection of Awwwards' winning white websites or websites with a strong presence of the color white. White is usually associated with concepts and emotions such as cleanliness, purity, newness, virginity, peace, innocence, simplicity, precision, winter and goodness. White and black combination has the biggest visual contrast, this can be used to portray opposite concepts such as day & night or Good vs.
Colors White
Header re-redesign Laura Moraiti A few new iterations on the mobile navigation, thanks to @Oiseau and @kenil for their input 1.a) Centered logo, with "Top read" and "Search" on the sides as easy access and a 100% width "Menu" button that activates a dropdown. The dropdown features the main categories in a column with associated color and then the other items with their icon (in larger size) 1.b) The same but using all caps.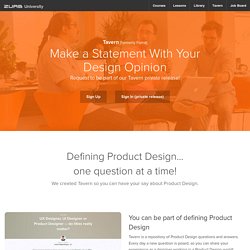 SmashinGeeks - Geeks In Action with Blogging , Designs ,Tutorials , Graphics, Latest Tech News, Wordpress, Blogger, Programming
Web Creme | Web design inspiration
10 Cool and Creative Websites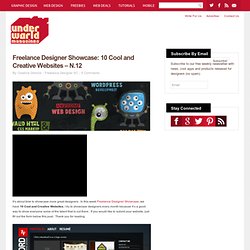 It's about time to showcase more great designers. In this week Freelance Designer Showcase, we have 10 Cool and Creative Websites. I try to showcase designers every month because it's a good way to show everyone some of the talent that is out there. If you would like to submit your website, just fill out the form below this post.
You are probably one of those who chose web design because you are passionate about it; or not. You may have chosen it because your father owned a design company and he wanted to integrate you into it. Or because you started off as a content writer and after writing on design topics for two years you decided to give it a try. Regardless of where you come from, pretty much all of us head the same way: either work for a company or freelance – there is not that much else out there. Read full article at 1stwebdesigner.com site.
#1stwebdesigner on deviantART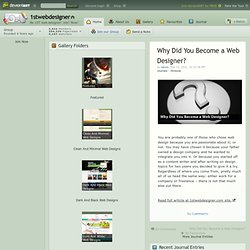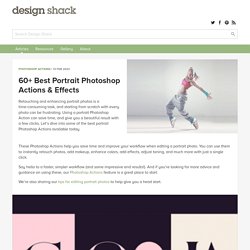 Many portfolio websites include a list of previous clients to build trust from other potential customers. Reading what other people have said about a service or product is one way to garner support from visitors who have never heard about your company before. (Of course, this design technique only works if you have previous clients to draw from!) In this tutorial I want to demonstrate two distinct styles of rotating carousels. The first is a testimonial box which includes a small quote talking about the services.
Web and designers Complete resource platform for web designers/ developers
HTML / CSS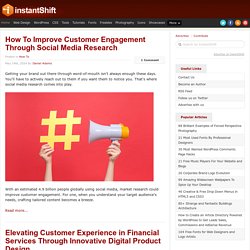 For many businesses, cloud computing may seem like a simple technology to adopt. However, the transition phase can result in massive IT related headaches. One cannot simply just turn on a switch to cloud computing.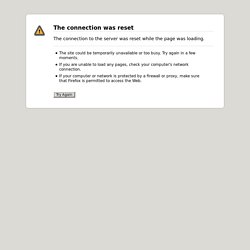 Unique take on an annual report by Warby Parker for their 2013 year. Users can browse the annual report like a calendar, or hit the randomizer button to land on a surprise day. Nice touch with the zoom effect and also on first visit the site showcases what happened exactly a year ago on that date. The keyboard browsing is useful too, I can imagine any fan of the brand could get lost for hours in this one pager.
For our first inspirational list of 2014 we decided to gather examples of white type in web design. I'm always browsing css galleries and other sites to find nice things to show here, and I noticed that a lot of sites use the dark/colorful background white type combo. This is why I decided to dedicate a list to it. Whether you are using a beautiful background image, a texture, or even a big video, overlaying white type can create a very dramatic effect. Check out the examples we have here and give white type a try in your next project.