Photographie
photos.noindex
Galerie de Chen,Ching-Yao
On Midway Atoll, a remote cluster of islands more than 2000 miles from the nearest continent, the detritus of our mass consumption surfaces in an astonishing place: inside the stomachs of thousands of dead baby albatrosses. The nesting chicks are fed lethal quantities of plastic by their parents, who mistake the floating trash for food as they forage over the vast polluted Pacific Ocean. For me, kneeling over their carcasses is like looking into a macabre mirror. These birds reflect back an appallingly emblematic result of the collective trance of our consumerism and runaway industrial growth.
Vu que de nombreuses personnes en parlent, essaient d'en faire, ou meme d'expliquer ce que c'est, toutes en ne sachant pas trop de quoi elles parlent, ou ne sont pas très claires, je vais tenter de rétablir tout ça. Qu'est-ce que l'HDR ? Laissons tomber les approximations de wikipedia et cie, je vais tenter d'expliquer ça clairement et surtout correctement. Une image, filmée, photographiée, voir meme "photoshopée", n'a comme info intrinseque que ce le capteur/pellicule a pu capter. Simplifions en disant que la valeur la plus basse (noir pur) a une valeur de 0, et la plus haute (du blanc) a une valeur de 1.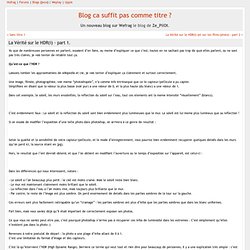 Blog ca suffit pas comme titre ? » La Vérité sur le HDR(i) - part 1.
Share photos and videos on Twitter
le Book
CaCoPhonie s'expose au CA Reuilly
Fine Art Tv - Photographie movie video art - Fine Art Tv
Enjoy the world of Creativity ! This week enjoy Serge Jacques - Bad Movies in Chez Higgins, Quentin Caffier in Springboard, Pierre Delaunay in Face to Face, Dubossarsky and Vinogradov in Uncovered, Greg Gorman - Beyond Celebrity in Portrait, Ivana Ford in Sensuality, Michaela - Wet in Muse by Richard Murrian, Julia Milner - The Mobile Portrait in Digital Art, the best of Advertising in Art Commercial and all your favorites programs. Discover Fine Art Tv though these intimate video documentaries, articles and images portfolios ! Don't forget to visit FineArtCity where creative people share their creation. Enjoy photos and videos from great Pro and Amateurs from all over the world.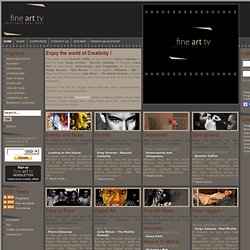 Kent Rogowski
Le programme du Mois de la Photo tient à peine dans un volume de 131 pages (et encore, la brochure ne recense pas toutes les expositions). Voici mon Top 10. Ce ne sont pas les Tables de la Loi, juste une liste pour se lancer dans cette extraordinaire profusion d'expositions. La liste sera révisée au fur et à mesure des découvertes, des bonnes et des mauvaises surprises. Inutile de le préciser, mon Top 15 est complètement subjectif. 1.
Photo Sensible : Archives novembre 2008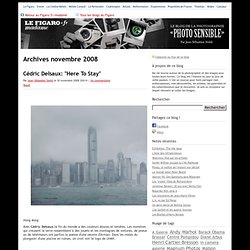 I'm a short cuts maker, here and there and elsewhere, at the edges of the world with a cell phone. Singular moments when life tests space. Les images (réalisées avec un photophone ou deux) et les textes de ce blog sont librement utilisables sur la base de la Creative Commons Licence.Le respect de la vie privée sur internet est important : j'ai décidé d'échanger mon bouton Like de Facebook par un bouton Faire un don de Paypal carIl n'y pas d'amour, il n'y a que des preuves d'amour (Jean Cocteau), Merci d'avance.Karine Maussière All these works are free by
kalucine_blog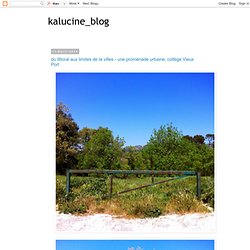 Corner View - Holiday Pics - Butlin's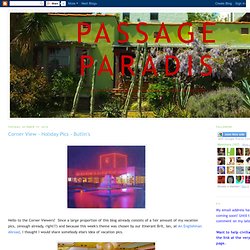 Hello to the Corner Viewers! Since a large proportion of this blog already consists of a fair amount of my vacation pics, (enough already, right!?) and because this week's theme was chosen by our itinerant Brit, Ian, at An Englishman Abroad, I thought I would share somebody else's idea of vacation pics. These come from a book called "Our True Intent is All for Your Delight" (2002) and it is a book
Exploration Urbaine / Urban Exploration Boreally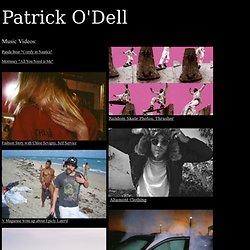 Patrick O'Dell
Altamont Clothing Lukewarms VS Hotcrew, Thrasher Ausbury Pool story, Thrasher Later'd Tour, Thrasher Emerica World Tour, Thrasher, Jun 03
National Geographic is once again holding their annual Photo Contest, with the deadline for submissions coming up on November 30th. For the past eight weeks, they have been gathering and presenting galleries of submissions, encouraging readers to rate them as well. National Geographic was again kind enough to let me choose some of their entries from 2010 for display here on The Big Picture.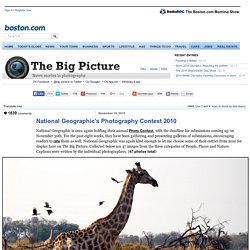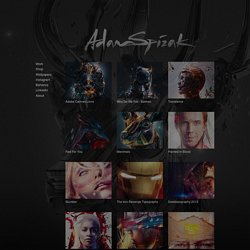 IronMan type projectArt Direction, Illustration, Typography2013 I had a great opportunity to contribute to the annual desktopography project curated by Pete Harrison. This year i've made the exercise focused on delivering two images inspired by endangered species. The project used set of different styles – from digital painting to 3D and uses mystical and sci-fi metaphors to highlight the issue of species facing a very high risk of extinction.Art Direction, Digital Art, Illustration2013 Welcome to the Game!
Adam Spizak - Illustrator and Designer. Version 4.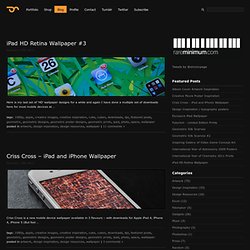 iPad HD Retina Wallpaper #3February 27th 2013 Here is my last set of 'HD' wallpaper designs for a while and again I have done a multiple set of downloads here for most mobile devices at … Criss Cross – iPad and iPhone WallpaperFebruary 16th 2013 Criss Cross is a new mobile device wallpaper available in 3 flavours – with downloads for Apple iPad 4, iPhone 4, iPhone 5 (But feel … iPad HD Retina Wallpaper #2February 12th 2013 Since I released my first set of wallpapers for the iPad 4 (in Retina 2048×2048 @ 264ppi resolution or HD, as … The Art of the BookmarkFebruary 12th 2013 As a promotional thing I started giving away bookmarks free on all new poster orders over at rareminimum.com.
VINCENT DIXON
Collection automne-hiver par Amnesty
Collection automne-hiver est la nouvelle campagne choc d'Amnesty International France réalisée par TBWA\Paris. Une claque, d'autant plus pendant la fashion week. La campagne met en scène 3 cas emblématiques de violations de droits : les violences conjugales, la répression de la liberté d'expression et les expulsions forcées. Shootée par le photographe Dimitri Daniloff dont la marque de fabrique est la mélange entre esthétisme/beauté et réalisme/dureté, ces 3 scènes montrent une extrême violence incrustée dans l'ordinaire d'un déflié de mode afin d'illustrer tout le décalage qu'il existe encore entre la réalité et la prise de conscience.
Magnum Photos is a photographic cooperative of great diversity and distinction owned by its photographer members. With powerful individual vision, Magnum photographers chronicle the world and interpret its peoples, events, issues and personalities. The Magnum Photos library is a living archive updated daily with new work from across the globe. You may search or browse our 500,000+ images which are available online for licensing in a variety of formats. Newsletters Keep up to date with Magnum events, exhibitions, features, books and news. Read Magnum's newsletters from our global offices in London, New York and Paris.
The Hooligan | I was there.
Xavier Veilhan