BCM
Richard Branson on Intrapreneurs. I am incredibly lucky to be able to live in the British Virgin Islands, one of the most beautiful spots on the planet.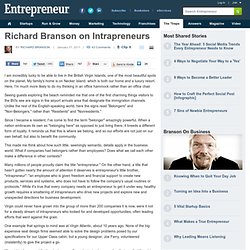 My family's home is on Necker Island, which is both our home and a luxury resort. Here, I'm much more likely to do my thinking in an office hammock rather than an office chair. Seeing guests exploring the beach reminded me that one of the first charming things visitors to the BVIs see are signs in the airport arrivals area that designate the immigration channels.
Social. Mobile. China's 5 best new cities for business - The next centers of commerce (1) - FORTUNE. Startup Killer: The Cost of Customer Acquisition. In the many thousands of articles advising entrepreneurs on what they have to focus on to build successful startups, much has been written about three key factors: team, product and market, with particular focus on the importance of product/market fit.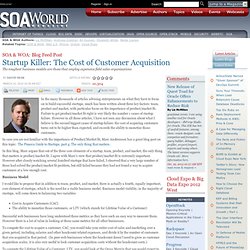 Failure to get product/market fit right is very likely the number 1 cause of startup failure. However in all these articles, I have not seen any discussion about what I believe is the second biggest cause of startup failure: the cost of acquiring customers turns out to be higher than expected, and exceeds the ability to monetize those customers. Frankfurt Book Fair - Frankfurt Book Fair. How the Web Is Changing Fashion Marketing in 2010. The fashion industry functions much like your least favorite high school clique: A leader boldly undertakes something new, a few imitators cautiously follow suit and the rest then clamber to participate before the trend dies out.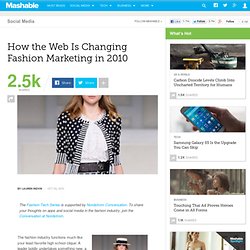 The same pattern has emerged so far this year, as brands sample new digital and mobile technologies to market to and engage with consumers. In particular, brands took to location-based social network Foursquare to build buzz around new product launches, like Jimmy Choo's line of trainers and Oscar de la Renta's limited-edition series of python iPad clutches. In addition to campaigns, fashion brands released a significant amount of behind-the-scenes content on a regular basis, ranging from blurry mobile snapshots of runway models for quick distribution over Facebook and Twitter, to professionally produced short films delivered exclusively on company websites and mobile apps.
10 Things Employees Want Most. It's no coincidence that Steven Slater, the now-famous JetBlue employee, has been elevated to the status of a working person's hero.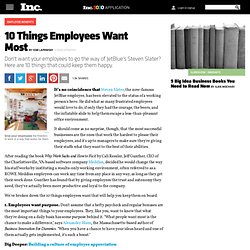 He did what so many frustrated employees would love to do, if only they had the courage, the beers, and the inflatable slide to help them escape a less-than-pleasant office environment. It should come as no surprise, though, that the most successful businesses are the ones that work the hardest to please their employees, and it's up to managers to make sure they're giving their staffs what they want to the best of their abilities. After reading the book Why Work Sucks and How to Fix it by Cali Ressler, Jeff Gunther, CEO of the Charlottesville, VA-based software company Meddius, decided he would change the way his staff works by instituting a results-only working environment, often referred to as a ROWE.
Meddius employees can work any time from any place in any way, as long as they get their work done. Anteil der IT-Ausgaben bei 25 Prozent: Outsourcing im Jahr 2020. Online Marketing Is More Than Ads, It's Art. The 7 Habits of Highly Innovative People | BNET. Last Updated Aug 31, 2010 12:44 PM EDT Tell the truth: how many times have you read a business or self-help book, said, "Wow, that was cool," and then, well, nothing changed?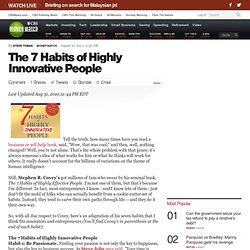 Well, you're not alone. That's the whole problem with that genre; it's always someone's idea of what works for him or what he thinks will work for others. It really doesn't account for the billions of variations on the theme of human intelligence. 7 Essential CIO Leadership Skills That Get Results CIO. CIO — In the new book The CIO Edge: Seven Leadership Skills You Need to Drive Results, the trio of authors argue that CIOs' leadership and people skills are the biggest determinate of their success—or failure.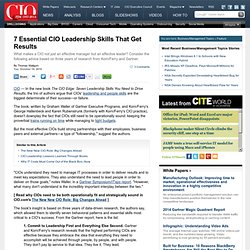 The book, written by Graham Waller of Gartner Executive Programs, and Korn/Ferry's George Hallenbeck and Karen Rubenstrunk (formerly with Korn/Ferry's CIO practice), doesn't downplay the fact that CIOs still need to be operationally sound: keeping the proverbial trains running on time while managing to tight budgets.
But the most effective CIOs build strong partnerships with their employees, business peers and external partners—a type of "followership," suggest the authors. "CIOs understand they need to manage IT processes in order to deliver results and to meet key expectations. Identifies the Top 10 Strategic Technologies for 2011. STAMFORD, Conn., October 19, 2010 View All Press Releases Analysts Examine Latest Industry Trends During Gartner Symposium/ITxpo, October 17-21, in Orlando Gartner, Inc. today highlighted the top 10 technologies and trends that will be strategic for most organizations in 2011.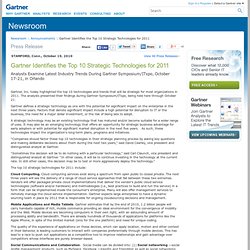 The analysts presented their findings during Gartner Symposium/ITxpo, being held here through October 21. Gartner defines a strategic technology as one with the potential for significant impact on the enterprise in the next three years. Factors that denote significant impact include a high potential for disruption to IT or the business, the need for a major dollar investment, or the risk of being late to adopt. 8 Ways to Foster Innovation in Your Company. To come up with their best new ideas, most companies turn to an inexpensive and efficient source of innovation: their own employees.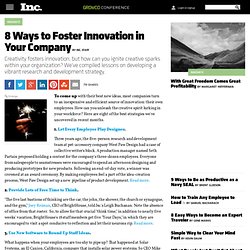 How can you unleash the creative spirit lurking in your workforce? Here are eight of the best strategies we've uncovered in recent months. 1. Let Every Employee Play Designer. Richard Branson: The Importance of Not Being Earnest. The famous British billionaire says having fun should be an essential part of your business.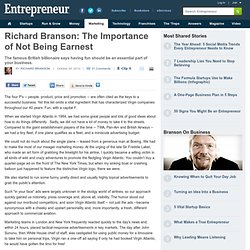 The four P's -- people, product, price and promotion -- are often cited as the keys to a successful business. Yet this list omits a vital ingredient that has characterized Virgin companies throughout our 40 years: Fun, with a capital F. SAP: BI mit Augmented Reality. SAP hat den Prototypen des 'SAP BusinessObjects Explorer – Augmented for iPad and iPhone' (Augmented Explorer) veröffentlicht.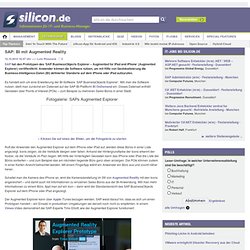 Anwender können die Software nutzen, um mit Hilfe von Geolokalisierung die Business-Intelligence-Daten (BI) definierter Standorte auf dem iPhone oder iPad aufzurufen. Es handelt sich um eine Erweiterung der BI-Software 'SAP BusinessObjects Explorer'. Will man die Software nutzen, stellt man zunächst ein Datenset auf der SAP-BI-Plattform BI OnDemand ein. Dieses Datenset enthält Geodaten über Points of Interest (POIs) – zum Beispiel zu mehreren Sales-Büros in einer Stadt. How centered leaders achieve extraordinary results - McKinsey Quarterly - Organization - Change Management. For the past six years, we have been on a journey to learn from leaders who are able to find the best in themselves and in turn inspire, engage, and mobilize others, even in the most demanding circumstances. And the business environment has become more demanding: the global financial crisis and subsequent economic downturn have ratcheted up the pressure on leaders already grappling with a world in transformation.
More than half of the CEOs we and our colleagues have spoken with in the past year have said that their organization must fundamentally rethink its business model. Five IT Priorities for 2011 - Intelligence. Driving Business Success With Technology Intelligence / Five IT Priorities for 2011 Five IT Priorities for 2011. 5 Predictions for Small Business in 2011. Over the course of 2010, Mashable has offered quite a few small business resources, ranging from tips on social media and marketing to resources for web design and development. As this year wraps up, we'd like to look back at the technological advancements that small businesses have benefited from and predict how those technologies will affect entrepreneurs in 2011. Here are my five predictions about how small businesses will continue to adapt to changing technologies as we move into the new year.
Read on and let us know what you'd add to the list in the comments below.
---