Asian and Filipino Studies - Resources
Asian American Women Artists Association: Official Website
Kularts
Jessica Hagedorn
Arkipelago Bookstore
Baybayin Translation: Symbol Equivalent : Your word(s) : If you notice that some letters have been dropped from your original word, this is not an error. Check out the Frequently Asked Questions & Translations page to find out why. If the results don't look right, check out the tips page for better results.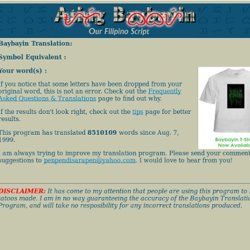 translate
Oakland Asian Cultural Center
Bayanihan Community Center Home Page
Pinoy Tattoos
Filipino Tattoos
Mark of the Four Waves - Filipino Tattoos
Flag of the Philippines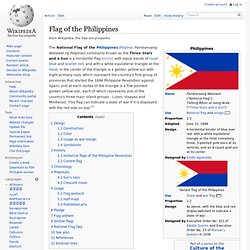 The National Flag of the Philippines ( Tagalog : Pambansang Watawat ng Pilipinas ) is a horizontal flag bicolor with equal bands of royal blue and scarlet red , and with a white equilateral triangle at the hoist ; in the center of the triangle is a golden yellow sun with eight primary rays, which represent the country's first group of provinces that started the 1896 Philippine Revolution against Spain; and at each vertex of the triangle is a five-pointed golden yellow star, each of which represent the country's 3 main regions - Luzon, Visayas and Mindanao. This flag can indicate a state of war if it is displayed with the red side on top. [ 1 ] The making of the flag of the Philippines [ edit ] Design [ edit ] Construction The flag's length is twice its width, which translates into an aspect ratio of 1:2.
Racial Formation Theory is an analytical tool in sociology , developed by Michael Omi and Howard Winant , which is used to look at race as a socially constructed identity , where the content and importance of racial categories is determined by social, economic, and political forces. Unlike other traditional race theories, "In [Omi and Winant's] view, racial meanings pervade US society, extending from the shaping of individual racial identities to the structuring of collective political action on the terrain of the state". [ edit ] Race is a social concept In order to delve further into the topic of racial formation it is important to explore the question of what race is. Racial formation theory is a framework with the objective of deconstructing race as it exists today in the United States . To do this they first explore the historical development of race as a dynamic and fluid social construct.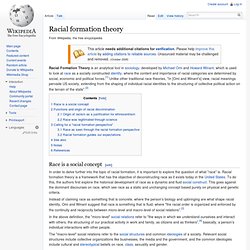 Racial Formation Theory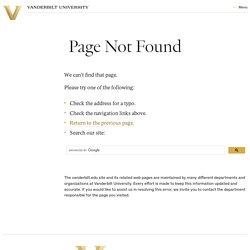 Paul A. Kramer Associate Professor of History PhD, Princeton, 1998
Paul Kramer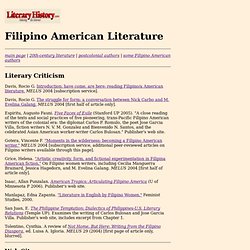 main page | 20th-century literature | postcolonial authors | some Filipino American authors Literary Criticism Davis, Rocio G. Introduction: have come, are here: reading Filipino/a American literature. MELUS 2004 [subscription service]. Davis, Rocio G.
Filipino-American Literature
Hyphen