Conceptual Artists
Laetitia Sonami
Laetitia Sonami is a sound artist and performer. Her sound performances, live-film collaborations and sound installations explore ideas of presence and participation. Her signature instrument, the lady's glove, allows her to control sounds, mechanical devices, and lights in real-time. She is currently developing a new instruments around magnets and springs... "…Experimental music is rarely this visceral and engaging" - Los Angeles Times
Jessica Dylan Tully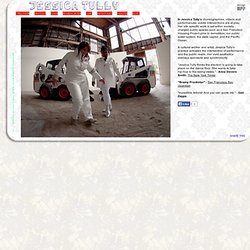 In Jessica Tully's choreographies, videos and performances, subtle interventions are at play. Her site specific work is set within socially charged public spaces such as a San Francisco Housing Project prior to demolition, our public water system, the state capitol, and the Pacific Ocean. A cultural worker and artist, Jessica Tully's practice activates the intersection of performance and the public realm. Her vivid aesthetics overlays spectacle and synchronicity.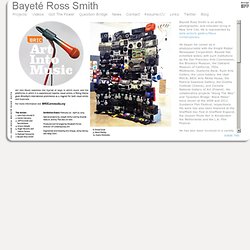 Bayeté Ross Smith is an artist, photographer, and educator living in New York City. He is represented by beta pictoris gallery/Maus Contemporary He began his career as a photojournalist with the Knight Ridder Newspaper Corporation.
Bayete Ross Smith
Praba Pilar explores emerging technologies and community through performances, street theatre, site works, installations, digital prints, writing and websites. Her wildly diverse work has been presented at museums, galleries, public streets, universities and all kinds of arterventionist/ performalogic spaces, honored with multiple awards, from Creative Capital to the Hawaii Flux Award, and written about in numerous publications. photo credits, left to right: Praba Pilar, Janet Sarson, Kika Hannes
Praba Pilar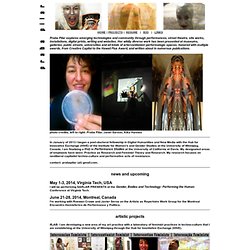 Devil Bunny
Jonn Herschend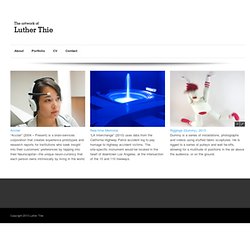 Luther Thie
Acclair "Acclair" (2004 – Present) is a brain-services corporation that creates experience prototypes and research reports for institutions who seek insight into their customers' preferences by tapping into their Neurocapital—the unique neuro-currency that each person owns intrinsically by living in the world. Real-time Memorial "LA Interchange" (2010) uses data from the California Highway Patrol accident log to pay homage to highway accident victims. The site-specific monument would be located in the heart of downtown Los Angeles, at the intersection of the 10 and 110 freeways. Riggings (Dummy), 2013
Katherine Worel
CURRENT: 2014 Guggenheim Fellowship Award Assistant Professor in Sculpture, University of California, Berkeley Alien She, Vox Populi, Philadelphia, 2014, Yerba Buena Center for the Arts, San Francisco, 2014; Orange County Museum of Art, Newport Beach, CA Curator: Lossy, Bemis Center for Contemporary Art, Omaha, NE, Nov. 2013 - April 2014. FREE TEXTS, solo exhibition at Ulrich Museum of Art, Wichita, KS, March 2014. Initial Public Offering, San Jose Museum of Art, March - June, 2014. FUTURE: Panelist, Valuing Labor in the Arts, UC Berkeley Arts Resource Center, April 19, 2014. Essay: "Tactical Refashionings," Journal of Design Strategies, Parsons The New School for Design, New York, Spring 2014. New Natives, Lightbombs Contemporary, Hong Kong, April 2014.
Stephanie Syjuco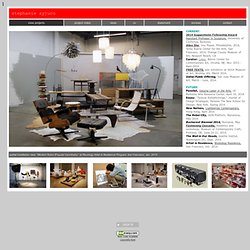 Laura Splan
I make installations, sculptures, works on paper and multiples that elicit viewers' optimistic or pessimistic attitudes, perceptions, and emotions. Currently, I'm premiering Make Things (Happen) at Social in Practice at Nathan Cummings Foundation and NYU Tisch; participating in the Bronx Museum AIM program; and developing a new project and public forum with support from a Queens Council on the Arts' Queens Arts Fund grant. Read on.
Christine Wong Yap