ArqInfo
Formación en Arquitectura de Información | UX Learn
Publicado el 13 de June de 2011 por torresburriel Cuando empezamos a abordar un proyecto web siempre les cuento a los alumnos -y realizo en mi trabajo profesional- que es muy conveniente iniciar las tareas en base a un esquema muy simple en su planteamiento, pero muy complejo en su resolución: qué queremospara qué lo queremosquién se va a beneficiary cómo se va a utilizar Esquema inicial de preguntas a responder al hacer un test de usuarios para evaluar un proyecto Las respuestas a estos planteamientos iniciales no son sencillas de responder, y siempre deben ir iluminadas del conocimiento del cliente que, no lo olvidemos, es quien sabe del negocio. Básicamente se trata de dar respuesta a una serie de cuestiones de carácter general, que hay que contestar de la forma más concreta posible:
Esquema inicial de un proyecto desde UX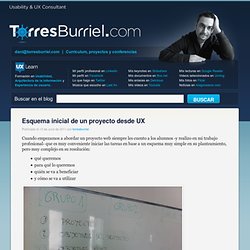 App Sketcher - Web Wireframes and Prototypes ASAP.
Build interactive prototypes quickly with HTML and jQuery components. No coding required. Go beyond typical mockups.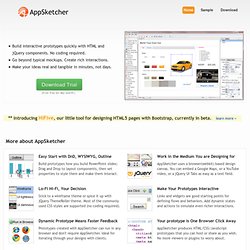 Jorge A. Toro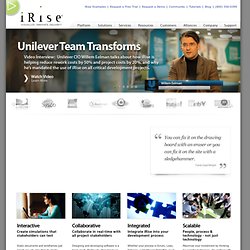 Static documents and wireframes just aren't enough. Use iRise to create working simulations of web, desktop, and mobile applications quickly, without writing code. It's only when people interact with a simulation that you uncover design flaws, requirements errors, and usability issues.