American Old West
Billy Clanton (1862 – October 26, 1881) was a Cowboy in Cochise County, Arizona Territory. Billy worked with his father Old Man Clanton on their ranch and may have assisted in rustling livestock . He is best known for being a member of group of outlaw Cowboys that had ongoing conflicts with lawmen Wyatt , Virgil and Morgan Earp . The Clantons repeatedly threatened the Earps because they interfered with the Cowboys' illegal activities.
Billy Clanton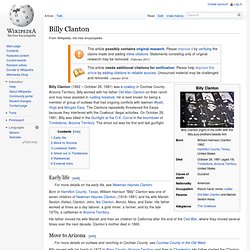 Belle Starr
Studio portrait of Belle Starr, "Queen of the Oklahoma Outlaws," [ 1 ] circa early 1880s. Myra Maybelle Shirley Reed Starr (February 5, 1848 – February 3, 1889), better known as Belle Starr , was a notorious American outlaw . [ edit ] Early life Belle Starr was born as Myra Maybelle Shirley on her father's farm near Carthage, Missouri .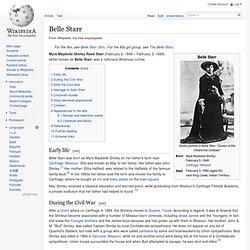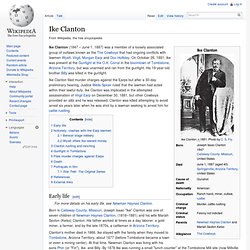 Ike Clanton
Joseph Isaac (Ike) Clanton (1847 – June 1, 1887) was a member of a group of outlaws known as the The Cowboys that had ongoing conflicts with lawmen Wyatt , Virgil , Morgan Earp and Wyatt's friend Doc Holliday due to disputes over the town's gambling business. On October 26, 1881, Ike was present at the Gunfight at the O.K. Corral in the boomtown of Tombstone , Arizona Territory , but was unarmed and ran from the gunfight. His 19 year old brother Billy was killed in the gunfight. Ike filed murder charges against the Earps but after a 30-day preliminary hearing, Justice Wells Spicer ruled that there was not enough evidence to indict the Earps. Ike was implicated in the attempted assassination of Virgil Earp on December 30, 1881, but was released for lack of evidence.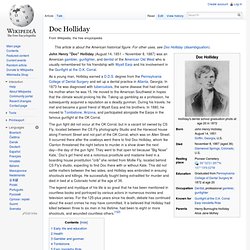 Doc Holliday
John Henry "Doc" Holliday (August 14, 1851 – November 8, 1887) was an American gambler , gunfighter and dentist of the American Old West , who is usually remembered for his friendship with Wyatt Earp and his involvement in the Gunfight at the O.K. Corral . As a young man, Holliday earned a D.D.S. degree in dentistry and set up a practice in Atlanta , Georgia. However, in 1873 he was diagnosed with tuberculosis , the same disease that had claimed his mother when he was 15. He moved to the American southwest in hopes that the climate would prolong his life. Taking up gambling as a profession, he acquired a reputation as a deadly gunman.
Christopher Houston "Kit" Carson (December 24, 1809 [ 1 ] – May 23, 1868) was an American frontiersman and Indian fighter . Carson left home in rural present-day Missouri at age 16 and became a mountain man and trapper in the West. [ 2 ] Carson explored the west to California, and north through the Rocky Mountains. He lived among and married into the Arapaho and Cheyenne tribes. He was hired by John C. Fremont as a guide, and led 'the Pathfinder' through much of California, Oregon and the Great Basin area. He achieved national fame through Fremont's accounts of his expeditions.
Kit Carson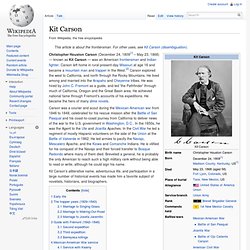 The American frontier comprises the geography, history, folklore, and cultural expression of life in the forward wave of American westward expansion from the original colonial settlements to the early 20th century. Enormous popular attention in the media focuses on the second half of the 19th century, a period sometimes called the Old West , or the Wild West . As defined by Hine and Faragher, "frontier history tells the story of the creation and defense of communities, the use of the land, the development of markets, and the formation of states."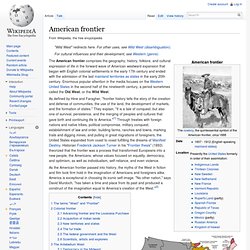 American Old West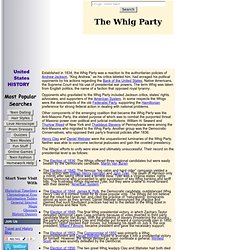 Established in 1834, the Whig Party was a reaction to the authoritarian policies of Andrew Jackson . "King Andrew," as his critics labeled him, had enraged his political opponents by his actions regarding the Bank of the United States , Native Americans, the Supreme Court and his use of presidential war powers. The term Whig was taken from English politics, the name of a faction that opposed royal tyranny. Opponents who gravitated to the Whig Party included Jackson critics, states' rights advocates, and supporters of the American System . In some respects the Whigs were the descendants of the old Federalist Party , supporting the Hamiltonian preference for strong federal action in dealing with national problems.
The Whig Party
The Civil War at a Glance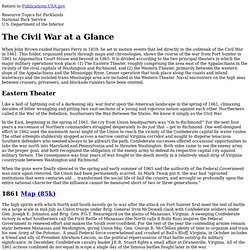 Return to Publications.USA.gov Resource Topics for Parklands National Park Service U.S. Department of the Interior
Al Swearengen
Ellis Albert " Al " Swearengen (b. Oskaloosa, Iowa , 8 July 1845 – d. Colorado , 15 November 1904) was a pimp and early entertainment entrepreneur in Deadwood, South Dakota , who ran the Gem Theater , a notorious brothel , for 22 years and combined a reputation for brutality with an uncanny instinct for forging political alliances.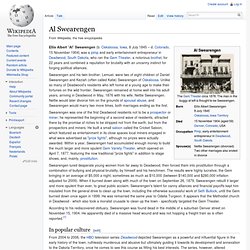 Seth Bullock (July 23, 1849 – September 23, 1919) was a Western sheriff , hardware store owner and U.S. Marshal . [ edit ] Early life Many of the details of Bullock's early life are lost. He was born in Amherstburg , Canada West (now Ontario ). His father, retired British Army officer and hero George Bullock, was known to be active in the politics of Sandwich, Canada West (now known as Windsor, Ontario ). [ citation needed ] Seth's mother was a Scotswoman named Anna Findley Bullock.
Seth Bullock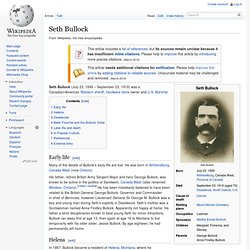 Mexican–American War
The Mexican–American War , also known as the Mexican War or the U.S.–Mexican War , was an armed conflict between the United States of America and the United Mexican States from 1846 to 1848 in the wake of the 1845 U.S. annexation of Texas , which Mexico considered part of its territory despite the 1836 Texas Revolution . Combat operations lasted a year and a half, from spring 1846 to fall 1847. American forces quickly occupied New Mexico and California , then invaded parts of Northeastern Mexico and Northwest Mexico ; meanwhile, the Pacific Squadron conducted a blockade, and took control of several garrisons on the Pacific coast further south in Baja California . Another American army captured Mexico City , and the war ended in victory for the U.S. The Treaty of Guadalupe Hidalgo specified the major consequence of the war: the forced Mexican Cession of the territories of Alta California and New Mexico to the U.S. in exchange for $15 million.
José Doroteo Arango Arámbula (5 June 1878 – 20 July 1923) – better known by his pseudonym Francisco Villa or his nickname Pancho Villa – was one of the most prominent Mexican Revolutionary generals. As commander of the División del Norte (Division of the North), he was the veritable caudillo of the northern Mexican state of Chihuahua which, given its size, mineral wealth, and proximity to the United States of America, provided him with extensive resources. Villa was also provisional Governor of Chihuahua in 1913 and 1914. Although he was prevented from being accepted into the "panteón" of national heroes until some 20 years after his death, today his memory is honored by Mexicans. In addition, numerous streets and neighborhoods in Mexico are named in his honor.
Pancho Villa
William H. Bonney (born William Henry McCarty, Jr. c. November 23, 1859 [ 1 ] – c. July 14, 1881), better known as Billy the Kid but also known as Henry Antrim , was a 19th-century American gunman who participated in the Lincoln County War and became a frontier outlaw in the American Old West . According to legend, he killed 21 men, [ 2 ] but it is generally believed that he killed between four and nine. [ 2 ] He killed his first man at 18. McCarty (or Bonney, the name he used at the height of his notoriety) was 5'8" (173 cm) tall with blue eyes, a smooth complexion, and prominent front teeth.
Billy the Kid
Parley P. Pratt
Parley Parker Pratt, Sr. (April 12, 1807 – May 13, 1857) was an early leader of the Latter Day Saint movement whose writings became a significant early nineteenth-century exposition of the Latter Day Saint faith. Named in 1835 as one of the first members of the Quorum of the Twelve Apostles , Pratt was part of the Quorum's successful mission to Great Britain, 1839 to 1841.
Jesse Woodson James (September 5, 1847 – April 3, 1882) was an American outlaw , gang leader , bank robber , train robber , and murderer from the state of Missouri and the most famous member of the James-Younger Gang . Already a celebrity when he was alive, he became a legendary figure of the Wild West after his death. Some recent scholars place him in the context of regional insurgencies of ex- Confederates following the American Civil War rather than a manifestation of frontier lawlessness or alleged economic justice . [ 1 ] Jesse and his brother Frank James were Confederate guerrillas during the Civil War. They were accused of participating in atrocities committed against Union soldiers . After the war, as members of one gang or another, they robbed banks, stagecoaches and trains.
Jesse James
Morgan Earp
Wyatt Earp
Manifest Destiny
William Brocius
Brigham Young
Wild Bill Hickok
Joseph Smith, Jr.
The Church of Jesus Christ of Latter-day Saints
Calamity Jane
Andrew Johnson
Lewis and Clark Expedition
First Transcontinental Railroad - Central Pacific Railroad Photographic History Museum
Federalist Party
Buffalo Bill
George Armstrong Custer
Gunfight At The OK Corral - Tombstone - Wyatt Earp, Doc Holliday - Ike Clanton