Tema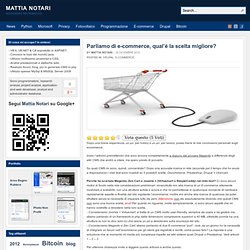 Dopo una breve esperienza, un po' per hobby e un po' per lavoro, posso trarre le mie conclusioni personali sugli ecommerce. Inizio l'articolo premettendo che sono ancora completamente a digiuno dal provare Magento a differenza degli altri CMS che andrò a citare, ma spero presto di provarlo. Su quali CMS mi sono, quindi, concentrato? Dopo una accurata ricerca in rete (accurata per il tempo che ho avuto a disposizione) i miei test sono ricaduti su 3 possibili scelte: Oscommerce, Prestashop, Drupal + Ubercart. Perchè ho scartato Magento, Zen Cart e Joomla + (Virtuemart o SimpleCaddy) nei miei test?
Parliamo di e-commerce, qual'è la scelta migliore?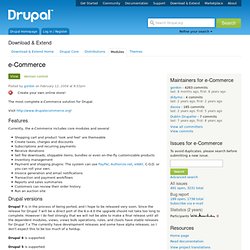 Create your own online store! The most complete e-Commerce solution for Drupal. Visit http://www.drupalecommerce.org! Features
e-Commerce
Drupal, come gli altri CMS più noti, dispone di moduli per la creazione di siti di commercio elettronico. Una delle soluzioni più complete per la creazione di un negozio on-line è il pacchetto di moduli e-Commerce. Si tratta di un pacchetto open source che include numerose cose, tra cui: il carrello dei prodotti;gestione delle iscrizioni;possibilità di inserire tasse e sconti;pagamento tramite diversi sistemi: PayPal, Authorize.net, eWAY, COD (Cash On Delivery) e altri;generazione di fatture;possibilità di vedere le transazioni; Inoltre, tramite moduli esterni, è possibile anche gestire degli inventari e delle aste. Il download del modulo è disponibile dalla pagina del progetto.
E-commerce con Drupal | Articoli Cms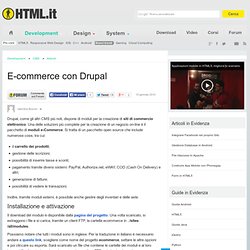 Drupal Commerce is used to build eCommerce websites and applications of all sizes. At its core it is lean and mean, enforcing strict development standards and leveraging the greatest features of Drupal 7 and major modules like Views and Rules for maximum flexibility. Whereas eCommerce solutions are often developed with an application mindset, highlighting what you can do with it out of the box, Drupal Commerce was developed with a framework mindset, focusing on what you can build with it.
Commerce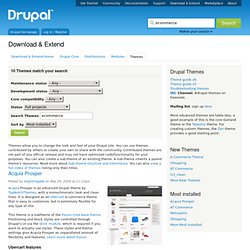 AT Commerce is fresh, professionally designed theme for eCommerce sites with baked in support for the Commerce module and Ubercart. Mobile eCommerce is supported using responsive design methods, so your online store will display and work across mobile channels without any extra work or effort. There are many settings that allow you to modify the design, color and layout - this gets you up and running quickly while allowing you to re-brand the design to your requirements without any coding. The demo is currently using the "Blue Pearl" color scheme. There are two other color schemes included and you can design your own using the color picker.
Themes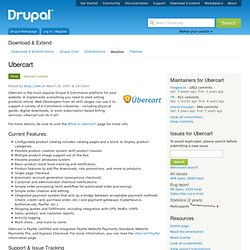 Ubercart is the most popular Drupal E-Commerce platform for your website. It implements everything you need to start selling products online. Web Developers from all skill ranges can use it to support a variety of E-Commerce industries-- including physical goods, digital downloads, or even subscription based billing services. Ubercart can do it all!
Web Template Themes - EDesign