Alternative Banking
Tarek El Diwany
Banking - the Greatest Scam on Earth
In February 2005 Anne Belsey proposed that there should be a Money Reform Party (MRP) in the UK. The Party was officially created in August 2005. Prior to creating the MRP, Anne had been involved for many years with LETS ystems, but she concluded after much deliberation and research that LETS did not answer all of her concerns about the environment, rising debt and world wide economic problems. The idea of Money Reform is not new, although it has been discussed more intensively in the past. The idea of creating a political party was new. It is a small party, but the number of members are growing and with that the awareness and open debates about money are increasing.
Introducing the Money Reform Party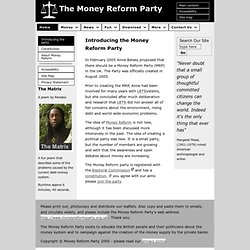 AMI (American Monetary Institute) - Monetary Reform and Solutions to the Financial Crisis
amacolorpamphlet.pdf (application/pdf Object)
The Alaska Permanent Fund is a constitutionally established permanent fund managed by a state-owned corporation, the Alaska Permanent Fund Corporation (APFC). [ 1 ] The fund was established in Alaska in 1976 [ 2 ] by Article 9, Section 15 of the Alaska State Constitution [ 3 ] under Governor Jay Hammond . From February 1976 until April 1980, the Department of Revenue Treasury Division managed the state's Permanent Fund assets, until, in 1980, the Alaska State Legislature created the APFC. [ 4 ] Shortly after the oil from Alaska's North Slope began flowing to market through the Trans-Alaska Pipeline System , the Permanent Fund was created by an amendment to the Alaska Constitution . It was designed to be an investment where at least 25% of the oil money would be put into a dedicated fund for future generations, who would no longer have oil as a resource. [ 5 ] This does not mean the fund is solely funded by oil revenue.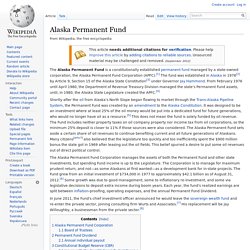 Alaska Permanent Fund
Dandelion Salad
WIR Bank logo The WIR Bank , formerly the Swiss Economic Circle ( GER : Wirtschaftsring-Genossenschaft ), or WIR, is an independent complementary currency system in Switzerland that serves small and medium-sized businesses and retail customers. It exists only as a bookkeeping system, with no scrip , to facilitate transactions. WIR was founded in 1934 by businessmen Werner Zimmermann and Paul Enz as a result of currency shortages and global financial instability.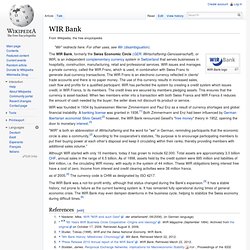 WIR Bank
New Economies/Banking/ Social Lending/SRI
Alternative Banking | Activity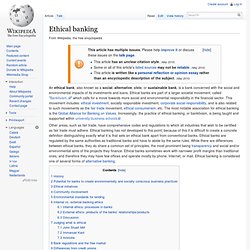 An ethical bank , also known as a social , alternative , civic , or sustainable bank , is a bank concerned with the social and environmental impacts of its investments and loans. Ethical banks are part of a larger societal movement toward more social and environmental responsibility in the financial sector. This movement includes: ethical investment , socially responsible investment, corporate social responsibility , and is also related to such movements as the fair trade movement, ethical consumerism , boycotting , etc.
Ethical banking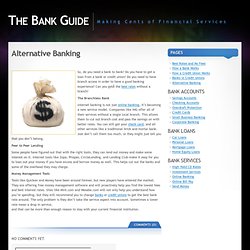 Alternative Banking
So, do you need a bank to bank? Do you have to get a loan from a bank or credit union? Do you need to have branch access in order to have a good banking experience?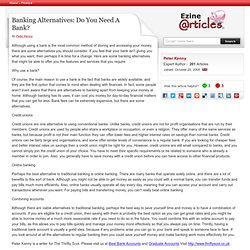 Although using a bank is the most common method of storing and accessing your money, there are some alternatives you should consider. If you feel that your bank isn't giving you what you want, then perhaps it is time for a change. Here are some banking alternatives that might be able to offer you the features and services that you require. Why use a bank? Of course, the main reason to use a bank is the fact that banks are widely available, and they are the first option that comes to mind when dealing with finances. In fact, some people aren't even aware that there are alternatives to banking apart from keeping your money at home.
Banking Alternatives: Do You Need A Bank?
Checking and savings accounts are not the exclusive domain of banks. They are also offered by some non-bank businesses. Here are three of the most common: Credit unions Credit unions operate much like banks, and deposits in member credit unions are federally insured up to $250,000 by the National Credit Union Share Insurance Fund (NCUSIF). The key difference is this: Credit unions are nonprofit, member-owned cooperatives whose members share something in common, such as a labor union, college alumni association, employer, or community.
Credit unions and traditional bank alternatives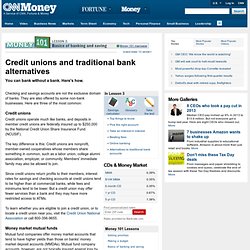 Nationalising the banks is a a good first step - but then what? What would a genuine people's bank be like? Sargon Nissan of the New Economics Foundation looks at local, international and historical experience to find answers The global scale of the current crisis represents a novel problem for civil society and NGOs which have challenged the dominant form of globalisation. To prevent a return to business as usual, civil society efforts against financial liberalisation internationally must now find common cause with the grass-roots movement of local investment and financial alternatives on their doorstep and together capture the collective imagination about what went wrong and what needs to be done.
Wanted: alternative banking system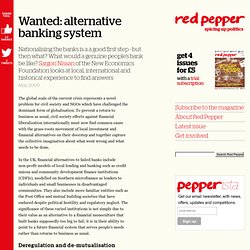 Occupy Wall Street: Alternative Banking: The Commons concept note | Carne Ross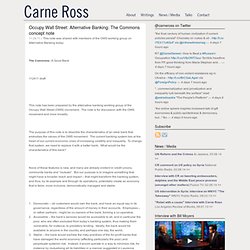 This note was shared with members of the OWS working group on Alternative Banking today: The Commons: A Good Bank 112411 draft
The Occupy Wall Street bank
Meet the Financial Wizards Working With Occupy Wall Street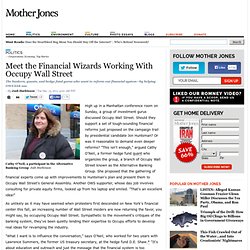 Cathy O'Neil, a participant in the Alternative Banking Group Josh Harkinson High up in a Manhattan conference room on Sunday, a group of investment gurus discussed Occupy Wall Street. Should they support a set of tough-sounding financial reforms just proposed on the campaign trail by presidential candidate Jon Huntsman? Or was it reasonable to demand even deeper reforms? "This isn't enough," argued Cathy O'Neil, a former hedge fund quant who organizes the group, a branch of Occupy Wall Street known as the Alternative Banking Group. She proposed that the gathering of financial experts come up with improvements to Huntsman's plan and present them to Occupy Wall Street's General Assembly.
Carne Ross