Mashed
Startup Collecta Shuts Down Its Product, Starts Working on a New One. Collecta, a real-time search engine that launched in June 2009, has quietly shuttered its main product; the team is returning "back into the woodshed," in the words of CEO Gerry Campbell, to work on new ideas and new directions.
Currently, Collecta.com is just a placeholder and mailing-list signup form field. The site shows a constantly refreshing mosaic of images gathered in real time from TwitPic and Flickr — an homage to the company's roots. With the majority of a carefully spent $4.7 million Series B still sitting in the bank, the startup has plenty of runway to work with; a large part of the company's talent is staying onboard, as well. HOW TO: Optimize Your LinkedIn Profile.
With more than 85 million members in more than 200 countries, LinkedIn is a professional social network worth using, understanding and optimizing.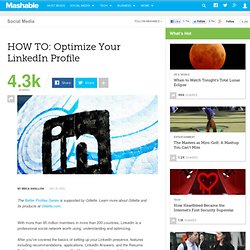 After you've covered the basics of setting up your LinkedIn presence, features including recommendations, applications, LinkedIn Answers, and the Resume Builder can add value to your profile. Many of these highly useful features, though, are often overlooked or underused by newcomers. We spoke with four LinkedIn aficionados to get their top advice on making the best use of these tools. Read on for their thoughts and let us know which tips you'd add for optimizing LinkedIn profiles in the comments below. Top 10 Twitter Trends This Week [CHART] If you're trying to convince colleagues that Twitter is a fantastic real-time information network with huge personal and business value, save your spiel until after the flames of The Great Jonas/Bieber Wars have subsided.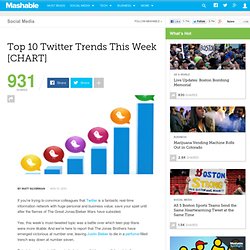 Yes, this week's most-tweeted topic was a battle over which teen pop titans were more likable. And we're here to report that The Jonas Brothers have emerged victorious at number one, leaving Justin Bieber to die in a perfume-filled trench way down at number seven. Entertainment carried the rest of what was a fairly uneventful week in the Twitterverse. The release of the highly anticipated first-person shooter Call of Duty: Black Ops had the entire web buzzing about the impressive console and PC game, and the excitement certainly trickled down to Twitter. 6 Ways to Score a Job Through Twitter. Twitter has become a great resource for just about anything, including jobs.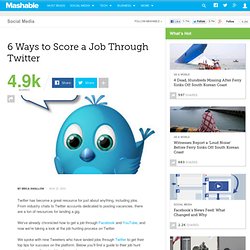 From industry chats to Twitter accounts dedicated to posting vacancies, there are a ton of resources for landing a gig. We've already chronicled how to get a job through Facebook and YouTube, and now we're taking a look at the job hunting process on Twitter. How To Make Your Music Video Go Viral: 10 Tips From Cee-Lo, OK Go & More. They say that Internet killed the video star (or the Limousines did, but still).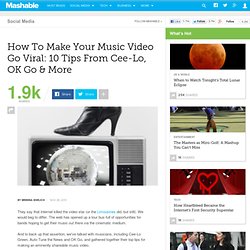 We would beg to differ. The web has opened up a tour bus-full of opportunities for bands hoping to get their music out there via the cinematic medium. And to back up that assertion, we've talked with musicians, including Cee-Lo Green, Auto-Tune the News and OK Go, and gathered together their top tips for making an eminently shareable music video. In the past, the realm of music videos was a whole lot less democratic — but that's all changed dramatically in recent years. "Distribution is going through a massive upheaval," says Fred Santarpia, general manager of Vevo. Skype Video Chat Coming to Facebook? Even before Skype revealed a deep Facebook integration last month, there was speculation that Facebook might add Skype video chat functionality within the social networking site.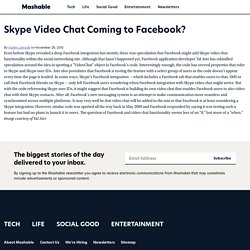 Although that hasn't happened yet, Facebook application developer Tal Ater has rekindled speculation around the idea in spotting a "VideoChat" object in Facebook's code . Interestingly enough, the code has several properties that refer to Skype and Skype user IDs. Ater also postulates that Facebook is testing the feature with a select group of users as the code doesn't appear every time the page is loaded. In some ways, Skype's Facebook integration — which includes a Facebook tab that enables users to chat, SMS or call their Facebook friends on Skype — only left Facebook users wondering when Facebook integration with Skype video chat might arrive. Everyone Uses E-mail, But Blogging Is On the Decline [STUDY] Pew Internet has updated its data on how different generations are using the Internet for 2010, and the results clearly show that the older generations are catching up with younger Internet users, even surpassing them in some online activities.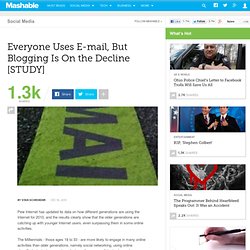 The Milliennials - those ages 18 to 33 - are more likely to engage in many online activities than older generations, namely social networking, using online classifieds, instant messaging, playing online games, listening to music, participating in virtual worlds and reading blogs. Users ages 34 to 45, or the Gen X, however, are more likely than Millennials to visit government websites or get their financial information online.
Compared to last year's report, most of the activities Pew Internet has covered in its report have increased in popularity in all age groups, especially social networking, which is hardly surprising given Facebook's stellar growth to 500 million users and beyond. 4 Social Media Marketing Predictions for 2011. Tim Ferriss is an angel investor (Twitter, StumbleUpon, Evernote, etc.) and author of the #1 New York Times bestsellers The 4-Hour Body and The 4-Hour Workweek.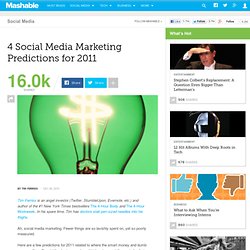 In his spare time, Tim has doctors stab pen-sized needles into his thighs. Ah, social media marketing. HOW TO: Activate Your Brand's Super Influencers. Ben Straley is the Co-Founder and CEO of Meteor Solutions, whose leading technology and services platform increases campaign engagement, reach and revenue through social sharing.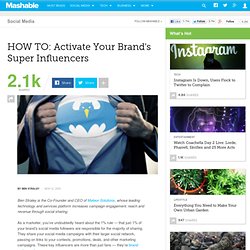 As a marketer, you've undoubtedly heard about the 1% rule — that just 1% of your brand's social media followers are responsible for the majority of sharing. They share your social media campaigns with their larger social network, passing on links to your contests, promotions, deals, and other marketing campaigns. These key influencers are more than just fans — they're brand ambassadors. At my company, we've seen that brands that track and quantify word-of-mouth impact have found that these key influencers can drive 20, 30, or even 70% of all visits to their campaign pages, beating out display and search advertising as the most efficient driver of traffic to their sites.
4 Creative Social Marketing Campaigns from Around the World. Social media marketing is a global phenomenon, but we don't always get to see the innovative work that's happening abroad.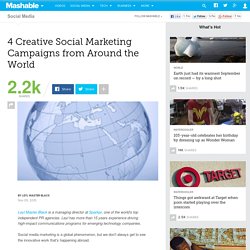 Social media campaigns from around the world will be honored today in San Francisco at the Bees Awards , the first international social media marketing awards program. The new program attracted entries from more than 21 countries, with more than a dozen countries represented among the finalists. You can watch the ceremony live on Ustream at 7:30 p.m. PDT to hear more about all of the finalists. But in the meantime, here's a sneak peek at some of the most inspiring international campaigns that are up for awards. HOW TO: Start Developing for iOS, Android or Windows Phone 7. An increasing number of first-time mobile app developers are also first-time developers. This makes sense if you think about it; mobile is the hot new platform and the barrier to entry is a lot lower for mobile devices.
Furthermore, a simple — yet well-done — mobile app can be functional and a big success; look at the prevalence of tip calculators, flashlights and other applications. It's much harder to find that sort of success with a small, single-purpose desktop app. Google Exec: More Than 300K Android Phones Activated Daily. Andy Rubin, the Google executive who heads up the Android division, has just tweeted an astonishing statistic. According to Rubin, more than 300,000 Android phones are activated every day.
That number is around five times greater than the stat spouted by Google CEO Eric Schmidt in February of this year; at that time, Google was claiming around 60,000 devices shipped each day. HOW TO: Use Social Media to Enhance Your Event. Meaghan Edelstein has gained national media attention through her blog, I Kicked Cancer's Ass, which she started to document her battle with end stage cancer. She is an attorney, the founder of the non-profit organization Spirit Jump, and works for the Global Strategic Management Institute. Using social media to enhance events might seem like a no-brainer, but many conferences — even social media ones — fail to take full advantage of the low-hanging fruit that social platforms offer, like ways for attendees to communicate with each other, broaden their participation, share information and have fun.
If you're planning a conference, here are some ways to incorporate social networking into your big day. 1. HOW TO: Explain Twitter to Your Parents. HOW TO: Make a Successful Marketing Video for the Web. In today's YouTube crazed society, video is more accessible and easier to create than ever. One 30-second video has the potential to create a customer for life, or — conversely — a hater that will plague you with negative comments and bad word-of-mouth. This is why small businesses must learn to properly utilize videos to market their services on the web. Google Shows Off Motorola Tablet Prototype, and It's Running Honeycomb. Social Media Revolution 2010. Social Media Revolution: The Value of Influence.
---