Installation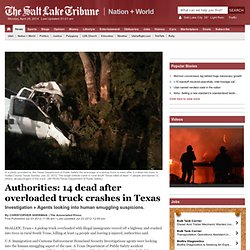 Authorities: 14 dead after overloaded truck crashes in Texas
In a photo provided by the Texas Department of Public Safety the wreckage of a pickup truck is seen after it crahed into trees In Goliad County Texas Sunday July 22, 2012. The single vehicle crash in rural South Texas killed at least 11 people and injured 12 others, all passengers in the truck. (AP Photo/Texas Department of Public Safety)
Abundant Energy Inc
For the last 25 years Abundant Energy has been providing it's Florida and New Jersey customers high quality solar energy installations and world class service. We have specialized divisions in both residential and commercial solar applications and a full service department dedicated to serve you better if and when you need it. We are a family owned and operated offering you the highest quality products and service with personal service. Each of our employees takes pride in our company and are held accountable to the quality of work and service given to each customer.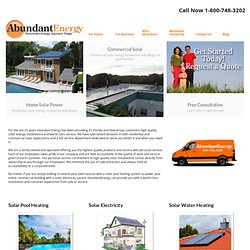 The Cost of Solar | Denver Alternative Energy
Astralux Solar Energy Team
WCP Solar Services Home page
South Coast Solar - Your Local Louisiana Solar Electric and Hot Water Contractor
Solar Man Company : Power To The People : Since 1978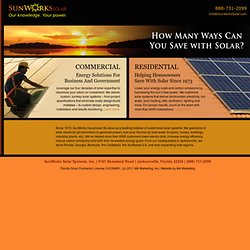 SunWorks Solar | Solar Power and Energy For Commercial and Residential Businesses
Commercial Energy Solutions For Business And Government Leverage our four decades of solar expertise to maximize your return on investment. We deliver custom, turnkey solar systems – from project specifications that eliminate costly design/build mistakes – to custom design, engineering, installation and results monitoring. Learn more.
Advanced Solar Electric | Southern California's Most Trusted Solar Panel Installer
(1) First, type in your address, and select it from the dropdown. (2) Second, drag the orange marker over the top of your home on the map. Environmental Impact: Your system will offset lbs of CO2, or car miles driven, or acres of trees planted. How Can I Pay?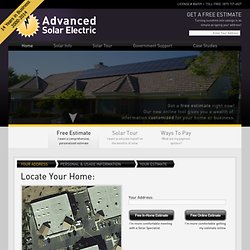 Welcome to Colorado Continental Roofing and Solar, Inc. - a professional roofing company with 13 years experience in roofing and damage restoration. Our team of expert roofers can estimate hail damage, restore your roof and preserve your investment. We appreciate the opportunity to be of service and welcome your inquiries about how we may be able to assist you in your roofing needs. Colorado Continental Roofing and Solar specializes in assisting homeowners with storm related damage to their homes. Owners Nick & Chuck Welle, along with their team of highly trained insurance specialists, have many years experience helping homeowners restore their most valuable asset to pre-storm condition. Our objectives for each project include: 1. understanding the specific desires of each client 2. providing high quality service that is performed professionally and on-time 3. ensuring 100% client satisfaction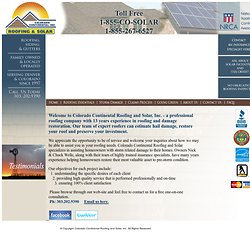 Colorado Continental
LA Solar Energy Company :: Los Angeles solar Installers
Los Angeles DWP unveils solar power buyback program Source: January 11, 2013 | 3:54 pm - LA Times Los Angeles Department of Water and Power customers for the first time will be able to sell back excess created on rooptops and parking lots under a new program approved Friday by the city utility's board of commissioners. Described as the largest urban rooftop solar program of its kind in the nation, the so-called feed-in-tariff program would pay customers 17 cents per kilowatt hour for energy produced on their own equipment. The DWP has already accepted more than a dozen applicants and will be taking dozens more as it accepts contracts for up to 100 megawatts of solar power through 2016.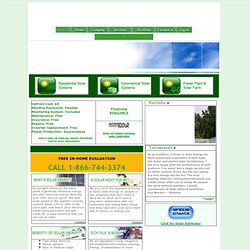 Why Solar Installers Conduct Evaluations in the Winter
04 Apr Solar on Every U.S School! SolarReviews This morning the National Solar Schools Consortium launched at the National Science Teachers Association (NSTA) … 02 Apr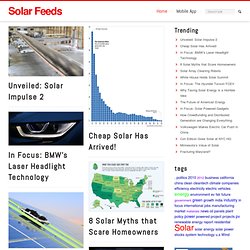 Valentin Software Inc. has released PV*SOL basic, a new tool for the design and sales of residential and commercial photovoltaic systems. According to the company, this tool allows solar contractors, sales representatives and engineers to design PV systems from digital photos of customers' homes and create professional proposals with detailed financial analysis and photo-quality graphics of proposed systems on their customers' roofs. PV*SOL basic, which was developed specifically for the U.S. market, can eliminate the need to perform site visits or reduce their time and increase their safety. Contractors can save time that was traditionally spent on tracking solar incentives, electricity rates, product specifications and climate data, and on performing system design calculations, the company says. SOURCE: Valentin Software Inc.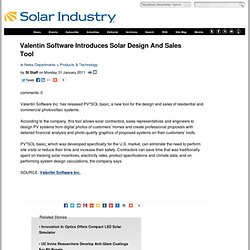 Solar Industry: Content / Products & Technology / Valentin Software Introduces Solar Design And Sales Tool
Thank you for choosing OptimizePress. OptimizePress is based around using pages and templates for your site rather than a typical blog layout. Follow the steps below to get started: 1) Login to Wordpress 2) Click The Pages tab 3) Click "Add New" to create a new page 4) Select a Template style from the templates drop down on the right side of your screen 5) Use the build in admin fields to customize your page (please refer to the User guide for more information) 6) Click Publish to save and publish your page 7) Go To Settings > General > Reading > Select a static page from the dropdown for your home page (this will normally be your sales letter or squeeze page) 8) You're done! Continue creating amazing looking pages using the simple OptimizePress interface If you require additional support with this please refer to the User Guide and FAQ (accessed from within your Wordpress theme admin)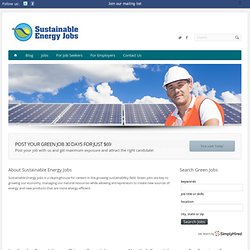 Green Energy Jobs | Sustainable Energy Jobs | Green Jobs
Welcome to OpenSolar - Platform for the Solar Web
By Shelley DuBois, writer-reporterJanuary 13, 2011: 7:47 AM ET FORTUNE -- It turns out that subsidies -- not the sun -- are what really drive solar projects. Photovoltaic plants simply aren't cost-efficient without tax breaks and other government carrots. California leads the country in photovoltaic projects, thanks to a 2006 act that offers rebates to homeowners and businesses that go green. But the Northeast is also, somewhat counterintuitively, a big solar player.
The most powerful states for solar - Jan. 13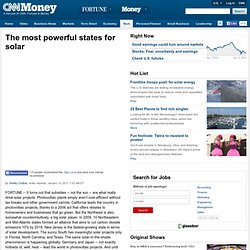 Solar Man Company : Power To The People : Since 1978
Atlanta Solar