Installation
Authorities: 14 dead after overloaded truck crashes in Texas. In a photo provided by the Texas Department of Public Safety the wreckage of a pickup truck is seen after it crahed into trees In Goliad County Texas Sunday July 22, 2012.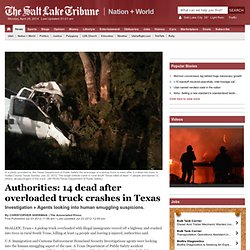 The single vehicle crash in rural South Texas killed at least 11 people and injured 12 others, all passengers in the truck. (AP Photo/Texas Department of Public Safety) Abundant Energy Inc. The Cost of Solar | Denver Alternative Energy. Astralux Solar Energy Team. WCP Solar Services Home page. South Coast Solar - Your Local Louisiana Solar Electric and Hot Water Contractor. Solar Man Company : Power To The People : Since 1978. SunWorks Solar | Solar Power and Energy For Commercial and Residential Businesses. Advanced Solar Electric | Southern California's Most Trusted Solar Panel Installer. Colorado Continental. LA Solar Energy Company :: Los Angeles solar Installers.
Why Solar Installers Conduct Evaluations in the Winter. Solar Industry: Content / Products & Technology / Valentin Software Introduces Solar Design And Sales Tool. Valentin Software Inc. has released PV*SOL basic, a new tool for the design and sales of residential and commercial photovoltaic systems.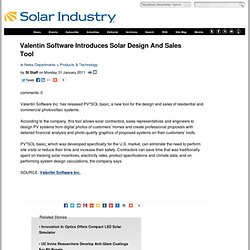 According to the company, this tool allows solar contractors, sales representatives and engineers to design PV systems from digital photos of customers' homes and create professional proposals with detailed financial analysis and photo-quality graphics of proposed systems on their customers' roofs. PV*SOL basic, which was developed specifically for the U.S. market, can eliminate the need to perform site visits or reduce their time and increase their safety. Contractors can save time that was traditionally spent on tracking solar incentives, electricity rates, product specifications and climate data, and on performing system design calculations, the company says.
SOURCE: Valentin Software Inc. Green Energy Jobs | Sustainable Energy Jobs | Green Jobs. Welcome to OpenSolar - Platform for the Solar Web. The most powerful states for solar - Jan. 13. By Shelley DuBois, writer-reporterJanuary 13, 2011: 7:47 AM ET FORTUNE -- It turns out that subsidies -- not the sun -- are what really drive solar projects.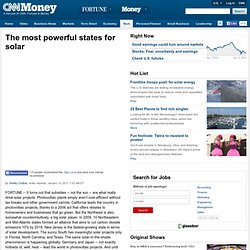 Photovoltaic plants simply aren't cost-efficient without tax breaks and other government carrots. California leads the country in photovoltaic projects, thanks to a 2006 act that offers rebates to homeowners and businesses that go green. But the Northeast is also, somewhat counterintuitively, a big solar player. Solar Man Company : Power To The People : Since 1978. Atlanta Solar.
---