Fun
Landoflisp. So dad, how do you like the iPad we got you? [VIDEO] Velociraptor in Mebourne. Bob Marley And The Wailers - Cheer Up. As Bare As You Dare - World Naked Bike Ride – Melbourne. Animator vs. Animation by *alanbecker on deviantART. GeocoEarth :: null. 10 of the Fastest Spaceships in the Star Wars 'Verse «furiousfanboys.com. When I started doing research for this article, I was surprised at how slow these ships actually travel.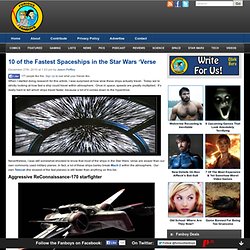 Today we're strictly looking at how fast a ship could travel within atmosphere. Once in space, speeds are greatly multiplied. The Best Star Wars Easter Eggs «furiousfanboys.com. The Star Wars movies are filled with little Easter Eggs that you normally have to go frame by frame to see.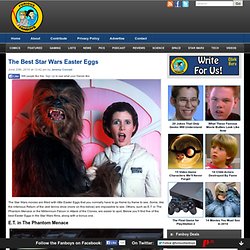 Some, like the infamous Return of the Jedi tennis shoe (more on this below) are impossible to see. Others, such as E.T. in The Phantom Menace or the Millennium Falcon in Attack of the Clones, are easier to spot. Star Wars never looked so real. This set of images, where the Star Wars scenes appear so realistic, is called "StArt Wars".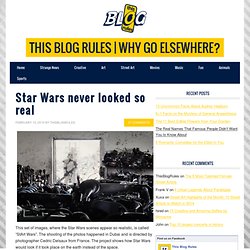 The shooting of the photos happened in Dubai and is directed by photographer Cedric Delsaux from France. The project shows how Star Wars would look if it took place on the earth instead of the space. He is an awarded photographer and winner of the newcomer's "France Bourse du Talent" competition which stands for "Young Talent Award for Photography". 6 Mind-Blowing Discoveries Made Using Google Earth. Profberger We're not experts in archeology, but when it comes to digging up bones, apparently caves are where it's at.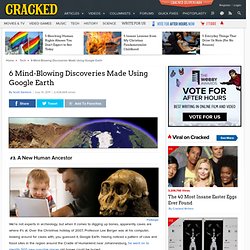 Over the Christmas holiday of 2007, Professor Lee Berger was at his computer, looking around for caves with, you guessed it, Google Earth. Having noticed a pattern of cave and fossil sites in the region around the Cradle of Humankind near Johannesburg, he went on to identify 500 new possible places old bones could be buried. news.softpedia.com Fast forward to August of 2008, where he was subsequently exploring one of his Google Earth finds in person with his 9-year-old son, the family dog and a post-doctoral student (take a guess on who was most likely wearing a red shirt on this away mission), when the dog ripped off into the high grass.
TV.com - Free Full Episodes & Clips, Show Info and TV Listings Guide. Bank With No Locks Opens: 'God As Guard' A bank with no locks has opened in Mumbai, India, to serve the devotees of a deity named Lord Shani, The Times of India reports.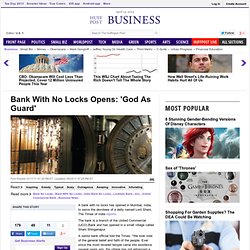 The bank is a branch of the United Commercial (UCO) Bank and has opened in a small village called Shani Shinganapur. A senior bank official told the Times: "We took note of the general belief and faith of the people.
---