Business
The Effects of Oil Production Turmoil: What We Pay For At The Pump | The Rundown News Blog. Ever wonder why a gallon of gas will cost $3.21 today, $3.12 yesterday and maybe $3.79 next week?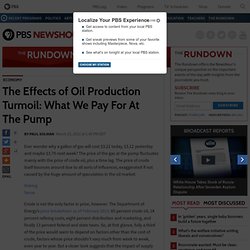 The price of the gas at the pump fluctuates mainly with the price of crude oil, plus a time lag. The price of crude itself bounces around due to all sorts of influences, exaggerated if not caused by the huge amount of speculation in the oil market. Crude is not the only factor in price, however. The Department of Energy's price breakdown as of February 2011: 65 percent crude oil, 14 percent refining costs, eight percent distribution and marketing, and finally 13 percent federal and state taxes. The New Mastersounds. Ananda project - rain down. CHUCK LOVE - LONG WAY DOWN. 10 Twitter Guidelines for Business Owners | Word Sell Blog. A Guest Post by Becca Berkenstadt Twitter for Business Most businesses understand that they need to be on Twitter for the purpose of brand recognition, but sometimes have difficulty understanding how to manage their Twitter accounts once they are up and running.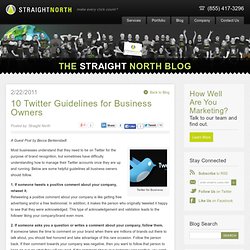 Shazam's Search for Songs Creates New Music Jobs. LinkedIn files for IPO. WhiteHouse.gov Plans State of the Union Broadcast of the Future - Politics. It's going to be in 3D!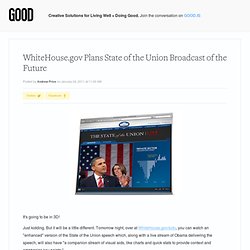 Just kidding. But it will be a little different. Tomorrow night, over at WhiteHouse.gov/sotu, you can watch an "enhanced" version of the State of the Union speech which, along with a live stream of Obama delivering the speech, will also have "a companion stream of visual aids, like charts and quick stats to provide context and emphasize key points.
" Guess Who Microsoft's Kinect is Making Rich?: Tech News and Analysis « Last week when Microsoft reported earnings for its most recent quarter, Peter Klein, chief financial officer with the company waxed eloquent about the success of Kinect, a new kind of controller based on motion sensing gesture technology.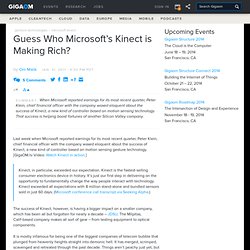 [GigaOM.tv Video: Watch Kinect in action.] Kinect, in particular, exceeded our expectation. Kinect is the fastest-selling consumer electronics device in history. It's just our first step in delivering on the opportunity to fundamentally change the way people interact with technology. Sales - Sales and Social Media—Measuring the ROI : MarketingProfs Article. Success Wallpapers - Motivational Desktop Wallpapers. Innovation Agents: Stephen Chau, Senior Product Manager for Google Maps. The Real Lesson of the Gap Debacle: Logos Aren't Key Anymore | Co.Design. Gap's recent failed attempt at a logo redesign is only the latest in what seems to be a monthly cycle these days.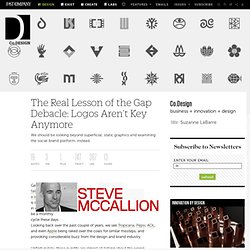 Looking back over the past couple of years, we see Tropicana, Pepsi, AOL, and even Apple being raked over the coals for similar missteps, and provoking considerable buzz from the design and brand industry. Unfortunately, these pundits are almost all talking about the wrong thing...especially in the recent Gap debacle. Whether the new logo was designed by a well-intentioned but misguided "logo committee," or an out-of-touch branding firm, the ongoing debate indicates, more than anything, the branding and corporate identity industry's myopia.
Simply put, no one really cares about the logo anymore. Delete Button for the Internet: Tool Removes Personal Info From Google, Facebook. Remember the 1995 movie The Net--when Sandra Bullock frightened audiences with the prospect of having your identity deleted in cyberspace?
How times have changed. With the rise of third-party cookies and ads that watch your online behavior, removing embarrassing personal information from the Internet has almost become a holy grail of digital life. Bullock's situation seems almost desirable in retrospect. Recognizing the growing call for privacy, Cambridge, MA-based online privacy company Abine today launched DeleteMe, a "delete button for the Internet. " Rather than tracking down that ancient Friendster password on your own, users can pay Abine between $10 to $100 (depending on how complicated their history is) to remove photos, blog posts, videos, and search results, delete old accounts, and stop companies from selling private data to advertisers.
Gigdollars.com. Selenium web application testing system. 16 Ways Your Startup Needs To Be Getting Customers. Online advertising can come in three flavors: CPM, CPC, and CPA.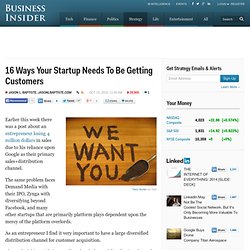 CPM is your traditional pay per 1,000 impressions on a website. I'm not a huge fan of this and usually think it's quite a spray+pray approach. It can be very useful when applied to the right niches and audience. Business Interactive Media Expo!! Invalid quantity.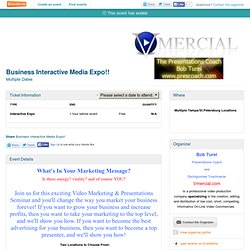 Please enter a quantity of 1 or more. The quantity you chose exceeds the quantity available. Please enter your name. TweetBig - Brilliant Twitter Management & Marketing Tools. Square – Accept credit card payments with your mobile phone. How To Add A Social Media Toolbar To Your Website. A social media toolbar consolidates your entire social media presence into your website and displays buttons that allow your visitors to interact with your content in a toolbar on the bottom of the browser screen.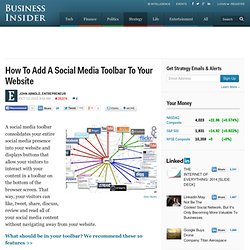 That way, your visitors can like, tweet, share, discuss, review and read all of your social media content without navigating away from your website. What should be in your toolbar? We recommend these 10 features >> Social media toolbars are available from several companies, and they are easy to add to your website, even if you're a do-it-yourselfer. I like Meebo and Wibiya, but you can find other toolbar applications to suit your needs. Blog Archive » Designed security with passive burglary-resisting system. Evion.org - listen to the world ! Flowchart: How to Make Money on the Internet | Co.Design.
Moshenarte - Build + Create + Develop. Why is social networking significant for entrepreneurs? Marketing gurus across the globe have recognized social networking as a great way to forge alliances, create business partnerships and interact with the target customer base.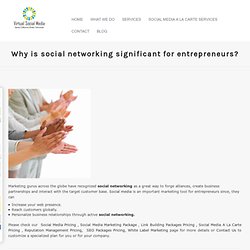 Social media is an important marketing tool for entrepreneurs since, they can Increase your web presence.Reach customers globally.Personalize business relationships through active social networking. Please check our Social Media Pricing , Social Media Marketing Package , Link Building Packages Pricing , Social Media A La Carte Pricing , Reputation Management Pricing, SEO Packages Pricing, White Label Marketing page for more details or Contact Us to customize a specialized plan for you or for your company. America's Marketing Gurus - Business News - Business Review USA. Christopher Wishnie. Facebook's Rise: Mark Zuckerberg's 5 Smartest Moves. One of the major factors that distinguished Facebook from competing social networks and helped it become the online powerhouse it is today was a crucial decision made early on to require users to create profiles using their actual identity and real names.
Zuckerberg said earlier this year, "The Web is at a really important turning point right now. Up until recently, the default on the Web has been that most things aren't social and most things don't use your real identity. We're building towards a Web where the default is social. Goldman Sachs Won't Sell Facebook Stock To U.S. Clients, Citing 'Intense Media Attention' UPDATE: Dealbook has the text of Goldman Sachs' full statement here. Citing "intense media attention," Goldman Sachs has decided not to offer shares in Facebook to its U.S. clients, the Wall Street Journal reports. The WSJ obtained a statement from the bank which indicated Goldman "concluded the level of media attention might not be consistent with the proper completion of a U.S. private placement under U.S. law. " The deal will reportedly still be offered to the bank's offshore clients, and the WSJ indicated that the exclusion of U.S. investors was not required or requested by any government agency.
Goldman's Facebook deal was widely criticized as an end-around SEC regulations requiring financial disclosures from private companies with more than 500 shareholders. Through the use of a "special-purpose investment vehicle" that would be officially listed as a single shareholder, Goldman and Facebook looked to sell shares to rich clients, potentially circumventing the 500-shareholder limit.
Bill Moggridge, Mark Zuckerberg, and Jimmy Wales on the Future of Media Design [Videos] | Co.Design. Print isn't dead, Designing Media, a fascinating new doorstop of a book by Cooper-Hewitt, National Design Museum chief Bill Moggridge, seems to say. It's just waiting for design to save it. That counts as one of the more provocative ideas in a book full of the stuff. Moggridge -- who invented the first laptop and cofounded IDEO -- takes the fraught world of media, both old and new, and looks at it as a series of design problems.
How do you design news as a social platform? Or newspapers at a time when everyone's reading websites? Abovethecrowd.com. 21st-Century Business. Facebook temporarity disables personal data-sharing feature - Jan. 18. Facebook's feature would let app makers request access to your phone number and address.By Laurie Segall, staff reporterJanuary 18, 2011: 10:33 AM ET NEW YORK (CNNMoney) -- Facebook is temporarily disabling a feature that gave app developers access to some of the most sensitive personal data it possesses: Members' addresses and phone numbers. The company had slipped the feature in quietly, announcing it at the end of last week in a post on its developer blog. But late Monday, Facebook said it is suspending the feature until it can fine-tune how it works.
"Over the weekend, we got some useful feedback that we could make people more clearly aware of when they are granting access to this data," Facebook wrote on its developer blog. "We agree, and we are making changes to help ensure you only share this information when you intend to do so. " What's the future of the social media strategist role. Harish Dabasia's Amplify | Amplify.com.
---