POS
Viableware integrates payments platform into restaurant POS systems. Viableware, developer of the RAIL payment platform for restaurants, announced that it has integrated its payment technology with restaurant point-of-sale (POS) systems from MICROS, NCR Aloha and Dinerware.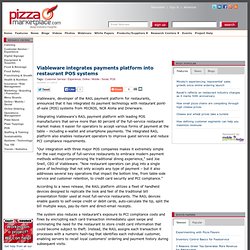 Integrating Viableware's RAIL payment platform with leading POS manufacturers that serve more than 60 percent of the full-service restaurant market makes it easier for operators to accept various forms of payment at the table – including e-wallet and smartphone payments. The integrated RAIL platform also enables restaurant operators to improve guest service and reduce PCI compliance requirements. "Our integration with three major POS companies makes it extremely simple for the vast majority of full-service restaurants to embrace modern payment methods without compromising the traditional dining experience," said Joe Snell, CEO of Viableware. Harbortouch gives away POS systems to capture transaction fees. The most important investment that a small restaurant or retailer must make is in a decent point-of-sale (POS) system to keep track of trends, orders and inventory.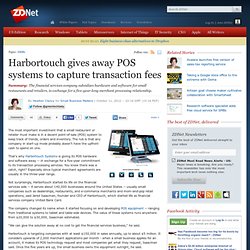 The rub is that any company in start-up mode probably doesn't have the upfront cash to spend on one. That's why Harbortouch Systems is giving its POS hardware and software away -- in exchange for a five-year commitment to its transaction processing services. You knew there was a catch, right? Especially since typical merchant agreements are usually in the three-year range. 5 Technologies Changing the Restaurant Industry.
Advertisement september 09, 2012 • 08:05 AM Hanna-Barbera.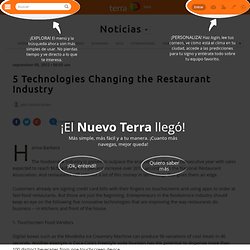 Apple Is Giving Away $10,000 for its 25 Billionth App Downloaded. Apple has launched a countdown to its 25 billionth app downloaded from the App Store, but more is at stake than the glory of a historic download.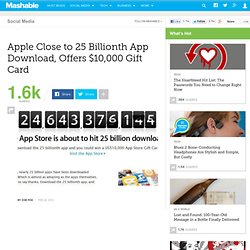 The company is giving away a $10,000 gift card to spend in the App Store. Think of all the Zynga games — without the frequent pop-up ads of the free editions — you could by with that kind of money! What's strange about the giveaway is that you don't need to download anything to enter the contest. You can fill out an online form to be entered to win. The winner must agree to publicity, such as sharing your name, photo and some of your App Store picks with the Apple community.
For Some Developers, Amazon Appstore Now Brings In More Money. In the latest monthly report from app analytics firm Distimo, the company delved into the revenue generating possibilites for apps sold through both Google's Android Market and the Amazon Appstore.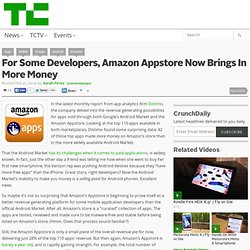 Looking at the top 110 apps available in both marketplaces, Distimo found some surprising data: 42 of those top apps made more money on Amazon's store than in the more widely available Android Market. That the Android Market has its challenges when it comes to paid applications, is widely known. In fact, just the other day a friend was telling me how when she went to buy her first new smartphone, the Verizon rep was pushing Android devices because they "have more free apps" than the iPhone. How Companies Learn Your Secrets.
Which 'big data' are you talking about? | Data-driven. Late last year I posted a blog item about big data and if/when it would present opportunities for storage vendors.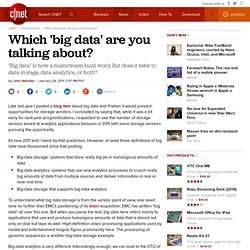 I concluded by saying that, while it was a bit early for next-year prognostications, I expected to see the number of storage devices aimed at analytics applications blossom in 2011 with more storage vendors pursuing the opportunity. It's now 2011 and I stand by that prediction. However, at least three definitions of big data have blossomed since that posting: Big-data storage: systems that store really big (as in humongous) amounts of data Big-data analytics: systems that use new analytics processes to crunch really big amounts of data from multiple sources and deliver information in real or near real time Big-data storage that supports big-data analytics. Why 'big data' is a magnet for startups | Cutting Edge. CAMBRIDGE, Mass.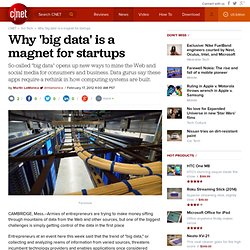 --Armies of entrepreneurs are trying to make money sifting through mountains of data from the Web and other sources, but one of the biggest challenges is simply getting control of the data in the first place Entrepreneurs at an event here this week said that the trend of "big data," or collecting and analyzing reams of information from varied sources, threatens incumbent technology providers and enables applications once considered impossible. Error Report. U.S. Government & Military To Get Secret-Worthy Android Phones. The amount of stuff we trust to fly in and out of our smartphones is astounding.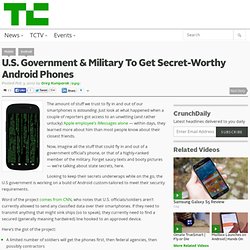 Just look at what happened when a couple of reporters got access to an unwitting (and rather unlucky) Apple employee's iMessages alone — within days, they learned more about him than most people know about their closest friends. Now, imagine all the stuff that could fly in and out of a government official's phone, or that of a highly-ranked member of the military. Forget saucy texts and booty pictures — we're talking about state secrets, here. Looking to keep their secrets underwraps while on the go, the U.S government is working on a build of Android custom-tailored to meet their security requirements. Sea Change: Apple Guts Textbook Publishing. The days of the $500 college textbook bills are, it seems, over.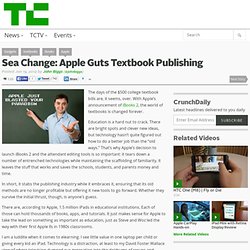 With Apple's announcement of iBooks 2, the world of textbooks is changed forever. Education is a hard nut to crack. There are bright spots and clever new ideas, but technology hasn't quite figured out how to do a better job than the "old ways." That's why Apple's decision to launch iBooks 2 and the attendant editing tools is so important: it tears down a number of entrenched technologies while maintaining the scaffolding of familiarity. Public Data Sets on Amazon Web Services (AWS) Click here for the detailed list of available data sets.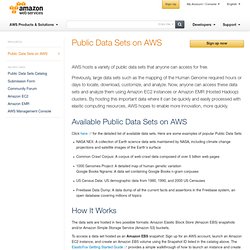 Here are some examples of popular Public Data Sets: NASA NEX: A collection of Earth science data sets maintained by NASA, including climate change projections and satellite images of the Earth's surfaceCommon Crawl Corpus: A corpus of web crawl data composed of over 5 billion web pages1000 Genomes Project: A detailed map of human genetic variation Google Books Ngrams: A data set containing Google Books n-gram corpusesUS Census Data: US demographic data from 1980, 1990, and 2000 US CensusesFreebase Data Dump: A data dump of all the current facts and assertions in the Freebase system, an open database covering millions of topics The data sets are hosted in two possible formats: Amazon Elastic Block Store (Amazon EBS) snapshots and/or Amazon Simple Storage Service (Amazon S3) buckets.
$1.2 Million Seed Round. Own — Unlike any other. A Glut of Food-Tech Startups Competing for a Piece of the Pie. Rajat Suri was excelling at the Massachusetts Institute of Technology when he dropped out and became a waiter — not the typical direct path to fame and fortune in the technology industry. But then Suri took his restaurant and technology expertise to Palo Alto, raised three rounds of venture capital, including $4 million from the founders of Groupon, and took a seat at the increasingly crowded table of entrepreneurs mixing technology with food. Suri used his time as a waiter to study restaurant inefficiencies and to devise technological solutions. The result: his company, E la Carte , and an iPad-like tablet called Presto that allows diners to order and pay at their tables without server interaction and play games while they wait.
E La Carte Raises $4M From Groupon Co-Founders To Bring Tablets To Restaurant Tables. E la Carte, a company that develops a tableside tablet for the restaurant and related hospitality industries, has raised $4 million in funding from Lightbank, the venture fund created by Groupon co-founders Eric Lefkofsky and Brad Keywell. The Y Combinator-backed startup previously raised more than $1 million from angel investors including SV Angel, Dave McClure, Joshua Schachter, Roy Rodenstein, and Skip Sack, a former board member and SVP at Applebee's chain of restaurants.
As we've written in the past, E la Carte launched 'Presto,' earlier this year to bring user-friendly tablets to restaurants to bring efficiency to the tableside and ordering experience. The 7-inch tablet includes a digital menu that lets you sift through the restaurant's food and drink selection via photos and detailed descriptions using a touch-screen interface.
There's also a section for Games, including trivia and a drawing app. And, finally, there's a tab for paying. Point of sale. Points of sale at a Target store Point of sale (also called POS or checkout, during computerization later becoming electronic point of sale or EPOS) is the place where a retail transaction is completed. It is the point at which a customer makes a payment to the merchant in exchange for goods or services. At the point of sale the retailer would calculate the amount owed by the customer and provide options for the customer to make payment. The merchant will also normally issue a receipt for the transaction. Unboxing the First Quad-Core Android Tablet. The Asus Eee Pad Transformer Prime, the first quad-core Android tablet has arrived. Before you read the full review, check out the unboxing photos. It's a tablet!
It's a laptop! It's the first quad-core, Nvidia Tegra 3-powered mobile monster. The Asus Eee Pad Transformer Prime is most definitely here. How to Use Your Tablet Computer as a Small Business Tool | SBA.gov Community. Think your new tablet is strictly for entertainment purposes? Think again. Small businesses are rapidly finding innovative ways to use tablet computers (iPad, Kindle Fire, Playbook, etc.) to connect with clients, market while on the go, and enhance customer experiences.
---